Steelers seal win vs. Patriots with late stop
Tom Brady throws to the end zone on fourth-and-15 in the final seconds, but the Steelers bat down the pass to secure the win.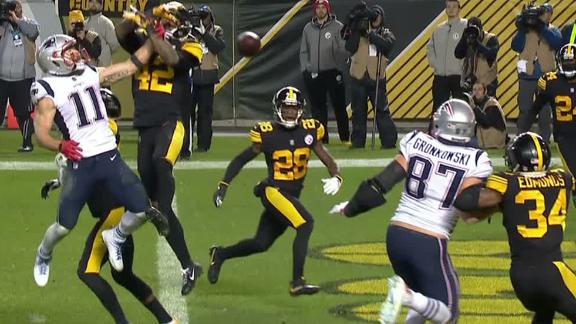 Mixon dominates Raiders with 2 TDs
Joe Mixon rushes for 129 yards and a pair of touchdowns to lead the Bengals to a 30-16 win over the Raiders.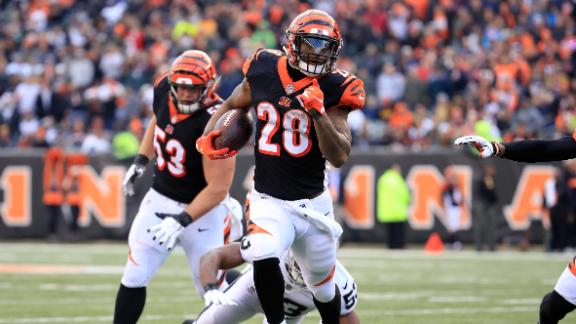 Vikings run all over Dolphins in 41-17 win
Dalvin Cook runs for 136 yards and two touchdowns while Latavius Murray adds 68 yards and a score of his own in Minnesota's win over Miami.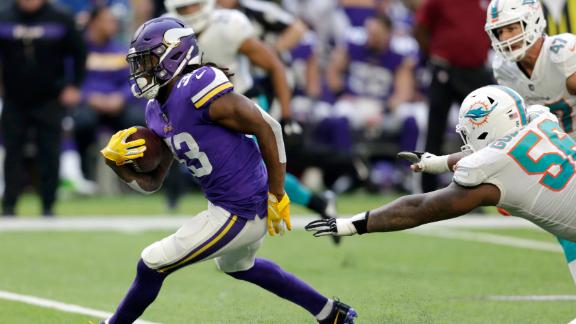 Redskins beat Jaguars with game-winning field goal
Dustin Hopkins hits a 36-yard field goal as time expires to give the Redskins a 16-13 win over the Jaguars.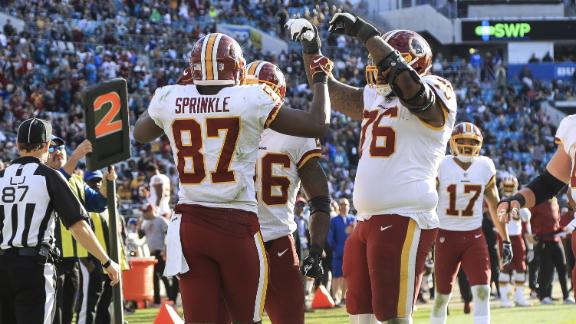 Bears beat Packers, clinch NFC North
The Bears end Aaron Rodgers' streak of pass attempts without an interception at 402 and win the NFC North for the first time since 2010.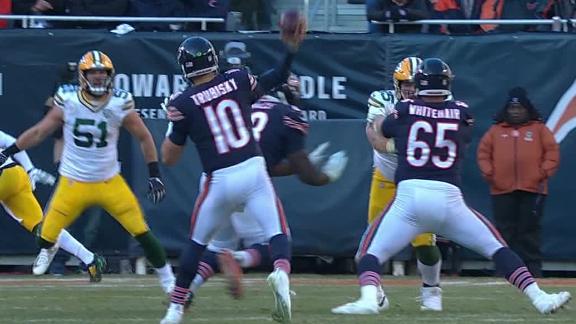 Henry shines, Barkley struggles as Titans blank Giants
Derrick Henry runs for 170 yards and 2 scores while Saquon Barkley is held to 31 rushing yards as the Titans bludgeon the Giants 17-0.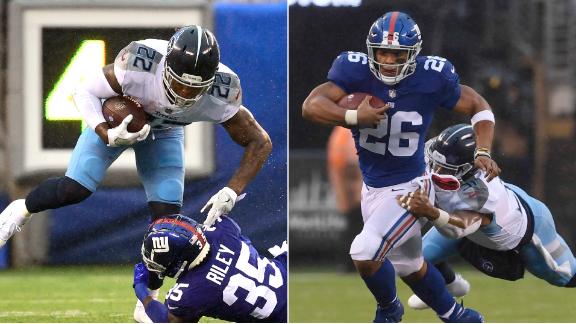 Colts stifle Cowboys on fourth down
The Colts' defense stops the Cowboys' offense four times on fourth down, including a fumble recovery and an interception, in Indianapolis' 23-0 win over Dallas.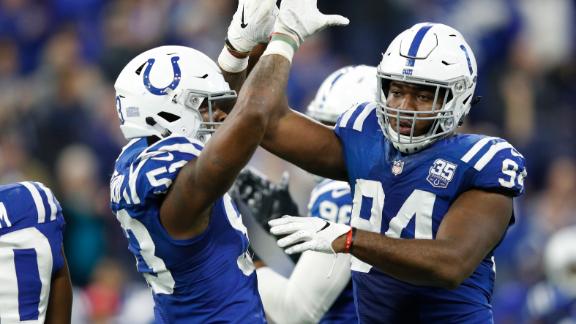 Allen, Bills squeak past Lions
Josh Allen throws for a touchdown and runs for another to lead the Bills past the Lions 14-13.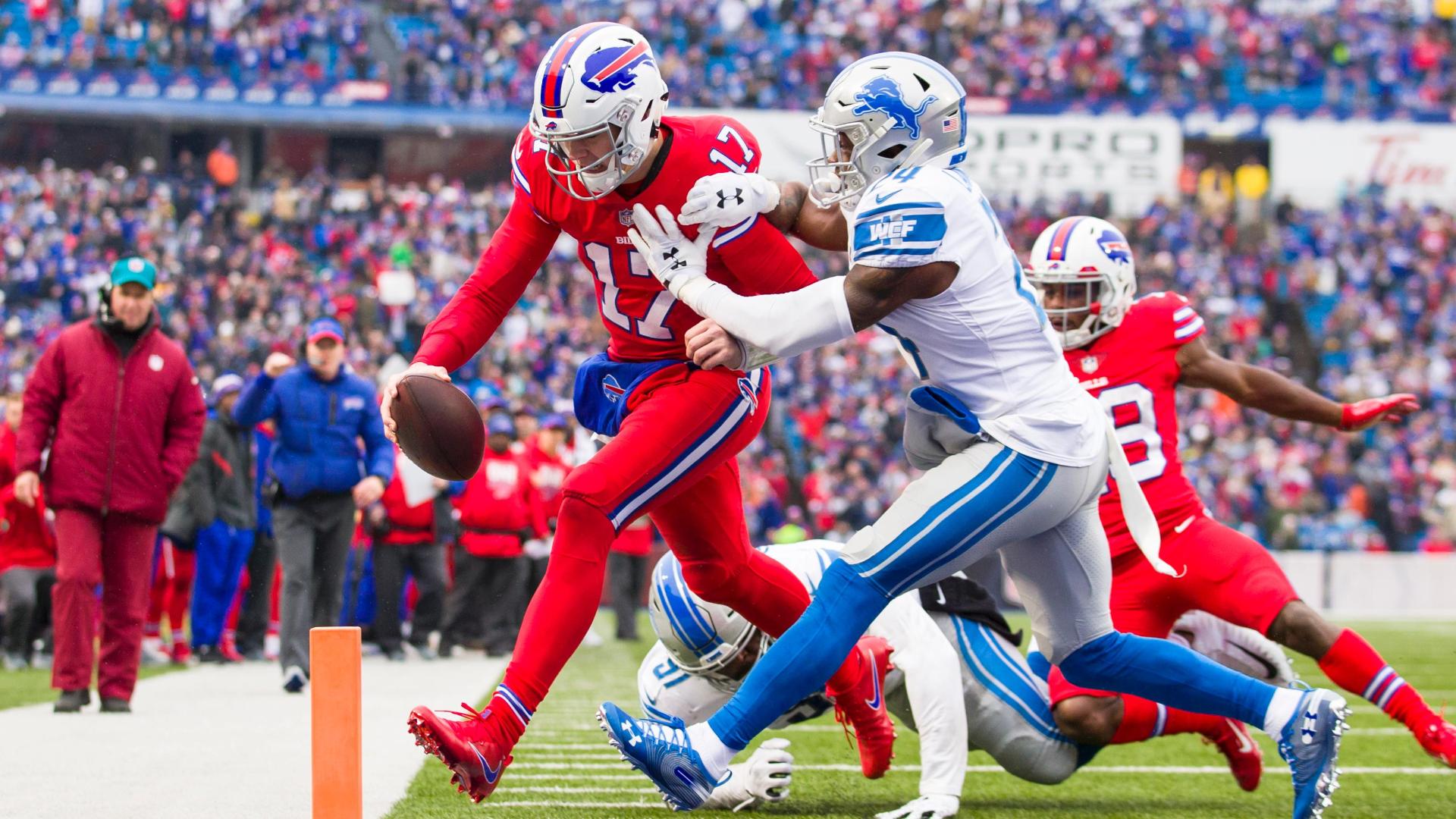 Westbrook returns punt for 74-yard TD
Dede Westbrook fields the punt and runs untouched down the sideline for a 74-yard Jaguars touchdown.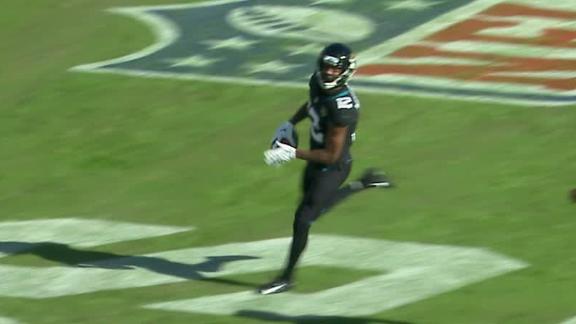 Bears end Rodgers streak with a INT
Aaron Rodgers' pass is picked off by Eddie Jackson and ends Rodgers' record streak of pass attempts without an interception at 402.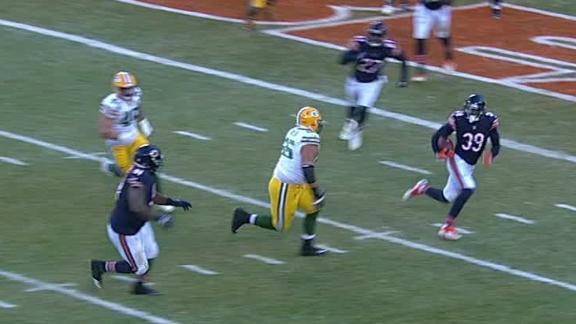 Trubisky zips it to Burton for TD
Mitchell Trubisky finds Trey Burton open in the end zone for a touchdown to put the Bears up 21-14.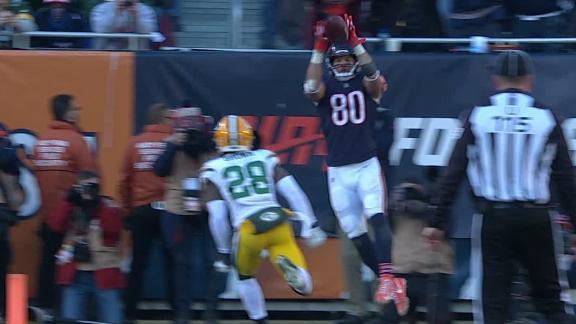 Boyd celebrates TD with Ochocinco dance
Tyler Boyd catches a 7-yard touchdown and celebrates with a Chad Ochocinco-inspired dance.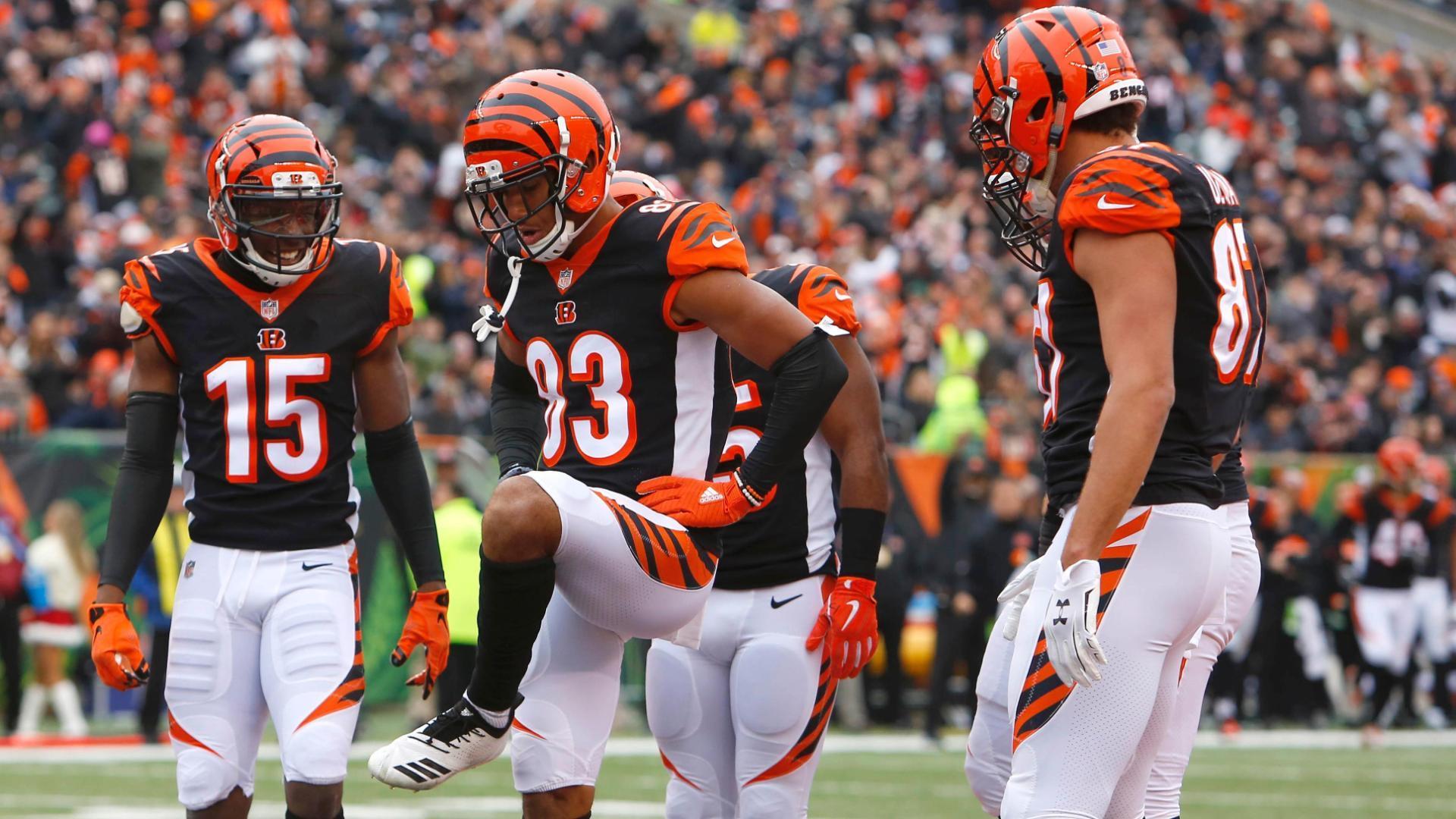 Top headlines
Simmons' triple-double propels 76ers past Cavs
Ben Simmons clinches a triple-double in the third quarter and finishes with 22 points, 14 assists and 11 rebounds as the 76ers get their 20th win of the season.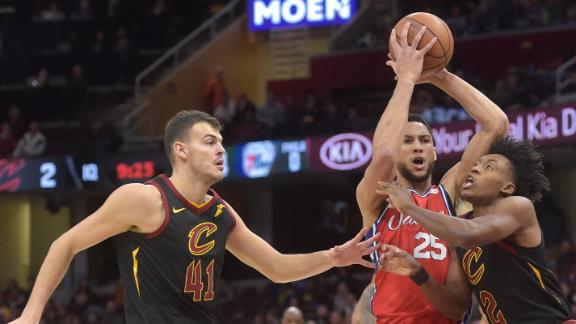 Russell drops 32 in Nets' win over Hawks
D'Angelo Russell scored 32 points on 13-of-19 shooting including 5 3-pointers to help the Nets blow out the Hawks 144-127.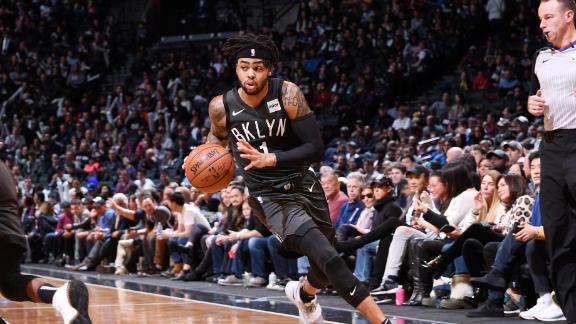 Embiid, Butler dunk on consecutive possessions
Joel Embiid and Jimmy Butler pad the 76ers' lead in the third quarter with back-to-back dunks.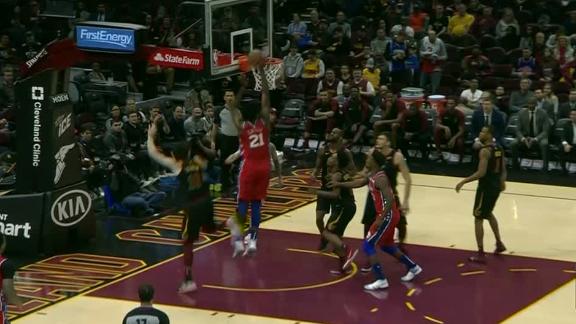 Frye beats the first-quarter buzzer
Channing Frye drills a 3-pointer as time expires to extend the Cavs' lead at the end of the first quarter.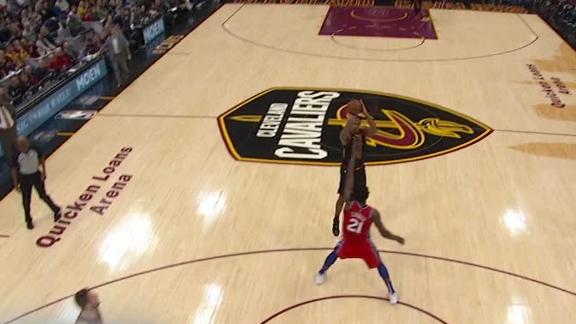 Liverpool 3-1 Manchester United: Klopp finally beats United
Liverpool beat Manchester United for the first time since 2013-14 as they reclaim the top spot in the Premier League from Manchester City.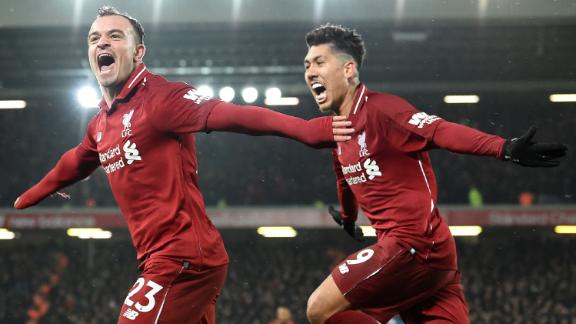 Marcotti: Issue with Pogba all Mourinho's creation
Gab Marcotti believes the personality issue between Paul Pogba and Jose Mourinho is merely the Man United manager's attempt to create a scapegoat.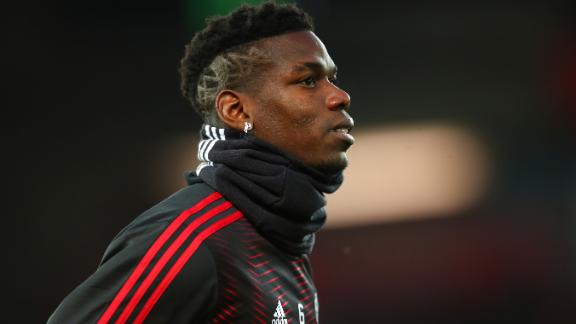 Burley: Man United a team with no leadership
Following Manchester United's resounding defeat at Liverpool, Craig Burley slams the club's lack of leadership, from the boardroom to the pitch.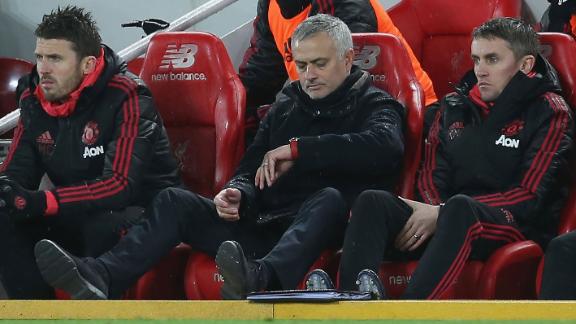 Mourinho insists he has players' backing in testy exchange
Jose Mourinho did not appreciate getting asked if he has the backing of the dressing room following Manchester United's loss to Liverpool.
Liverpool exorcise demons against Manchester United
With Liverpool getting their first league win over Manchester United since 2014, FC's Shaka Hislop examines the gulf in class between the two sides.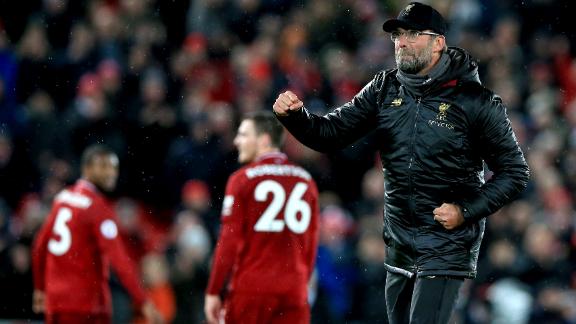 Shaqiri's 2nd moves Liverpool further ahead
English Premier League: Xherdan Shaqiri (80') Liverpool 3-1 Manchester United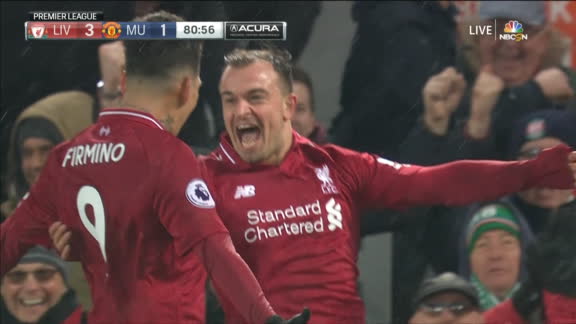 Super-sub Shaqiri puts Liverpool back in front
English Premier League: Xherdan Shaqiri (73') Liverpool 2-1 Manchester United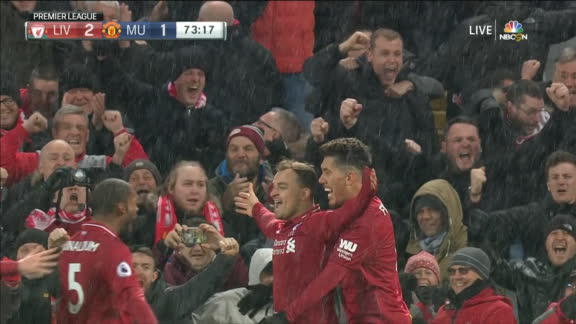 Alisson's howler gifts Lingard equalizer
English Premier League: Jesse Lingard (33') Liverpool 1-1 Manchester United
Mané breaks the deadlock for Liverpool
English Premier League: Sadio Mané (24') Liverpool 1-0 Manchester United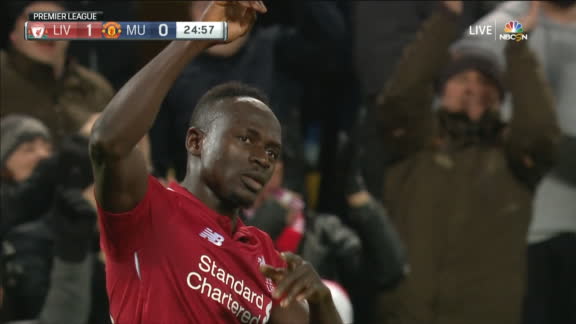 Must See
Trubisky strolls in with glowing Bears sweater
Mitch Trubisky is feeling the Christmas spirit with an "ugly" light-up Bears sweater before Chicago takes on Green Bay.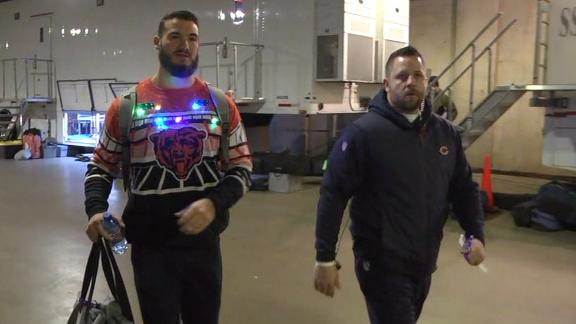 Stephenson earns tech for air guitar celebration
Lance Stephenson pulls up for a 3-pointer and celebrates with an air guitar, but he's called for a taunting technical foul.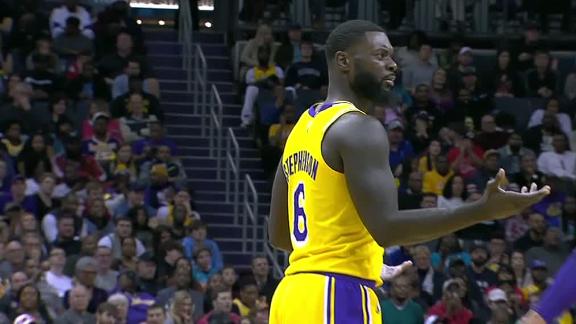 Blues bring puppy to practice
Three days after St. Louis Blues teammates get into a fight at practice, the Blues bring a puppy to practice and it has all sorts of fun on the ice.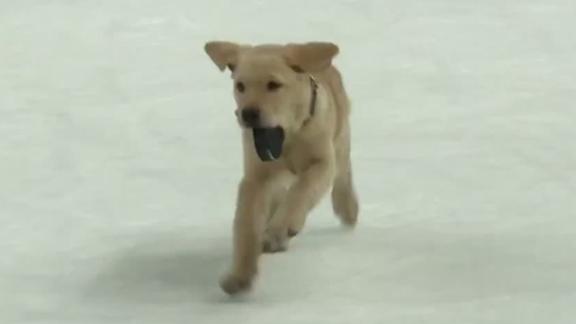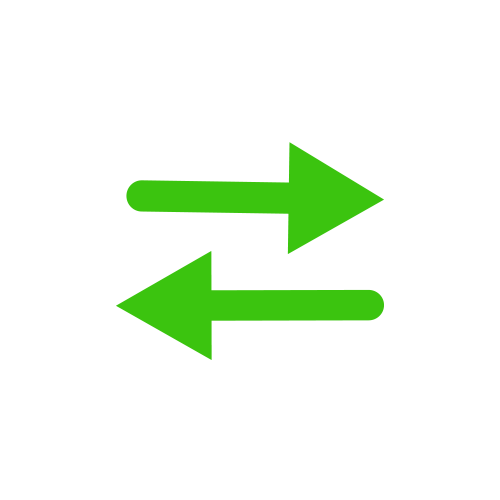 Football
Transfers
Transfer Rater: Zidane to Premier League? Morata to Barca?
ESPN FC's Ale Moreno breaks down the latest transfers surrounding Zinedine Zidane, Alvaro Morata and many more in Transfer Rater.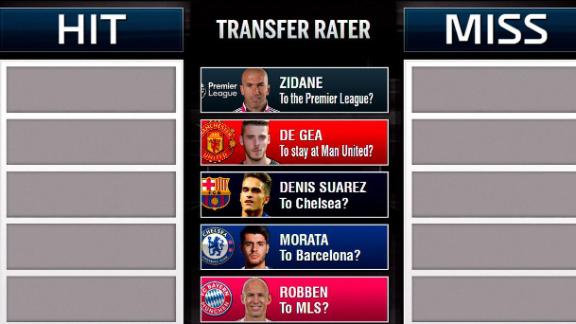 English Premier League
Football
Premier League
App Homepage widget

ESPN Australia

The year is winding down but the action on the court is heating up. Here's how to watch the best of the NBA on ESPN this week.

ESPN Fantasy Football promo

Manage your squad in the Premier League, Champions League, La Liga and Liga MX.

Tim Bradbury/Getty Images

Fred Hoiberg arrived in Chicago hyped as an offensive guru who could modernize the Bulls, but the team's lack of coherent vision and leadership ultimately led to his downfall.

AP Photo/Ed Zurga

Great running teams for the Chiefs. Defending tight ends for the Steelers. Here's where every Super Bowl contender is vulnerable.

Cameron Spencer/Getty Images

With rosters lodged and coaches swapped, we take a look at which NRL clubs are set for the biggest changes in 2019.

Ryan Inzana

Here are the top 100 players and managers in men's soccer, as rated by our experts.

Chris Rodriguez/ESPN

The top outfielder on the free-agent market is set to make big bucks. We put you in Bryce Harper's shoes. Where will you go?

Kelley L. Cox/USA TODAY Sports

We polled the ESPN Forecast panel of experts for their votes on what's next for KD.

ESPN
Customise ESPN