High-profile comedian Joel Creasey says no AFL players have come out as gay because of the ramifications for their career. He said the burden of being known as the "first gay AFL footballer" would be a huge burden for any player to carry.
Creasey discloses in his book, 'Thirsty: Confessions of a Fame Whore', that he previously had a fling with a "bloody good" footballer who's still in the system, but he believes the first gay AFL player to publicly reveal their sexual orientation will forever be known as "the gay player".
"I always hear the story that there are no gay people in the AFL and I'm like, 'there are' and gay people are allowed to play AFL," Creasey said in an interview promoting his new book.
"For the first player [to come out], it's going to become such a thing and that's going to become their identity for so long. So I feel like for the AFL player that comes out. He's going to be 'the gay player'. And you don't want that. You want to be identified as the best in your field, not as the best gay player."
Creasey said he applauded the AFL's efforts to become an industry-leader for equality but fans still displayed anti-gay behaviour at games.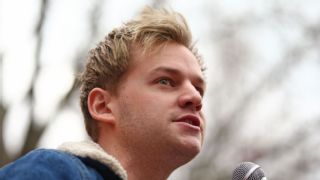 "I have been to the football a few times, and I'm not a big AFL football fan, and I have been sitting in the stands and I've heard lots of [anti-gay slurs] used as taunts to players and yelled out. I'm not remotely surprised [that an AFL player hasn't come out].
"They [the AFL] say that [they're ready to embrace gay people]. And I don't know if they're saying that to sound on trend. But so far, from what we've seen, they've done a brilliant job."