A look ahead to the Brazilian Grand Prix, the penultimate race of the 2017 season. Both world championships have been sealed, but there is still plenty to look out for in the final two rounds.
Focus on... Red Bull resurgence
Following the slightly underwhelming nature in which the 2017 title battle fizzled out in Mexico, F1's teams will be turning their attentions (if they hadn't already) towards next season. That said, there are reasons to remain optimistic of viewing some entertaining action in Brazil and Abu Dhabi. Lewis Hamilton and Sebastian Vettel's collision on the opening lap in Mexico may have robbed us of what was looking to be a fascinating three-team fight for the win, but now the pressure is off and even greater risks can be taken, we could be in for a classic pair of races to round-out the season.
While much of 2017 has been focused on the intense battle between Mercedes and Ferrari, Red Bull has slowly made improvements and has emerged as a genuine contender in recent races. The Milton Keynes-based outfit had scored one win by the summer break, thanks to Daniel Ricciardo's opportunistic drive in Baku, but in the other side of the garage Max Verstappen had racked up a retirement ratio only beaten by Fernando Alonso's McLaren-Honda. Five DNFs from the opening nine races saw Verstappen fade early on in the championship, but he appears to have put his reliability misfortune behind him.
Red Bull has still been hampered by unreliability, with Ricciardo seemingly now the unfortunate recipient of engine gremlins, having retired from the last two events in Austin and Mexico. But the team's performance has come on leaps and bounds. Verstappen has been on the top of his game of late, which, coupled with Red Bull's improvements, has enabled the team to claim two victories in the last four races. As a result, Verstappen is F1's in-form man, picking up the most points (80) of any other driver over the past month.
Engine related-failures may have taken Ferrari -- comfortably the fastest team -- out of the equation in Malaysia, but Red Bull was able to out-perform Mercedes at a track that was expected to suit the strengths of the Silver Arrows' W08. Strong performances continued as Verstappen kept Hamilton honest in Japan and charged through the field Austin, before he dominated proceedings in Mexico. It should be noted here that the unique altitude of the Autodromo Hermanos Rodriquez -- the highest circuit on the entire calendar -- negates power unit efficiency, somewhat diminishing the advantage Mercedes and Ferrari would normally have over Red Bull, but its recent performance step cannot be ignored.
It led Verstappen, fresh from winning his third grand prix, to claim that Red Bull now has a car at its disposal capable of winning at any type of circuit, while team principal Christian Horner insisted his team can win at least one of the remaining two races, barring any reliability problems. Red Bull's RB13 should fare well around the majority of the 4.309km Interlagos circuit, particularly in the tight and twisty middle sector, but it will be the final sector, and the long drag to Turn 1, that will prove crucial to Red Bull's hopes -- especially when Mercedes and Ferrari turn up their engines in Q3. However, rain is forecast for Saturday, and if Verstappen and Ricciardo can replicate their performances from a wet qualifying in Monza (pre-penalties) and get themselves in the mix on the front two rows, we could be set for a thrilling race on Sunday.
In need of a win
After the start he had to 2017 -- winning half of the opening six races of the year -- and given Ferrari's consistent performance levels, it is hard to believe Sebastian Vettel has failed to chalk up a win since the Hungarian Grand Prix at the end of July. The German will be keen to hit back from a nightmare couple of months, in which his title challenge ultimately collapsed. Vettel said Ferrari deserves to end the season strongly, and he will be even more determined to do so following recent criticism from the Scuderia's president Sergio Marchionne.
A win in Brazil (and Abu Dhabi) would go some way in easing Ferrari's disappointment of losing out in both world championships, providing everyone at Maranello with a much-needed boost heading into 2018. Vettel faces the added prospect of losing out on second place in the drivers' standings to Hamilton's Mercedes teammate Valtteri Bottas. A string of poor results and reliability troubles on Vettel's car has allowed Bottas to reduce the gap to 15 points, and Vettel will be looking to put some daylight between himself and the Finn. He will secure second place in Brazil if he can outscore Bottas by 10 points. 
In need of points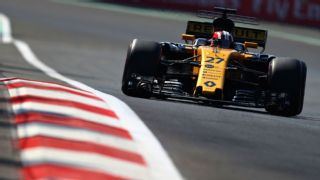 After suffering a double retirement in Mexico -- amid a spate of engine-related troubles across the Renault-backed teams -- Renault needs to bounce back in Sao Paulo. Both Nico Hulkenberg and Carlos Sainz had been running in the points early on in the race, which could have proved a turning point in the battle for fifth place in the constructors' championship had they finished there. As it turned out, Renault missed a key opportunity to close the gap to Williams and has since admitted it will be a "tall order" to make up the 28 points to the Grove-based team with a maximum of 50 left available. With eighth-placed Haas now just a point behind the French manufacturer, a strong result at Interlagos is essential if it wants to avoid slipping down the order. 
Felipe's farewell, part 2
We are set for (another) emotional goodbye from Felipe Massa in Brazil, in what should turn out to be his final home grand prix, following his second retirement from the sport in as many seasons. You will remember the scenes from 2016, when a tearful Massa was greeted by a guard of honour from team members up and down the pitlane after trudging back to his garage following a heavy crash in treacherous conditions. Hopefully on this occasion, the beloved Brazilian will be able to wave goodbye to his home crowd under better circumstances.
Betting
Despite only taking one previous win in Brazil, Lewis Hamilton is the favourite to stand on the top step of the podium on Sunday at 1/1. Sebastian Vettel (7/2) and Max Verstappen (4/1) are the next best-placed, ahead of Daniel Ricciardo (7/1) and Valtteri Bottas (10/1). Following Renault's engine troubles in Mexico, Toro Rosso pair Brendon Hartley and Pierre Gasly are joint favourites to be the first men to retire at 10/1, sharing the same odds as the McLaren duo, though Fernando Alonso can also be found at 4/6 to seal a top ten finish.
Weather
Last year's Brazilian Grand Prix was hit by heavy rain on race day, and it looks like we could be in for more rain this time around. Showers and possible thunderstorms are predicted on Friday, with heavy rain expected for qualifying on Saturday. The rain is expected to make way for sunny conditions on Sunday, while temperatures could rise to 25 degrees Celsius.
Prediction
Brazil often serves up unpredictable and dramatic races, and if rain does happen to fall on Sunday, consider us to be backing Red Bull and Verstappen to prevail, given his stunning drive through the field last year as well his natural ability in the wet. Conditions for the race are expected to be dry, and an added temperature rise should play into the hands of Ferrari. For that reason, we reckon a determined Vettel will score his fifth win of the campaign and his third at Interlagos.
Tyres
Available compounds: Medium, soft, super-soft
The circuit from a tyre point of view:
• The track was resurfaced relatively recently, which ironed out some of the famous Interlagos bumps.
• The second-shortest lap of the season (after Monaco) means cars are not only nearly always turning, but also going offline to overtake.
• The track runs anti-clockwise, with the right-rear tyre doing the most work in Brazil.
• The rapid series of corners and high energy loads put quite high demands on tyres.
• Tyres are also frequently subjected to combined lateral and longitudinal forces. • Unusually, Lewis Hamilton won last year in rainy conditions without making a racing pit stop, although he did take a fresh set of wets under a red flag.
• In 2015, the top three stopped three times.
Mario Isola, head of car racing: "As we saw at the last round in Mexico as well, for Brazil we are again bringing a softer tyre nomination than last year -- when the hard was selected -- so this is likely to lead to some of the fastest-ever laps of Interlagos this weekend. With a short lap, plus plenty of pit stops and overtaking, as well as a passionate Brazilian crowd and the potential for extremes of weather, this is normally a frenetic race where the strategic timing of stops is very important to try and minimise the effects of traffic. While we've gone a step softer this year, no driver has selected more than one set of the mediums, which means that the weekend will be centred around the soft and super-soft compounds."