SAO PAULO, Brazil -- Lewis Hamilton has no plans to switch from car No.44 to No.1 next year after securing his fourth Formula One world title this year.
As the reigning world champion Hamilton has the right to race under No.1 next year, but in line with his decision after his second and third world titles in 2014 and 2015, he will stick with No.44. Hamilton has raced with 44 since Formula One first introduced permanent driver numbers in 2014, choosing the double digit because it was the same one he raced with in go-karts.
Despite the history and prestige related to the No.1 in Formula One -- the number run by the reigning champion prior to 2014 -- Hamilton says there is no temptation to switch next year.
"My engineers want that and a couple of my mechanics, but I don't plan on changing it," he said. "No.44 is family.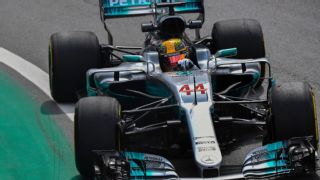 "It's really weird and I guess everyone gets a lucky number at some stage, but we chose that ... my dad chose that number when I was young. There is a picture of me with 43 on my kart when I was in cadets because some other kid stole my number and I had to be 43, but that wasn't really my number, it was just one picture they got.
"I think that was the weekend Mark Blundell had been there to hand out trophies and it was the first time I met a Formula One driver. But I think I will only use 44.
"You know you could fit the No.1 within the 44, so maybe you can play around with it. But I don't really like the number itself. People had it in the past, Michael had it, but no one's had 44 except me.
"It's been a good number for me since I started. I think it's the number my fans recognise and can relate to more. The No.1 is good for a moment but you can't live with it forever. Whereas 44 will stay with me forever."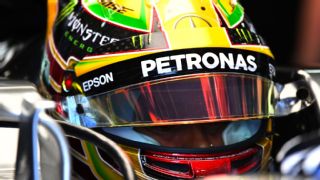 However, Hamilton is marking his fourth world title with a new helmet design this weekend, featuring the No.1 and a fourth star on both the side and the top. Hamilton has run several different helmet designs this year, but says there are still tweaks to be made to this weekend's design.
"I saw the designs, but this one I didn't design myself. I had a great help from Bell and it was a bit of surprise. They showed me what they were planning to do, but seeing it yesterday when it came out, I think it looks awesome with the four stars and the extra bar.
"But I'm a perfectionist so I'm always like 'next time maybe we can ...' I think what happened was the helmet was painted already and then I won and then they added the extra bits because it takes time. But it's been great and Bell have been fantastic."