Mike Putnam, an MMA fighter from Bellefonte, Pennsylvania, competed this past weekend near his hometown at Bellator 186. He allowed ESPN to capture the moments leading up to, during and after his bout with Scott Clymer.
---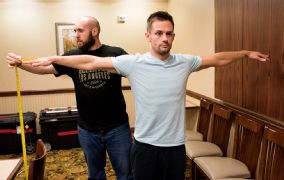 Putnam gets measured by Bellator's Jeff Miller as he checks in with Bellator at the Country Inn & Suites hotel in State College, Pennsylvania. Before Putnam's first professional fight in 2013, he suffered a mini-stroke. He was cleared to fight and won, but he decided to step away after that. It didn't last long, though. As he helped others train, he felt too good to not fight again. 
"Eventually somebody is going to have a fight here, and I'm fighting, and I'm winning," Putnam recalls saying when he first got into MMA.
Bellator photographer Lucas Noonan takes Putnam's fighter photo at the Country Inn & Suites hotel in State College, Pennsylvania.
Putnam talks with members of the Bellefonte High School football team -- his former high school -- two days before his fight. The team had a playoff game scheduled for the same night that Putnam was fighting Scott Clymer in Bellator 186 at Penn State. Putnam was on his high school football team but was unable to play in a playoff game after he and some other members of the team were caught drinking at a party. He urged the current team members to not make the same mistake he made. "It's 11 years later," Putnam said, and he is finally getting another opportunity for success. "Anything could happen later in life if you work hard for it, but you will never get these moments back," Putnam added.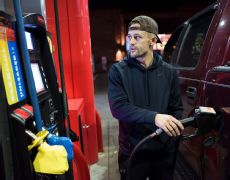 Putnam pumps gas into his truck at a convenience store in his hometown of Bellefonte. While fighters on the main card arrive in town with their "people," fighters on the preliminary card, like Putnam, often don't have the same level of support.
Using a credit card, Putnam squeegees sweat from his body after a workout to cut weight at Lionheart Fitness in State College, Pennsylvania. Putnam worked out and then spent time in a sauna. He then took a cold shower, which he said would seal his pores. He said it would be no problem to lose 2 pounds before the weigh-in early the next morning.
After the official weigh-in Thursday morning, fighters wait in a hallway at the Country Inn & Suites in State College, Pennsylvania, to get a physical that qualifies them to fight.
Putnam stands on the scale to weigh himself in. Bellator gives a lot of local talent opportunities to perform. Some are signed to contracts, but others just get the chance to prove themselves and fight in front of their hometown crowd. 
Vaseline is applied around Putnam's eyes by his cornerman just before the beginning of the fight. Backstage, fellow fighter Mike Wilkins assured Putnam that he was going to do his best to end his fight quickly and get out of the cage so Putnam's fight didn't get pushed until after the main card.
Wilkins kept his word, and his fight ended early. Putnam rushes from a dressing room shared with other preliminary-card fighters to enter the cage. "I was almost the full way down the ramp before my music even came on," said Putnam. 
Featherweights Putnam and Scott Clymer take to the ground during their fight at Bellator 186 in the Bryce Jordan Center at Penn State.
 A crowd of about 100 Putnam supporters came to watch his fight. "Somebody mentioned to me that I probably sold the most tickets," said Putnam. They moved his fight to start right before television coverage began, in order to carry his fans into the main card, but Putnam said, "Especially here, nobody was leaving before Phil [Davis] or Ed [Ruth]. ... but it kind of worked out for me." Both Davis and Ruth wrestled for Penn State.
Putnam gets the attention of his cornermen and the medical staff after his TKO loss to Scott Clymer in the first round. "It's not a fairy tale. That's why it didn't end happily ever after. But that's why you go back to the gym and work harder."
A few days after his loss at Bellator 186, Putnam works a shift as a bartender at Local Whiskey in State College, Pennsylvania. "As great as this town is, you get into the industry, and it's kind of like a black hole," Putnam said. "You live that college lifestyle no matter how old you are." Putnam said he wants to earn enough money to return to Long Island to fully devote himself to training again.