Akeel Morris' statistics with the Brooklyn Cyclones are gaudy. The 20-year-old right-hander from the U.S. Virgin Islands is 4-0 with a 0.90 ERA in 40 innings this season. He has 53 strikeouts while allowing only 26 hits, albeit with 21 walks.
"I mean, I expect a lot out of myself," said Morris, a 10th-round pick in 2010. "I like the results that I'm seeing."
Morris primarily relies on a fastball that sits at 90-94 mph and touches 96-97 mph as well as a changeup. He also has a curveball.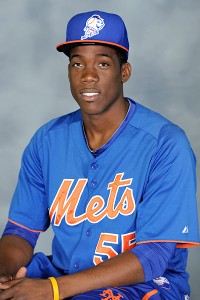 Courtesy of New York Mets
Akeel Morris
He began the season working in a "piggyback" role with Brooklyn, logging lengthier innings than a typical reliever with the appearances spread out like a starter. His last two outings have come as a starter, though.
Morris' mother Corlette originally is from Antigua. His father Kenneth was born in St. Kitts.
Of the 1,525 players selected in the 2010 MLB draft, four were born in the U.S. Virgin Islands. The others besides Morris: Jabari Blash (eighth round, Mariners), Morris, James Sneed (14th round/Angels) and Jamaine Cotton (15th round/Astros). Players subject to the draft include those from the 50 states as well as Puerto Rico and other territories, but not international players from the Dominican Republic, Venezuela, Japan and other countries.
Morris' mother played in a local softball league in the U.S. Virgin Islands, while his father played high school basketball. They encouraged him to start playing baseball at age 5.
"It's actually growing down there," Morris said about baseball in his homeland. "I watched baseball games on TV. I would see it on ESPN -- and for some reason the Florida Marlins a lot, because they're the closest."
His favorite player at that time?
"Growing up I played the middle infield, until I started pitching. So Derek Jeter was my favorite," Morris said.
According to Baseballreference.com, 11 players have been born in the Virgin Islands and reached the majors: Jerry Browne (1986-95), Joe Christopher (1959-66), Horace Clarke (1965-74), Callix Crabbe (2008), Henry Cruz (1975-78), Midre Cummings (1993-2005), Elrod Hendricks(1968-79), Al McBean (1961-70), Jose Morales (1973-84), Calvin Pickering (1998-2005) and Elmo Plaskett (1962-63).
Morris said he auditioned for the Mets in the Dominican Republic, with his parents funding the trip.
"Other teams were interested just from going to showcases [in the U.S.] and playing summer ball," Morris said. "But I just went down to the Dominican to see what could happen for me. And I chose the Mets' complex and I worked out there. And that's how the Mets got interested in me."
Organization leaders
Average: Jayce Boyd, St. Lucie, .327; Cesar Puello, Binghamton, .326; Wilmer Flores, Vegas, .321; Jeff McNeil, Kingsport, .321; Kevin Plawecki, St. Lucie, .304; Jhoan Urena, GCL Mets, .303; Jeyckol De Leon, Kingsport, .301; Eric Campbell, Vegas, .301; Yeixon Ruiz, Kingsport, .301; L.J. Mazzilli, Brooklyn, .298.
Homers: Dustin Lawley, Vegas, 25; Travis Taijeron, Binghamton, 22; Allan Dykstra, Binghamton, 20; Cesar Puello, Binghamton, 16; Wilmer Flores, Vegas, 15.
RBIs: Dustin Lawley, Vegas, 92; Wilmer Flores, Vegas, 86; Jayce Boyd, St. Lucie, 80; Allan Dykstra, Binghamton, 79; Kevin Plawecki, St. Lucie, 78.
Steals: Darrell Ceciliani, Binghamton, 30; Cesar Puello, Binghamton, 24; Alonzo Harris, Binghamton, 23; Eudy Pina, Savannah, 21; Patrick Biondi, Brooklyn, 17.
ERA: Rob Whalen, Kingsport, 1.49; Chris Flexen, Kingsport, 2.09; Miller Diaz, Brooklyn, 2.22; Robert Gsellman, Brooklyn, 2.31; Gaby Almonte, GCL Mets, 2.31; John Gant, Brooklyn, 2.67; Gabriel Ynoa, Savannah, 2.71; Rainy Lara, St. Lucie, 2.85; Rafael Montero, Vegas, 2.0-; Matt Bowman, St. Lucie, 3.05.
Wins: Gabriel Ynoa, Savannah, 14; Rafael Montero, Vegas, 12; Logan Verrett, Binghamton, 12; Matt Bowman, St. Lucie, 10.
Saves: Jeff Walters, Binghamton, 37; T.J. Chism, St. Lucie, 19; Beck Wheeler, Savannah, 17; Robert Carson, Vegas, 11; Bret Mitchell, St. Lucie, 10.
Strikeouts: Rafael Montero, Vegas, 142; Noah Syndergaaard, Binghamton, 133; Logan Verrett, Binghamton, 126; Erik Goeddel, Binghamton, 120; Jacob deGrom, Vegas, 119.
Short hops
• Right-handers Chasen Bradford and Hansel Robles, catcher Cam Maron, infielder Aderlin Rodriguez and outfielder Cory Vaughn will represent the Mets in the Arizona Fall League. Two pitchers will be added later.
• Outfielder Dustin Lawley received a two-level promotion with Matt den Dekker getting a call-up to the majors. Lawley, the Florida State League leader in homers (25) and RBIs (92), is jumping all the way to Las Vegas. The one downside: Lawley will fall two RBIs and four homers shy of St. Lucie single-season records. He did become the fourth St. Lucie Met ever named Florida State League Player of the Year, joining Chris Donnels (1989), Nikco Riesgo (1990) and Randy Curtis (1993).
• The Mets have two affiliates locked into the playoffs, and could have as many as five qualify as minor league regular seasons near completion.
Las Vegas' division lead over Sacramento was trimmed to 2½ games with Tuesday's loss. Seven games remain in the 51s' season. The four division leaders qualify in the Pacific Coast League.
Binghamton already has clinched its first division title since 2000.
St. Lucie is on the brink of elimination from postseason contention. The Florida State League club must win out and get a ton of help. St. Lucie is in third place, trailing division-leader Charlotte by four games. But second-place Palm Beach, two games back, plays its final four games against Charlotte.
Savannah won its first half and has qualified for the South Atlantic League playoffs.
With three games remaining, Kingsport is in second place, a half-game behind division leader Greeneville. The top two teams in each division make the playoffs, and the K-Mets have a two-game lead over third-place Johnson City.
Brooklyn trails first-place Aberdeen by a half-game in its New York-Penn League division with eight games remaining. Three division winners and one wild-card team qualify in the NYPL. The Cyclones all but need to win the division. They trail Pinckney Division runner-up Jamestown by 6½ games for the wild card.
• Despite receiving a 50-game suspension for a second violation involving a drug of abuse, the Mets would need to add left-hander Chase Huchingson to the 40-man roster this winter to shield him from the Rule 5 draft. Oddly, the suspension could make Huchingson more attractive in that draft, since he would not tie up a 25-man roster spot at the major league level for the first quarter of the season. Binghamton's playoff games do not count toward suspension time served.
• Vegas left-handed reliever Jack Leathersich had the briefest of demotions. Leathersich officially had been demoted to Binghamton, but never ended up leaving the 51s. When Robert Carson was promoted to the Mets, Leathersich was transferred back to Vegas without ever leaving the city limits. Leatherisch, a strikeout machine during his pro career, has 48 Ks in 28 innings in Triple-A. But he also has a 6.75 ERA, 27 walks and three hit batters. That signals a September call-up is unlikely, especially since he does not yet need to be added to the 40-man roster.
• Although he remains a catcher, Kevin Plawecki is getting some first-base action with St. Lucie. Plawecki has appeared in 15 games at the position with the Florida State League club. He recently missed two games after taking a foul tip off his bare hand while catching Sunday against Fort Myers.
• Right-hander Michael Fulmer will remain on the DL for the rest of St. Lucie's season with a right shoulder strain.
• Binghamton left-hander Darin Gorski was named Eastern League Pitcher of the Week. Right-hander Robert Gsellman was named New York-Penn League Pitcher of the Week. He had 13 strikeouts Saturday for Brooklyn.
• Binghamton backup catcher Xorge Carrillo has hit safely in 16 of his last 18 games (22-for-56), raising his batting average 110 points, to .301.
• Outfielder Darrell Ceciliani returned to the B-Mets' lineup Sunday after missing seven games. Ceciliani, a former New York-Penn League batting champ, had tweaked an ankle rounding third base. His 30 steals rank second in the Eastern League, trailing only Akron's Jose Ramirez (38).
• Logan Verrett's win last Wednesday clinched Binghamton's first division title in 13 years. Verrett, a Baylor product, now has a league-leading 12 wins.
• Center fielder Patrick Biondi, the Mets' ninth-round pick in June out of the University of Michigan, has a right wrist injury. He has not started with the Cyclones since Aug. 19, but can pinch run or bunt if needed.
• Despite tossing seven scoreless innings in his most recent outing, St. Lucie right-hander Domingo Tapia remains winless since April 20. He is 2-9 with a 4.86 ERA in 22 starts and has walked 62 in 96 1/3 innings.