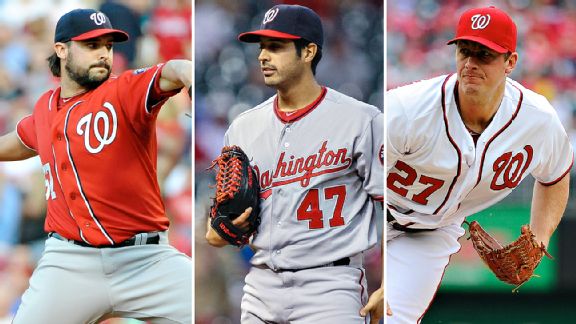 USA TODAY Sports
The Mets are due to face Tanner Roark, Gio Gonzalez and Jordan Zimmermann this weekend at Nationals Park.METS (19-21, fourth place/NL East) at WASHINGTON NATIONALS (21-19, second place/NL East)
Friday: LHP Jonathon Niese (2-2, 2.17) vs. RHP Tanner Roark (2-1, 3.65), 7:05 p.m. ET
Saturday: RHP Bartolo Colon (2-5, 5.84) vs. LHP Gio Gonzalez (3-3, 3.97), 4:05 p.m. ET
Sunday: RHP Zack Wheeler (1-3, 4.53) vs. RHP Jordan Zimmermann (2-1, 3.59), 1:35 p.m. ET
Nationals short hops
• Injuries have seriously struck the Nats, with five Opening Day starters already having spent time on the disabled list this season.
Nick Wass/Associated Press
Bryce Harper required surgery to repair a ligament tear in his left thumb after this April 25 slide into third base.
Left fielder Bryce Harper underwent surgery on April 29 to repair a torn ulnar collateral ligament in his left thumb. Harper (.289, 1 HR, 9 RBIs in 83 at-bats) is expected to be sidelined until July. He suffered the injury on a headfirst slide while tripling.
Third baseman Ryan Zimmerman broke his right thumb while getting picked off diving back into second base on April 12.
Adam LaRoche (.319, 5 HR) landed on the DL on Sunday with a right quadriceps strain.
Three others integral players are back after recovering from maladies:
Catcher Wilson Ramos, who suffered a broken hamate bone in his left hand on Opening Day at Citi Field, returned May 7 after missing 32 games.
Right-hander Doug Fister, acquired during the offseason in a salary dump by the Detroit Tigers, has made two starts since opening the season on the disabled list with elbow inflammation and a lat-muscle strain.
Denard Span spent a week in mid-April on the concussion DL.
Anthony Rendon has shifted from second base to third base in Zimmerman's absence, with Danny Espinosa handling second base full time. Tyler Moore was promoted from Triple-A Syracuse to handle first base. Moore, who had been demoted basically coinciding with Ramos coming off the DL last week, returned after spending only three days in the minors. Minus Harper, four players have started in left field: Nate McLouth, Kevin Frandsen, Scott Hairston and Zach Walters.
McLouth, who signed a two-year, $10.75 million deal in December to defect from the Baltimore Orioles, is one of the few bench players struggling to handle the larger role. Originally signed as the fourth outfielder, he is hitting .117 with one homer and one RBI in 60 at-bats.
• The Nats have outscored opponents by 38 runs from the seventh inning onward, the best differential in the majors. They have outscored opponents 19-3 in the ninth inning.
• Nats relievers have a collective 2.28 ERA, which ranks third in the majors. Closer Rafael Soriano (1.18 ERA, eight saves) lost a career-best 25-inning scoreless streak Saturday, when he suffered his lone blown save this season, at Oakland. Drew Storen has a 0.568 WHIP -- with six hits and one walk allowed in 12 1/3 innings.
• The Nats signed lefty-hitting Greg Dobbs to a minor-league deal for potential pinch-hitting duty. Dobbs, 35, was released by the Miami Marlins after opening the season 1-for-13 with four strikeouts. Miami ate his $1.7 million contract. Dobbs has not yet been added to the big-league roster.
• After consecutive scoreless efforts (including a rain-shortened four-inning outing opposite L.A.'s Zack Greinke), Jordan Zimmermann allowed five runs in 5 2/3 innings at Arizona on Monday while pitching on two extra days of rest. For his career, Zimmermann has a 2.99 ERA on standard rest and 3.89 ERA with extra rest. Zimmermann will have an extra day of rest before facing the Mets on Sunday.
• Subtract a May 3 outing at Philadelphia in which he allowed two homers and seven runs and Tanner Roark otherwise has a 2.45 ERA in six starts this season.