If Arsenal fans thought things were bad under Unai Emery, then the loss to Brighton has seen them plumb new depths...
The Toe Poke Daily is here every day to bring you all the weirdest stories, quirkiest viral content and top trolling that the internet has to offer, all in one place.
Jump to: Chelsea's Kante settles how to pronounce his name... kinda | Real Madrid legend Guti: 'Don't call me Guti' | Training session halted due to a wild stag on the field
Arsenal's brave new era continued in much the same vein as the previous one on Thursday night, as Freddie Ljungberg's side fell to a disjointed 2-1 home defeat against Brighton.
The frustration on the pitch was palpable, with several players barking and bickering with each other throughout the match.
Mesut Ozil was also seen ranting, apparently at assistant manager Per Mertesacker, after the final whistle, remonstrating about the result and the poor performance that brought it about.
It was claimed by several outlets that Ozil was shouting "Sacker!" at Mertesacker, although the Daily Mail's own crack team of lip-readers interpreted the playmaker as saying "Laca!" in reference to Alexandre Lacazette.
Tempers flare at full-time... @OfficialBHAFC achieve their first ever away win at Arsenal, leaving the Emirates in stunned silence#PLonPrime #ARSBHA pic.twitter.com/17wY8Robit

— Amazon Prime Video Sport (@primevideosport) December 5, 2019
The German pair shook hands as Ozil trudged back to the dressing room in a huff, but it was hardly an edifying sight for Gunners fans watching at the Emirates or at home.
The Gunners' cause was hardly helped when they were temporarily reduced to 10 men in the latter stages of the game when Pierre-Emerick Aubameyang fled from the pitch for several minutes.
Ljungberg later confirmed that despite the fact that his teammates were desperately chasing an equaliser, the Gabon striker was forced to dash off to answer the call of nature.
"[Aubameyang] ran off and came back two or three minutes later," Ljungberg said. "If you feel bad, you feel bad. It's nothing you can change.
"I actually didn't even notice he went off. I just saw him come back on after he'd been off for a couple of minutes."
Fair enough, though failing to notice that your captain and top goal scorer has vacated the game entirely could be construed as a fairly damning assessment of his overall performance.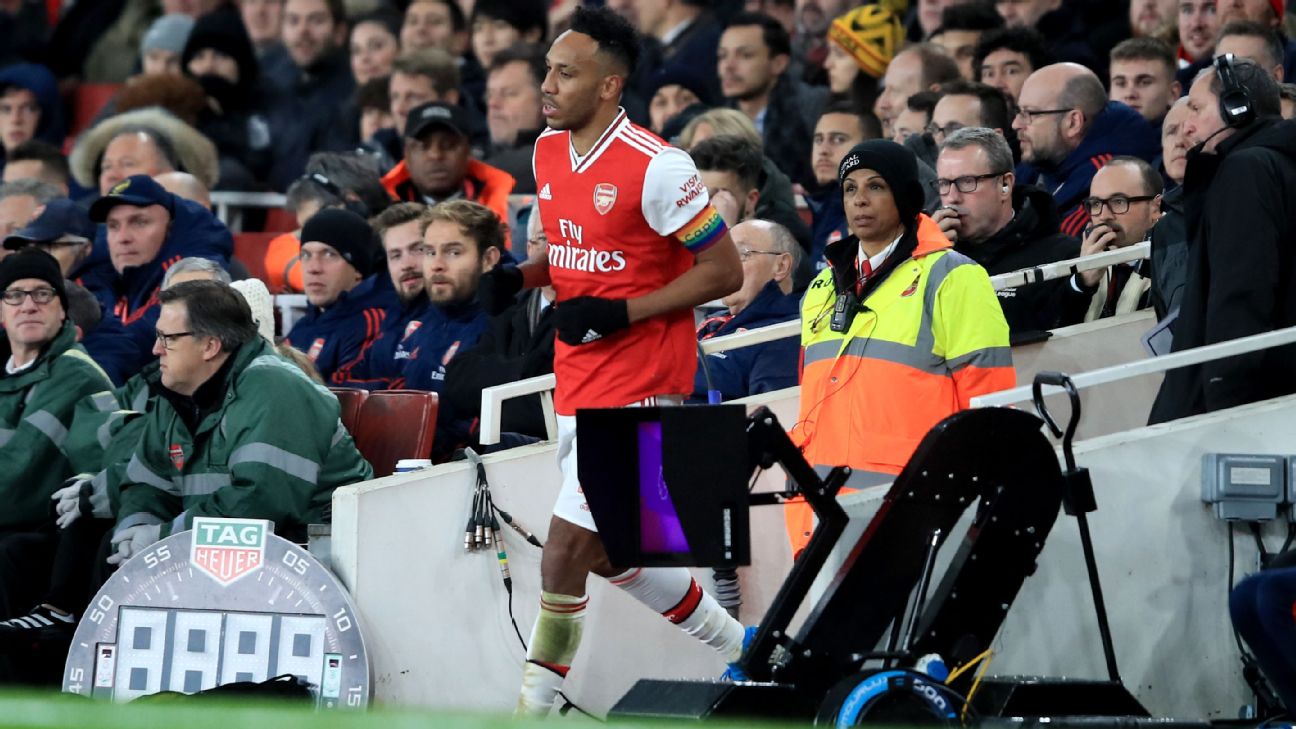 And to think, it wasn't that long ago that defender David Luiz still harboured hopes of winning the title this season. How's that working out? Oh, right, Arsenal are on their longest winless run in 42 years.
Arsenal's Premier League form since David Luiz said they could challenge for the title:

LDDLDDL pic.twitter.com/9YPyzvL4V3

— ESPN FC (@ESPNFC) December 6, 2019
Some fans even resorted to the unthinkable and started praying for Tottenham's former manager to take over and deliver them from their torpor.
Welcome to Arsenal! #WelcomePoch pic.twitter.com/rK2BNoQpml

— Miscellaneous_Maestro (@Misc_Maestro) December 5, 2019
Of course, it wouldn't be an Arsenal game without a brand-new meme taking root.
Indeed, as it became increasingly apparent that the Gunners were heading for their ninth game without a win, the #WengerIn hashtag began trending on social media in the U.K., as did #LjungbergOut.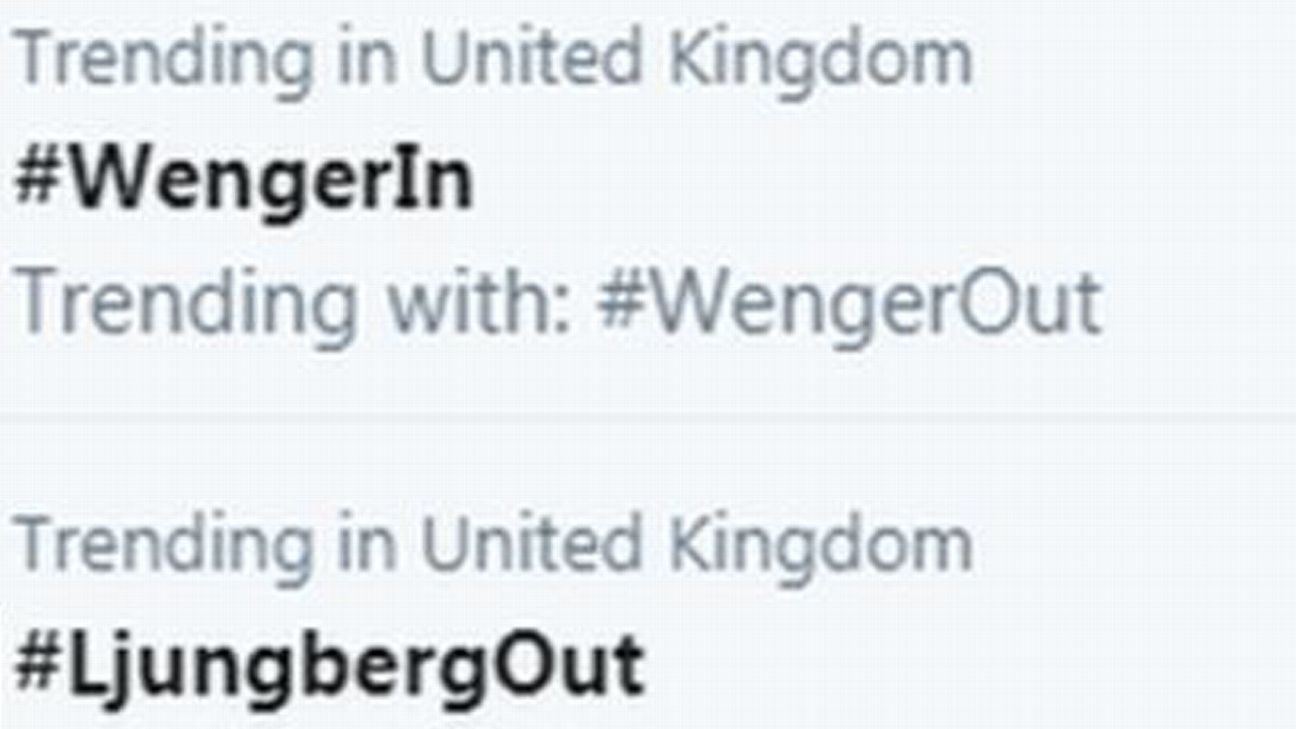 This coming just a couple of years after the legendary French coach was near-hounded out of the club on the back of the global "Wenger Out" movement, fuelled by the deafeningly irrational arm of the Arsenal supporter base.
Don't it always seem to go, that you don't know what you've got 'til it's gone...
Chelsea's Kante settles how to pronounce his name... kinda
Lets start pronouncing N'Golo Kanté's name correctly!! #chelsea #kante pic.twitter.com/cvEjXTM820

— Will Perry (@willperryTV) December 5, 2019
It's a quandary that has puzzled mankind for years, but thankfully N'Golo Kante has now confirmed, once and for all, the correct way to pronounce his surname.
The Chelsea midfielder is largely called "KON-tay" in Premier League circles, but the man himself has gone on record as saying the proper pronunciation is "KAN-tay."
Speaking to BBC Sport reporter Will Perry, Kante establishes that his name is pronounced "KON-tay" in a French accent and "KAN-tay" in the accent of Mali, where his parents are from -- but that he prefers the former.
However you say it, the name still translates into English as "football's most lovable guy."
Real Madrid legend Guti: 'Don't call me Guti'
💥📢 OFICIAL | Guti deja de ser Guti...

😅😅😅 pic.twitter.com/dP288dTYay

— El Partidazo de COPE (@partidazocope) December 5, 2019
Sticking with the subject of proper nomenclature, Real Madrid legend Guti has confirmed that he no longer wants to be known by his long-standing nickname.
Now the manager of second division Almeria, the artist formerly known as Guti made an unusual request after his news conference on Thursday.
"One thing... I'd like to be called Jose Maria Gutierrez, not Guti," the 43-year-old told reporters.
"I'm hearing Guti, Guti everywhere... My name is Jose Maria Gutierrez, not Guti. OK? Thank you."
With that in mind, it's perhaps not wise to mention that, just one month ago, Almeria welcomed Gutierrez on board as their new head coach by presenting him with a shirt that had "Guti" plastered across the back.
Oops. Oh well, they weren't to know.
Training session halted due to wild stag on the field
We've had to stop training because of some stags👀😂 pic.twitter.com/TpEPXtMGwL

— Fort William FC (@FortWilliamFC) December 5, 2019
Playing in the Scottish Highlands may afford Fort William FC with some spectacular scenery, but it also brings its own unique challenges.
Indeed, not many clubs around the world have to halt their training sessions to allow a large stag to cavort its way across the pitch.
The perils of trying to go through your fitness drills in the shadow of Ben Nevis.
There's probably a half-decent joke about "hoofball" in there somewhere.