With almost all football postponed indefinitely because of the coronavirus pandemic, star players have found themselves at a loose end.
With many training grounds off limits, clubs have sent footballers home, where they're adhering to a quarantine period for the next few weeks. How are they passing the time?
ESPN will be keeping a daily eye on what the world's best are getting up to, as well as how clubs are keeping busy by battling in online competitions against each other.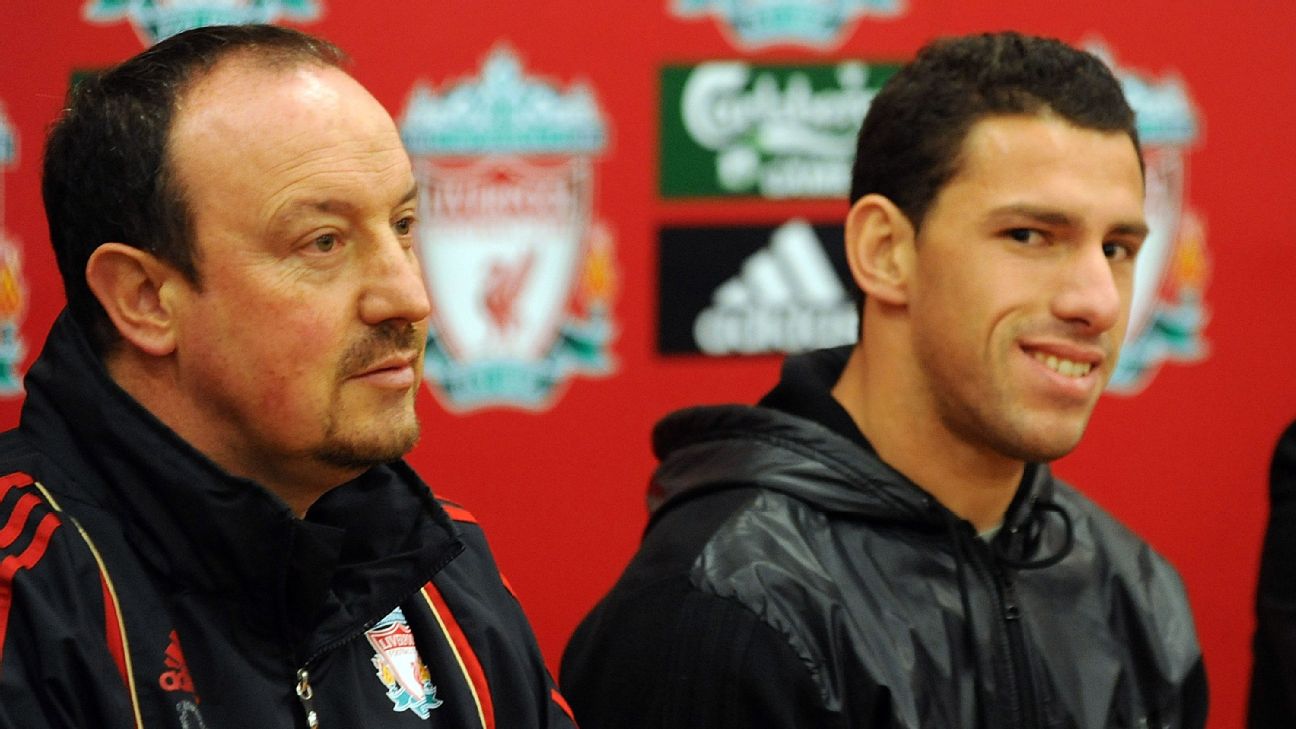 The former Liverpool midfielder obviously has had plenty of time alone with his conscience during his quarantine and just had to get a long-held secret off his chest by revealing that he was so desperate to secure his transfer to Anfield a decade ago that he told a tactical white lie to get the deal over the line.
The Argentina international was so eager to play under Rafa Benitez that he fibbed about being able to speak English after learning that the Liverpool boss was only interested in signing players who could already communicate in the local parlance.
"I was very well at Atletico because I was the captain and I knew the city," Rodriguez told former international teammate Juan Pablo Sorin in an Instagram Live interview. "But I was always crazy about English football. Rafa told me that it was very important that everyone spoke English in the changing room.
"He asked me if I could and I said 'yes,' to be calm. Of course, I didn't want the transfer to collapse!"
With Benitez satisfied, Rodriguez then signed for the Reds in the winter transfer window of 2010 on a free transfer from Atleti.
"We arrived in England and I had the press conference," the 39-year-old continued. "He [Benitez] said he would start and then I would follow."
"It was then that I grabbed him and told him, 'Look Rafa, I need to confess something. I don't speak English.
"The only thing I can say is hello, I didn't want the transfer to move to fall through.' He replied: 'No, you are son of a b----.'
"We both laughed and then, well, I then had to learn!"
Oh well, it's not like anybody got hurt, and Rodriguez went on to play his part for the Reds, scoring 15 Premier League goals (including two hat tricks in the space of three appearances) over the following two and a half seasons at Anfield.
Frank Komba
FIFA qualified Assistant Referee Frank Komba is not letting self-isolation get in the way of his training in Tanzania 😂 pic.twitter.com/KvdmsiHvjJ

— ESPN UK (@ESPNUK) March 31, 2020
Quarantine may be in effect across the world, but assistant referee Frank Komba is making sure his skills stay razor sharp in the meantime.
The Tanzanian official was filmed practising his flag-waving duties in his living room at home in Dar es Salaam.
Reassuring to see that Komba's flag work is impeccable and his sidestepping prowess remains among the very best in the game.
We hope to see him out on the sidelines again very soon.
Lionel Messi en une du journal L'Équipe ce mardi 31 mars.

Le journal > https://t.co/fmp0BE5oAx pic.twitter.com/h2t7RHECyZ

— L'ÉQUIPE (@lequipe) March 30, 2020
Messi is once again gracing the cover of L'Equipe, although you may find it a little difficult to recognise the Barcelona superstar this time around.
The French sport daily has portrayed Messi as a modern-day Che Guevara after the Barca star led his teammates in an concerted effort to help ease any financial burden on the club by cutting the entire first-team squad's wages by 70%.
Messi's face has been superimposed on the famous image of the South American revolutionary, complete with unkempt beard and dishevelled beret.
The Argentina captain also confirmed that Barca players had come to a joint agreement and would be reducing their wages for the duration of the current health crisis in Spain via a statement issued on Instagram.
Messi also chastised specific members of the Catalan club's hierarchy for "adding pressure for us [the players] to do what we were always going to do anyway."
The Manchester United midfielder is spending a lot of time in his "PP Arena" training facility at home at the moment, where he's busy honing his fancy footwork.
Indeed, Pogba has challenged everybody to show off any new tricks they've been working on in isolation while presenting one of his own.
The skill was bamboozling and the basketball trick-shot finish was just the icing on the cake.
Pogba also tagged Zlatan Ibrahimovic, Benjamin Mendy and Memphis Depay in the video, so stay tuned for more incredibly intricate ball control.
Zlatan Ibrahimovic
Ibra is yet to respond to Pogba's challenge at time of writing, but he is making the most of his downtime by ensuring his extracurricular business is still ticking over.
The AC Milan star has launched his latest eponymous fragrance, "ZLATAN SPORT FWD," with a video showing him getting out of bed and really enjoying the fresh new scent.
If you seek to be both mentally and physically prepared for everything and smell exactly like Zlatan Ibrahimovic first thing in the morning, then this is definitely the fragrance for you
The Arsenal midfielder has announced a little positive news amid these difficult times: the birth of his first child.
Ozil and partner Amine have welcomed little Eda into the world with dad confirming that their daughter arrived "in a healthy way" on Instagram.
How lovely. Here's wishing them all well.