With almost all football postponed indefinitely because of the coronavirus pandemic, star players have found themselves at a loose end.
With many training grounds off-limits, clubs have sent footballers home, where they're adhering to an isolation period for the next few weeks. How are they passing the time?
ESPN will be keeping a daily eye on what the world's best are up to, as well as how clubs are keeping busy by battling in online competitions against each other.
- Stream new episodes of ESPN FC Monday-Friday on ESPN+
- Stream every episode of 30 for 30: Soccer Stories on ESPN+
David Luiz celebrated his 33rd birthday this week and, just like Tottenham Hotspur's Dele Alli before him, had to do so in lockdown.
However, Arsenal defender Luiz managed to find some guests to invite to his party and wish him many happy returns.
The Brazil international shared footage of the magic moment when all of his "friends" sang to him on social media before delivering a message to his followers: "I'm here to say thank you for all the lovely messages, thank you very much for everything, and to make a special request.
"Today is my birthday, but you can make the difference at this difficult time. Help someone, you neighbour or someone in your area. I would be very grateful. That would be my best present."
It's not the first time that Luiz has had a close encounter with a doppelganger, or indeed been sucked into a meta-spiral of his image being endlessly repeated.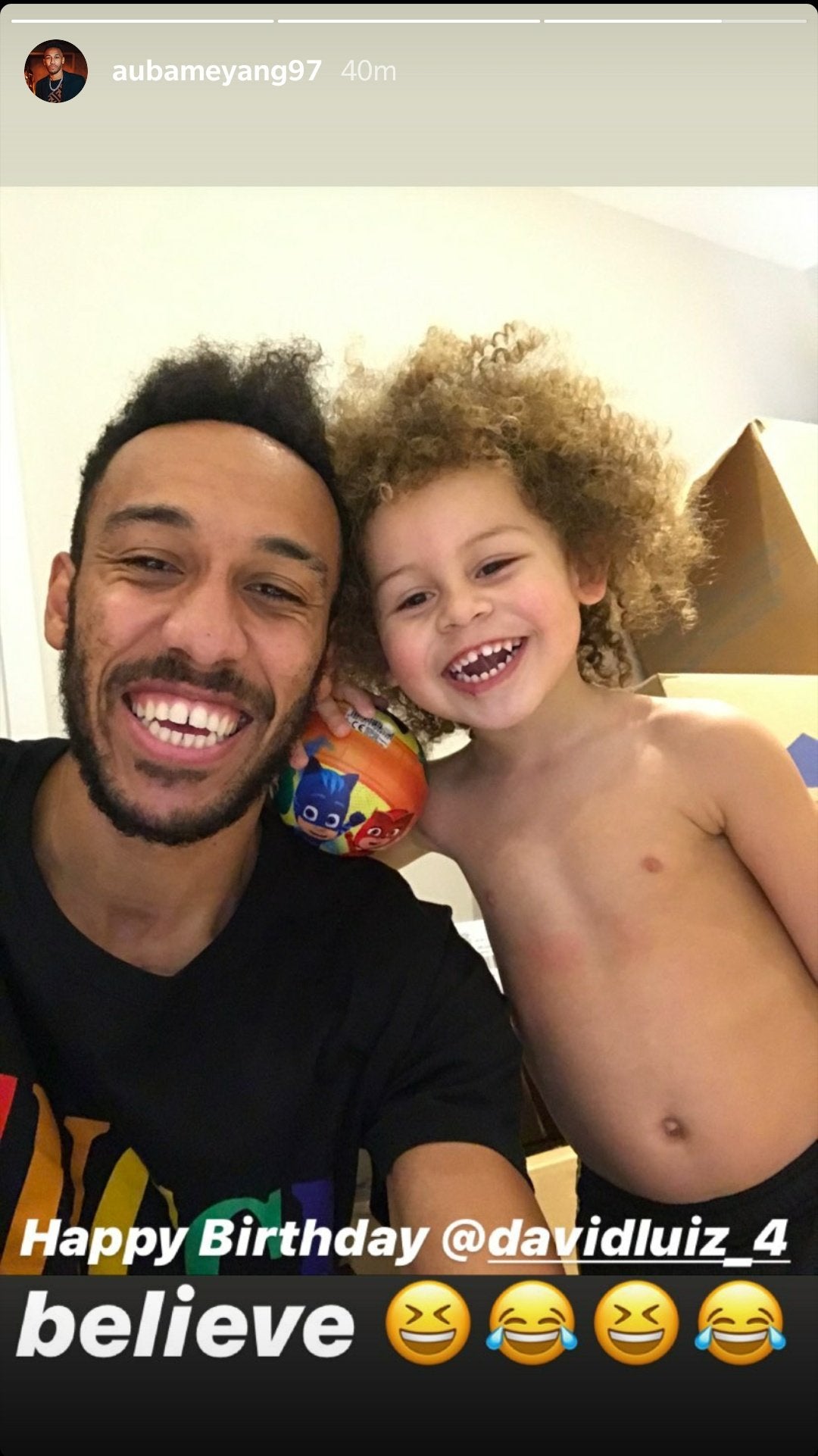 Pierre-Emerick Aubameyang, one of Luiz's teammates, was also hand to keep his spirits up by finding another little doppelganger to send a special message to his teammate.
Aubameyang was ably assisted by his young son, Pierre Jr., who joined him to wish Luiz a very happy birthday on Instagram.
Liverpool star Mohamed Salah chose to while away the hours with a little topless photoshoot for no discernable reason.
The Egypt forward removed his shirt to pose before sharing the image on Instagram with just a single "smile" emoji by way of caption.
Perhaps it was Salah's incredulous reaction to hearing the shock news that he's just signed for Danish top flight club Brondby.
However, Mo may well reinstate his shirt once he realises Brondby's new acquisition is actually a 15-year-old academy striker who prefers to go by the nickname "Muddi."
Leroy Sane has been showing off his extensive sneaker collection, revealing that he's amassed a truly vast array over the years.
Under the pretense of displaying his side-stepping prowess, the Manchester City winger made sure that his impressive trainer haul was fully visible in the background.
Ronaldo
Ao que parece, esse é um dos sorteios mais difíceis que @Ronaldo já enfrentou 🧼🤣#SaudadesDoFutebol #FiqueEmCasa pic.twitter.com/BDKwSSMyox

— Futebol Santander (@FTBLSantander) April 22, 2020
Obviously yearning for the real thing, Brazil great Ronaldo has been getting his football fix by turning the household chore rota into a Champions League draw.
Burnley midfielder Johann Berg Gudmundsson has launched a board game that might just help families alleviate a bit of the boredom during lockdown -- if you can speak Icelandic.
The Iceland international helped to create a football quiz game called "Beint I Mark" (which roughly translates as "Straight On Goal") a couple of years ago.
Gudmundsson spoke about the game in an interview on the Burnley YouTube channel.
"Me and my friend who runs a big football website came up with the idea about doing a football quiz game," the 29-year-old said. "I thought it was a really good idea. We thought it would be something good for kids and adults as well.
"There are different levels, difficult ones and some easy, something the whole family could play together. It was a bit of fun to do outside of playing football."
David Moyes
David Moyes has been doing his bit to help those in quarantine by delivering fresh groceries to people near his family home in Lancashire.
"There was a thing up in the window that said drivers needed," the West Ham manager said.
"I volunteered to do it as my wife was away at the time and I was on my own. So I became a fruit and veg driver."
Moyes spent four days assisting with deliveries and really seemed to relish his stint.
"It was beautiful big boxes of fruit and veg, really colourful. I was enjoying it, going back to the shop to get another lot and then filling the car up," he added.