Major League Soccer club FC Cincinnati announced a real coup this week after former Manchester United and Netherlands defender Jaap Stam was hired as their new head coach.
The Ohio franchise tweeted their big news on Thursday but unfortunately -- in a turn of events that would make any social media editor break out in a sympathetic sweat -- welcomed Stam on board by accidentally using a photo of somebody else entirely.
In an error that is seemingly down to an incorrectly tagged file in the image archives, Cincinnati mistakenly used a photo of Tinus van Teunenbroek. Admittedly, the Ajax youth coach is bald, menacing and Dutch but, crucially, he has neither played 67 times for Netherlands nor been a member of Manchester United's Treble-winning squad which won the Premier League, FA Cup, and Champions League in 1999.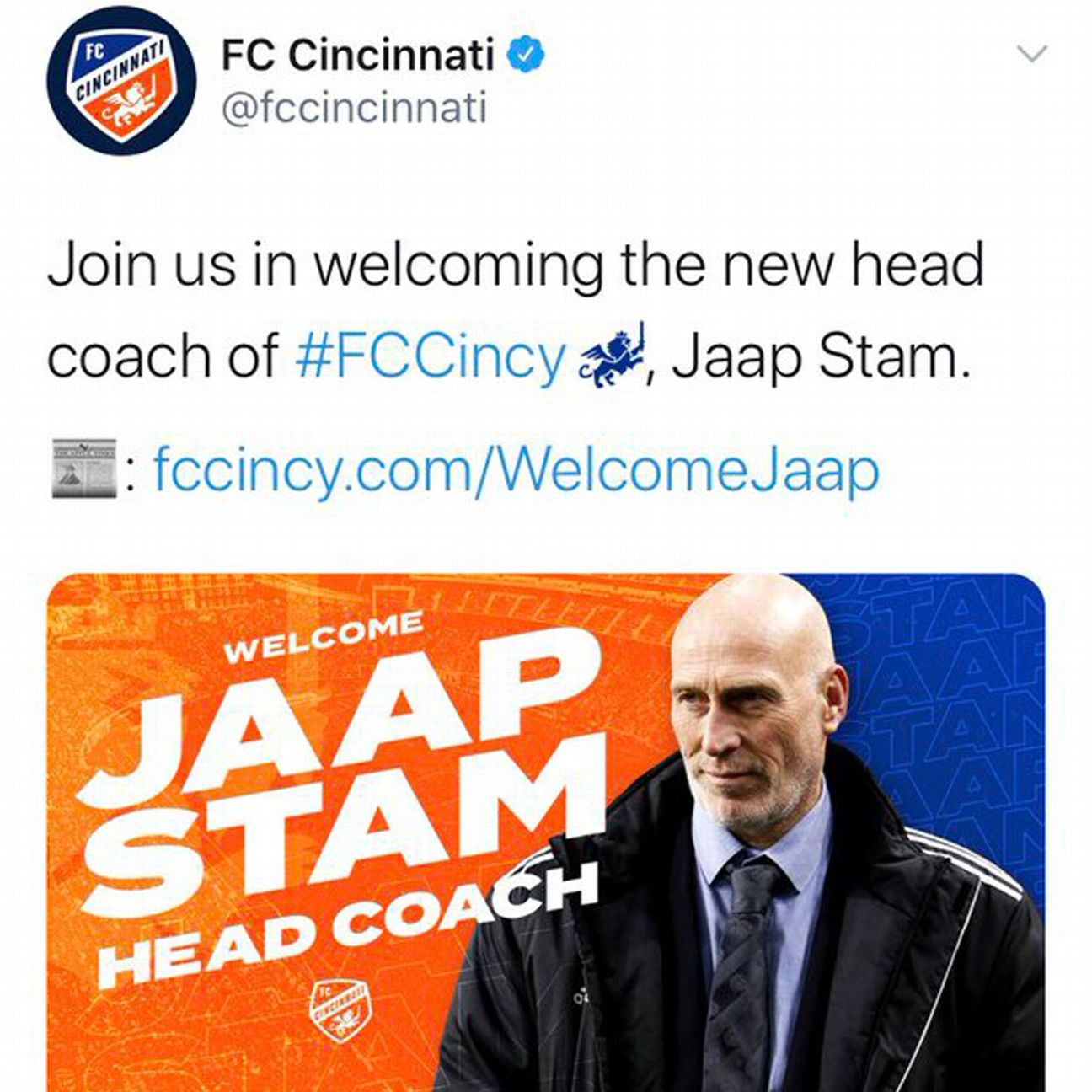 After having had the error pointed out, the club hastily deleted their original tweet and replaced it with the correct image of Stam and an acknowledgement of what had happened, but not before the internet did its thing.
ICYMI: Join us in welcoming our 𝘢𝘤𝘵𝘶𝘢𝘭 new head coach, Jaap Stam. #FCCincy

📰: https://t.co/DP0FEepraD pic.twitter.com/dvLbByeHoC

— FC Cincinnati (@fccincinnati) May 21, 2020
Other MLS clubs were quick to stick the boot in as images of assorted bald gentlemen began filling Cincinnati's Twitter replies.
Folically challenged actors proved popular as Jason Statham, Mark Strong and Bruce Willis made appearances in Cincy's mentions.
Congrats, Jaap! pic.twitter.com/jiwqCHAqkQ

— Columbus Crew SC (@ColumbusCrewSC) May 21, 2020
Welcome, Jaap! pic.twitter.com/v5E166Wmep

— New York Red Bulls | #StayHome (@NewYorkRedBulls) May 21, 2020
live free or die hard, jaap. pic.twitter.com/s8xac5G795

— San Jose Earthquakes (@SJEarthquakes) May 21, 2020
Minnesota United joined the pile-on, wishing Stam a Fast and Furious start to life as an MLS coach.
welcome, Jaap pic.twitter.com/JCUCfpTWkE

— Minnesota United FC (@MNUFC) May 21, 2020
Vancouver Whitecaps kept up the Hollywood theme, albeit with a far less flattering likeness.
Congrats Jaap on your new contract ... for one milllllllion dollars! pic.twitter.com/BO6uWJKdvD

— Vancouver Whitecaps FC (@WhitecapsFC) May 21, 2020
Philadelphia Union also extended their heartfelt best wishes to Stam. Perhaps they are likening his no-quarter-given style as a defender to a pit bull terrier?
Good luck, Jaap! pic.twitter.com/RpytGPdM6Y

— PhilaUnion (@PhilaUnion) May 21, 2020
Houston Dynamo even used one of their own players to rib their rivals, affixing a photo of former captain Philippe Senderos.
Welcome to @MLS, Jaap! pic.twitter.com/zvHe337vLu

— Houston Dynamo (@HoustonDynamo) May 21, 2020
However, there were no blows as cruel as the ones Cincinnati unwittingly delivered upon themselves, and those extended beyond just that ill-fated tweet.
The headline of the introductory bio of their new coach posted on their own official website? "Who is Jaap Stam?"
For his part, Van Teunenbroek told FOX Sports of the moment he learned of the mix-up: "No, I haven't had a lot of phone calls yet. I heard of it via a mother of a former player of mine. Now everyone asks if I've made a transfer to America."
He added that it is not the first time people have mistaken for his more famous look-a-like: "It happens often, like on vacation when people shout: 'Hey, that is Jaap Stam!'"
Van Teunenbroek revealed that such mistakes became more commonplace when Stam moved to Ajax as a player in 2006. He said: "Then came the English [fans] with a Man United jersey and approaching me, wanting a photograph and sharing memories on the time I played at United. I had a lot of fun with it."