It's not enough for the modern goalkeeper to be good with his gloves. These days, shot-stoppers are expected to start the attacking moves as well as shutting them down. Agility and reflexes are par for the course, but the best goalies in the world also fuse a sense of confidence and daring in their penalty areas that make them seem truly larger than life.

Manuel Neuer, Bayern Munich & Germany
In the words of Germany and Bayern great Lothar Matthaus, Neuer has "reshaped" goalkeeping.
"I would say he's almost reinvented it," Matthaus said in January 2015, suggesting Neuer deserved to win the Ballon d'Or for his performances during Germany's 2014 World Cup triumph.
At Barcelona, Pep Guardiola had Victor Valdes, whose ease in possession of a football made him an ideal sweeper-keeper. In Munich, he found Neuer, with yet superior ball skills who might make him a more-than-passable outfield player. In the 2013-14 season, there were only 10 Bundesliga players who passed the ball more accurately than the former Schalke man.
That alone would not be enough to confirm Neuer's primacy among his contemporaries: his fast-twitch reflexes, command of his box during set pieces and consummate defensive organisation set him a cut above.

David De Gea, Manchester United
In Manchester United's fall from grace over the past three seasons, only one player has been able to maintain the high standards of the Sir Alex Ferguson years. "Dave saves," a Stretford End banner reads. And without De Gea, United's decline would surely have been sharper.
United's decent defensive record in the two seasons of Louis van Gaal's stewardship was rightly credited to the Spaniard, whose collection of three consecutive United player of the year awards is the fans' testament to the debt his excellence is owed.
The string-bean frame with which he arrived at Old Trafford in 2011 has filled out, and the previously quiet De Gea has become a leader. In one-on-one situations, there is perhaps nobody better. Ferguson's decision, on the advice of then-goalkeeping coach Eric Steele, to sign De Gea rather than Neuer, then on offer from Schalke, has rarely been regretted.

Gianluigi Buffon, Juventus
"We wanted to be like him."
What Iker Casillas -- a three-time Champions League winner, twice European champion and a World Cup winner -- said of Buffon reflects the longevity and legacy of Italy's captain. Buffon will be 39 in January, with two decades of near-unbroken excellence behind him. Juventus' payment of £33 million to Parma in 2001 was a world record for a goalkeeper, and remains so, but has become a bargain.
Keeping five clean sheets to win the 2006 World Cup may be the height of his career, yet nostalgia for the Buffon of old rarely sustains. After some recent criticism, he silenced doubters by performing heroics in Juventus' 1-0 win at Lyon in October, making an elastic save from Nabil Fekir and stopping an Alexandre Lacazette penalty.
"This is what I live for, to make people eat their words," Buffon said afterwards.

Jan Oblak, Atletico Madrid
No European club has enjoyed such a rich lineage of goalkeepers as Atletico Madrid over the past few years. De Gea left in 2011, to be replaced by Thibaut Courtois' three-year loan from Chelsea until 2014. Then in came Oblak from Benfica for €16m, making him La Liga's most expensive keeper ever.
The 6-foot-3 Slovenian is capable of saves just as spectacular as De Gea and is far better with the ball at his feet than Courtois.
The 2015-16 Liga season saw him beaten just 18 times, equaling the all-time record set by Deportivo La Coruna's Paco Liano in 1993-94. Atleti coach Diego Simeone, having been previously blessed with that exemplary pair, signposted an "enormous future" for Oblak as he starred in a team that reached the 2016 Champions League final before losing to Real Madrid on penalties.

Thibaut Courtois, Chelsea
Chelsea have not yet seen the best of Courtois, as compared to the brilliance of his three years on loan at Atletico Madrid. The Belgian has occasionally indicated he may not be in London for the long-term, having enjoyed his life and the football far more in Spain.
"I don't think I will end my career there," he said during Euro 2016, and this season at Stamford Bridge looked make or break.
Some Chelsea supporters yearned for Petr Cech, who was allowed to leave for Arsenal in the summer of 2015, especially when Courtois struggled during the Blues' pitiful defence of their 2014-15 title. However, the arrival of Antonio Conte looks to have revived Courtois' confidence and courage. Should he wish to leave London, a huge fee will be required from any potential suitors.

Hugo Lloris, Tottenham
Spurs legend Teddy Sheringham recently picked Hugo Lloris as the club's greatest goalkeeper -- a high accolade considering the likes of Ray Clemence and Pat Jennings once graced White Hart Lane.
The Frenchman, captain of both club and country, is a most modern exponent of his craft. At 6-foot-2, he has the slim build of a rangy central midfielder rather than the archetypal English football goalkeeper. His ball skills suggest he would be comfortable in an outfield position; he will almost always try to play the ball out from the back.
Brave almost to a fault when coming for crosses or when at the feet of opposing strikers, he leads his teams by example and moves almost as much as the rest of the players in Mauricio Pochettino's all-action pressing game.
"I can say only good things for him," Pochettino said after Lloris had kept Bayer Leverkusen's forwards at bay to secure a 0-0 draw in Germany last month.

Keylor Navas, Real Madrid
Had Real Madrid sent their documents on time on Aug. 31, 2015, the Costa Rica international would have been a Manchester United player, with De Gea back in his home city. It was an administrative error that ended up working out for all parties concerned.
Reserve goalkeeper turned cult hero of the Bernabeu and Champions League winner at the end of that 2015-16 season, Navas is not a sweeper-keeper or a supreme defensive organiser. He is instead a shot-stopper in the finest Latin American style: agile, aware and expert in psyching out opponents in a one-on-one situation.
"He's a hell of a keeper," an approving Cristiano Ronaldo said in March.

Petr Cech, Arsenal
Losing Cech to Arsene Wenger and Arsenal darkened Jose Mourinho's mood even more than usual, as Chelsea owner Roman Abramovich allowed the 11-year veteran to head to a destination of his own choosing in the summer of 2015.
Chelsea had Courtois, whose return from loan at Atletico Madrid had forced Cech to the bench, but the Belgian has so far failed to replicate the consistent security the Czech international supplied for so long. Courtois has some way to travel if he is to come close to Cech's all-time Premier League record of 182 clean sheets.
Cech leaves the spectacular stuff to the others; positioning has always been the key aspect to his game. "He will save them 12 to 15 points a season," Chelsea captain John Terry predicted as Cech's defection neared completion. Arsenal are certainly far more solid with him around.

Claudio Bravo, Manchester City
English football is yet to see the best of Bravo. The Chilean has been the focal point of a philosophical debate over whether a goalkeeper's role is to play as part of the team -- as City manager Pep Guardiola prescribes -- or as a shot-stopper, cross-catcher first and foremost.
An error-strewn Manchester derby debut on Sept. 10 did not aid his reputation. Guardiola, though, described Bravo's as "one of the best performances I have ever seen," and also defended him after being sent off against Barca in the Camp Nou during City's 4-0 defeat on Oct. 19.
During eight years at Real Sociedad from 2006 to 2014, he was recognised as one of Spanish football's best -- a status he retained when winning two La Liga titles with Barcelona. On the international stage, he captained Chile to Copa America glory in 2015 and 2016. For these reasons his manager holds such faith.

Marc-Andre ter Stegen, Barcelona
When Guardiola wanted a new Manchester City goalkeeper, ter Stegen was his initial target, the player perhaps closest to Neuer.
Ter Stegen is less physically imposing, but shares his compatriot's sweeper-keeper aptitude. Germany legend Oliver Kahn, from a more traditional school of goalkeeping, is a confirmed fan.
"Everything he does, he does with such calmness," Kahn said in 2013, when Barcelona were making their move for ter Stegen, then at Borussia Monchengladbach. Kahn also defended him when, typically high up the pitch, he was beaten from 50 yards by Roma's Alessandro Florenzi in September 2015.
"If I were his coach, I would turn the page and tell him to continue on the same path and not to abandon his style," Kahn said.
Bravo's departure to City hands ter Stegen, previously only involved in cup matches and the Champions League, full-time duties as Barcelona goalkeeper.
---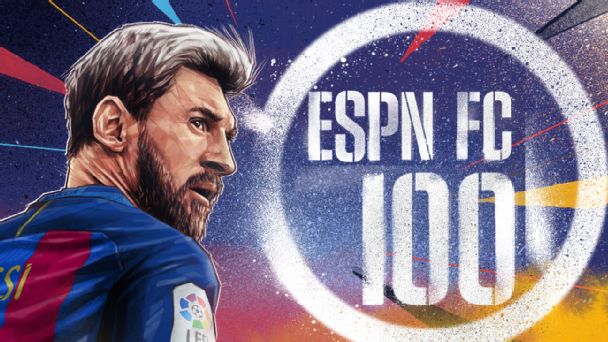 FC100: The full list
Goalkeepers
Right-Backs | Centre-Backs | Left-Backs
Central Midfielders | Attacking Midfielders | Wingers
Forwards | Strikers
Managers
---
Feature content
Gab Marcotti: Putting the fun back in football rankings
Miguel Delaney: Picking the future #FC100 No. 1s
Nick Miller: England's slipping stock behind low #FC100 representation
Mark Lovell: No surprise that Bayern dominated #FC100
John Brewin: Where were all the Premier League players?
---
FC 100 is the result of a comprehensive vote among ESPN FC writers, experts and regions to determine the top 100 in the men's game right now. Our ballot breaks things down by position to more accurately reflect the top performers all over the pitch, not just the ones who dominate the headlines.