The engine room. The metronome. The straw that stirs the drink. Central midfield is the nerve centre of any successful team, but the beauty of the position is that high class can come in many different forms.
There are tough-tackling marauders who cover plenty of grass and win the ball every time. Or how about the maestros, adept on either foot and at their best when dribbling through opponents and threading the right pass. Then there are the guys who set the tone for their teams through the strength of their distribution, always aware of their teammates' movements and constantly able to pick them out on the run. Whatever your preference, your team fails without quality in the middle of the park.

Luka Modric, Real Madrid
He may not be Real Madrid's best player, but he's the guy who probably makes them play best as a team. It's not just about the passing from midfield (Toni Kroos can do that, too) but the Croat's combination of dynamism, leadership and selflessness. Early in his career, some compared him to Johan Cruyff, partly for his elegance, partly for his vision, partly for the uncanny youthful resemblance. Truth be told, he's an artist with a hard hat, willing to do the dirty work with class.
It's not a coincidence that Real Madrid tied him to a new contract through to 2020, the year he turns 35. He's the sort of midfielder who you feel can go on for a long time.

Sergio Busquets, Barcelona
You can imagine him as Atlas, hunched over and holding Barcelona's entire attacking firmament on his shoulders. Were he to shrug, you could see the whole shebang collapsing and the likes of Lionel Messi, Neymar and Andres Iniesta tumbling to the ground like little toy soldiers.
OK, that may be over the top. But if Barca have spent nearly a decade excelling with a clutch of small attack-minded guys stocking the midfield, attack and flanks, a lot of it is down to Busquets, the oversized duckling who was so unappreciated as a kid that he bounced around marginal Catalan clubs and only made it into La Masia at 17. Few read the game and sniff out danger the way he does while also being happy to shun the limelight and able to hang with the daily ronda.

Toni Kroos, Real Madrid
At its most basic level, it's about striking a ball and making it go where you want, at the desired speed and angle. Few men in the game do it better than Kroos, who also happens to excel at deciding just where to pass the ball and when.
The fact that he is also blessed with an accurate, powerful long-range shot is a bonus. He is a natural attacking midfielder, the assist-man you want making the last pass to the forwards, but at Madrid he has shown the humility to adapt to a deeper role for the good of the team.

Ivan Rakitic, Barcelona
At Schalke they called him "Rakete," or "Rocket." You know it's more than a play on his last name if you've seen the way he explodes into space, hair in the wind, afterburners on, legs pumping. His versatility is striking, when you consider he was tasked with replacing a certain Xavi in the Barcelona midfield, and he has managed it without missing a beat. His touch is refined and accurate, but hidden beneath the surface is unusual power and dynamism.
Having already taken Xavi's place, he may well end up as the heir to Iniesta in time, because there are very few things he can't do.

Paul Pogba, Manchester United
As a teenager, he was often compared to Patrick Vieira. "That makes me very proud," he said. "But I want to be better than Vieira." He wasn't being arrogant. He was shooting for the stars. And when you break down his skill set, you can see why that's anything but fanciful.
Pogba has the body of a big man, coupled with raw speed and freakish athleticism. He's a fearsome finisher from distance, his dribbling and control are superb, and he can certainly hit a pass. On top of all that, he's intelligent and confident and a student of the game. In fact, Pogba does so many things very well, that the problem might be figuring out what he does exceptionally well and putting him in a position where he can exact maximum damage.

Xabi Alonso, Bayern Munich
Doctor Alonso and Mr. Xabi. The former is an elegant, classy passer who can comfortably handle playmaking duties for any team, whether spinning an intricate tiki-taka web or launching laser-guided deep balls for teammates running into space. The latter is the stubbly warrior who terrorizes opponents with crunching tackles and runs himself into the ground.
Indeed, what strikes you most about him is how he adapts to his managers. With Rafa Benitez at Liverpool, he was the calm, collected midfield general. Under Jose Mourinho at Real Madrid, he was the snarling defensive stopper, and with Pep Guardiola at Bayern, he is the midfield metronome. Wherever he goes, he's the manager's avatar.

Arturo Vidal, Bayern Munich
Had he been around in Noah Webster's time, he might just have put his picture (or, more likely, lithograph) after the definition of "intensity." Vidal's is simply demonic. He moves like a man trying to save a child in a burning building. The hard running, tackling and vicious finishing sometimes obscure the fact that he is also a gifted passer and assist-man.
The flip side of his insatiable hunger is the occasional lapse in discipline, as we saw in the 2014-15 Champions League final, where he could have been sent off several times. But he's the kind of ninja every manager wants to have on his side.

Marco Verratti, Paris Saint-Germain
Talk about scouts sleeping on the job. Until he was 14 and joined Pescara, Verratti was playing for the youth sides of his village team, Manoppello. Scarcely more than a year later, at 15, he was making his professional debut. At 18, he was running Pescara's midfield as they dominated Serie B, and a year after that he was doing the same at Paris Saint-Germain in the Champions League.
Nothing fazes this kid, who easily navigated the transition from No. 10 to deep-lying playmaker. He's more Xavi than Andrea Pirlo, except with defensive bite and dynamism. Simply put, Italy doesn't produce midfielders like him. And when folks say he "looks Spanish," they mean it as a compliment.

Thiago, Bayern Munich
So your dad is a world champion, and you were the only Barcelona player none other than Pep Guardiola decided he needed with him when he moved to Bayern. No pressure there, right? An elegant passer who is rarely flustered, Thiago has two other great skills -- these ones perhaps inherited from his father, Mazinho -- that set him apart: he's lightning quick, and he can dribble too.
If there's a knock on him, perhaps it's that he doesn't score often, though he seems to be the type of guy who relishes setting up teammates, and thus far he has been slowed by injuries. But should he overcome that -- and this season looks promising in that regard -- there's a very high ceiling to what he can achieve.

N'Golo Kante, Chelsea
Before his 23rd birthday, few were aware of his existence. Since then, he spent one season in Ligue 1 helping newly promoted Caen avoid the drop and one season guiding Leicester City to the greatest achievement in the history of sport. And he's now the linchpin of Antonio Conte's Chelsea midfield. Not bad for a guy who, when he first arrived at Leicester, was occasionally mistaken for a lost kid from the youth team due to his diminutive size and baby face.
The familiar quote from Steve Walsh, Leicester's former head of recruitment, sums him up perfectly: "We play three in midfield. Danny Drinkwater in the middle and N'Golo Kante either side."
---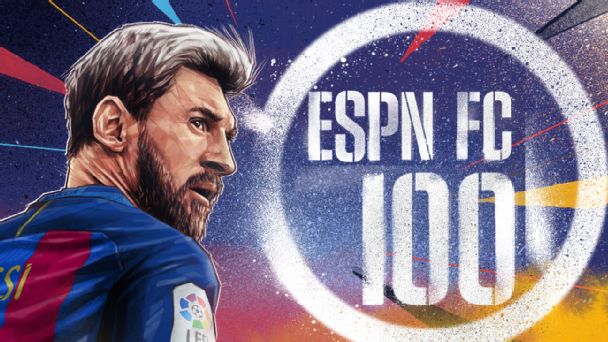 FC100: The full list
Goalkeepers
Right-Backs | Centre-Backs | Left-Backs
Central Midfielders | Attacking Midfielders | Wingers
Forwards | Strikers
Managers
---
Feature content
Gab Marcotti: Putting the fun back in football rankings
Miguel Delaney: Picking the future #FC100 No. 1s
Nick Miller: England's slipping stock behind low #FC100 representation
Mark Lovell: No surprise that Bayern dominated #FC100
John Brewin: Where were all the Premier League players?
---
FC 100 is the result of a comprehensive vote among ESPN FC writers, experts and regions to determine the top 100 in the men's game right now. Our ballot breaks things down by position to more accurately reflect the top performers all over the pitch, not just the ones who dominate the headlines.