Prowler of the penalty area, the modern striker is an unstoppable force. He'll score in any game, against any team, from any position. Fleet of foot and quick of mind, his ability to read the play and anticipate where the ball will be three passes before it gets there is what sets him apart. It's not just the tap-ins he'll score, either: the best strikers can improvise with any part of the body (except the hands, of course) to get the job done. Clever flicks, nifty tricks, brash backheels and calm set pieces are his best weapons.

Luis Suarez, Barcelona
One day, all will be revealed and we'll be told just why it wasn't until he turned 24 and joined Liverpool (as, let's face it, second fiddle to that other big deadline day signing, Andy Carroll) that he moved to a major European league.
Whatever the case, Suarez quickly established himself as one of the great all-round centre-forwards in the game, a consummate goal scorer who moved from Liverpool to Barcelona without missing a beat.
Except, of course, when he was missing games for biting opponents or using racially charged language. Now that he seems to be channeling his emotions toward the pitch, he's close to the gold standard in his position.

Sergio Aguero, Manchester City
His parents nicknamed him "Kun" after his favourite Japanese cartoon (actually called "Kum Kum") and to this day there's something childlike and joyful in the way he throws himself into scoring goals.
What strikes you most is his otherworldly consistency. He made his debut a month after turning 15. Two seasons later he notched 18 goals and since then, he has scored 17 or more (often far more) every single year bar one.
His movement, first step, nose for goal and crisp finishing remind you in some ways of Romario, except for the fact that unlike the Brazilian legend, Aguero is constantly in motion. Oh, and as good as he is, genetics types can't wait for his son, Benjamin, to grow up. He has Kun's genes on his dad's side, obviously, but his maternal grandfather is one Diego Armando Maradona.

Robert Lewandowski, Bayern Munich
A bit like Suarez, he's either a late bloomer or the scouts were dozing. Or maybe a bit of both.
Yeah, he scores. He scores tons. And quickly. He once came on as a substitute and notched five goals in less than nine minutes. And he reached the century mark faster than any foreign player in the Bundesliga.
He's busy, he's fast, he's strong and he shoots, accurately and powerfully, with either foot or his head. More than anyone on this list, he's the prototype striker.

Antoine Griezmann, Atletico Madrid
Griezmann likes to do things differently. That may explain why he left his native France at age 14 to join Real Sociedad in Spain, but close enough to the border that he could go to school in his native country.
Or why when he left them, he opted for a blue-collar side like Atletico Madrid, probably not the most obvious destination for his dainty skills. But Griezmann is an artist with the heart of an infantryman. He showed that he could do whatever was required of him off the ball as well as continue to dispense magic on it.
He's the modern all-around striker, comfortable across the face of the final third.

Zlatan Ibrahimovic, Manchester United
He is Zlatan. There may be guys who are bigger (very few), stronger (we doubt it) and more talented (highly unlikely, but we'll keep an open mind). But there is nobody who is all three at once, and in the combination that he is them. Everywhere he goes, it's all about him because, well, who else could it be about?
From his youth attaining black belts in taekwondo, to his teenage years impersonating cops and stopping motorists in Amsterdam, his collection of titles in Serie A, his stormy fallout with Pep Guardiola, his reinvention as the Prince of the Parc des Princes at Paris Saint-Germain to his raging against the dying of the light at the Theatre of Dreams ... he's the whole box office.
They should write a book about hi-- oh, wait, he already wrote one himself. And even managed to sell a companion app along with it. He is Zlatan.

Gonzalo Higuain, Juventus
Maybe it's the genes. His dad was a hard-nosed Argentine defender. So what do you do? You follow in his footsteps by going in the opposite direction and being the kind of player defenders absolutely hate: the striker who finds space where there is none, the forward who can finish from any angle, any which way.
He doesn't look like much on the pitch -- in fact, after he became one of the five most expensive players of all time when joining Juventus for €75 million, plenty have giggled endlessly about his rotund shape -- but watch him in full flow and you wonder why he so often gets to the ball first and is able to fire off a clean finish.
He did it at River, he did for a long time at Real Madrid, he broke the Serie A scoring record at Napoli and now Juve are hoping that his goals will take them to the biggest prize of all by winning the Champions League.

Thomas Muller, Bayern Munich
Out of all the players on this list he's probably the toughest on the eye. He's not graceful, he's not technically pristine and while he is uber-athletic, sure, it's more pounding than gliding energy. And yet he is one of the most productive players in the world, a guy who is perfectly defined by the unusual German term Raumdeuter or "interpreter of space."
Yet he doesn't just interpret space, he maximises it; he reinvents, he rethinks it, he conjures it out of thin air. Few players around have a comparable sense of movement and anticipation and when you combine that with his freakish athleticism and prodigious work rate, it's not surprising that he's the kind of player coaches and fans adore.

Pierre-Emerick Aubameyang, Borussia Dortmund
His dad was a famous Gabonese footballer who strutted his stuff in three continents and became a scout for Milan. Naturally, he steered all three of his football-playing kids to the Rossoneri. Two of them actually played for the first team: the third, Pierre-Emerick, did not.
Guess which one went on to enjoy the greatest success? Yup, that's right. To be fair, it took a while for his technical ability to catch up with his terrifying pace. It wasn't until he was 22 and at St Etienne that managers realized he was more devastating centrally than as a winger.
He now relies on his technique and his reading of the game as much as he relies on his speed -- the upshot is that he's making Borussia Dortmund fans forget all about Lewandowski. And having the ability to turn on the afterburners is always a nice Plan B.

Karim Benzema, Real Madrid
He's one of those guys who achieved so much but leaves you wondering how much more he might have achieved had it not been for injuries and poor judgment. Over the past nine seasons, Benzema has hit the 20-goal mark (for Lyon and Real Madrid) eight times. Not a bad total when you consider that he misses chunks of the campaign seemingly every year with one ailment or another. And that's not even taking into account his off-the-pitch distractions, like accusations of being part of a prostitution ring in 2010 or being sucked into an ugly case of blackmail involving Mathieu Valbuena last season.
Benzema is strong, fast, gifted and humble enough to cede the limelight to others -- qualities that too often are forgotten amid his injuries and extracurriculars.

Diego Costa, Chelsea
One of the conundrums about Costa is whether he'll end his career with more goals or more yellow cards. As of early November 2016, the goals were ahead (151 to 121) but you never know what will happen as he gets older. And, of course, he also has eight red cards to go with it.
Costa acolytes -- there are many -- will say it's the price you pay for playing every game as if you had entered your personal Thunderdome: "Two men enter! One man leaves!"
Maybe so, but what's clear is that when he stays on the pitch he's the kind of workhorse striker who can tie up a back four almost single-handedly. And he doesn't define himself by goals either, as anyone who has seen the eagerness with which he sets up teammates will confirm. As long as the red mist is kept in a safe place, he's among the best in the world.
---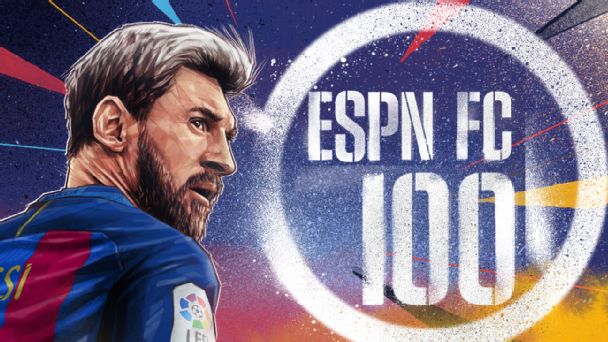 FC100: The full list
Goalkeepers
Right-Backs | Centre-Backs | Left-Backs
Central Midfielders | Attacking Midfielders | Wingers
Forwards | Strikers
Managers
---
Feature content
Gab Marcotti: Putting the fun back in football rankings
Miguel Delaney: Picking the future #FC100 No. 1s
Nick Miller: England's slipping stock behind low #FC100 representation
Mark Lovell: No surprise that Bayern dominated #FC100
John Brewin: Where were all the Premier League players?
---
FC 100 is the result of a comprehensive vote among ESPN FC writers, experts and regions to determine the top 100 in the men's game right now. Our ballot breaks things down by position to more accurately reflect the top performers all over the pitch, not just the ones who dominate the headlines.