Forwards are more mysterious and harder to define in the beautiful game these days. They aren't strictly strikers as they once were, parked in the six-yard box ready to poach. They're not quite attacking midfielders, orchestrating play from deep, nor are they wide players tasked with stretching opposing defences for teammates to exploit. Instead, they're a powerful blend of all of the above, talented enough to handle the free role and graceful enough under pressure to constantly deliver.

Lionel Messi, Barcelona
It is testament to Messi's incredible talent that 2016 could be considered poor by his standards. This, after all, was a year when he won his eighth league title with Barcelona, scored 26 goals in 33 games and led his country to the Copa America final.
It's just that this was also a year when his side failed to retain the Champions League, when he hit his lowest goal-scoring return since 2009, and when he lost his third consecutive international final.
Argentina don't have to wonder what life would be like had he followed through with his decision to retire, though. One stat sums up how bad things might have been: with Messi in the CONMEBOL qualifiers, Argentina have nine points out of 12; without him, it's seven from 21.

Cristiano Ronaldo, Real Madrid
In terms of trophies and achievement, it was undeniably the finest year of Ronaldo's career -- he claimed a third Champions League with Real Madrid and also the international trophy that he has always craved when he won Euro 2016 with Portugal.
Yet it was the first time he didn't hit at least a goal per game since 2009-10. The fact he sat out most of the Euro 2016 final with an injury summed up the effect that physical issues have had on his game, forcing him into a more central role and ensuring he isn't quite as consistently devastating as in recent years. Yet he still hit 35 in 36 league games, still stepped up for the decisive penalty in the Champions League final, and still helped drag Portugal to the final of the European Championship.
He's not the physical force he was, but he's still utterly fearsome.

Neymar, Barcelona
A great entertainer and the heir to Messi and Ronaldo's throne when they retire, but he is not quite at their level yet.
The Brazilian's goal-scoring return dropped a bit from 2014-15, especially in Europe -- going from 10 in 12 to three in nine -- and that coincided with a slump that saw Barcelona slip out of the Champions League when they probably should have ended the long wait for a club to retain it.
Neymar did step up to help Brazil win their first-ever Olympic gold in football, however, and was hugely influential: scoring key goals including the decisive kick in the penalty shootout against Germany to win the title. The Olympics may not mean much in general football terms, but they meant a lot to Brazil, and Neymar dealt with the pressure well.

Gareth Bale, Real Madrid
The last 12 months have seen an expansion in Bale's game and his career. The Welshman enjoyed his best-ever year, winning a second Champions League with Real Madrid and also driving his country to a historic Euro 2016 semifinal place.
Bale's importance to Real has also increased; as Ronaldo has moved toward the centre, it has been up to Bale to provide some of the power and running that the Portuguese used to provide. There are few players in the world who can strike fear into a defence with a direct run like him.

Alexis Sanchez, Arsenal
In September, Sanchez played his 100th game for Arsenal and hit his 47th goal. It was one fewer than Thierry Henry managed in the same amount of games -- which aptly illustrates how he's not quite at the level of the Arsenal legend, although he is certainly getting there.
Sanchez got his hands on the Copa America trophy for the second successive year, as Chile again beat Argentina on penalties in the final, and he strengthened his claim to be named the country's greatest-ever player. He is undeniably one of Arsenal's best, and a move to a central striking role seems to have improved both his play and his side's.

Arjen Robben, Bayern Munich
At full flight, and fully fit, Robben remains a level above almost any forward in the world with the way he combines raw speed with ruthless precision. But he has not been fully fit for some time, having been out for almost six months this year.
The 32-year-old played only 15 Bundesliga games in 2015-16 -- his fewest number of league appearances since 2010-11 and the second-fewest of his career. With seven goals in 22 in all competitions, it was also his least prolific campaign since 2008-09, and his absence is one major reason why Bayern failed to get past the Champions League semifinals again.
He has quickly reminded everyone what they were missing, though, and has a rate of one goal every two games since his return.

Eden Hazard, Chelsea
One of the finest dribblers in the world is getting back to his best after suffering a poor 2015-16 campaign which almost personified the demise of the champions. He had been named the PFA Player of the Year in Chelsea's title-winning campaign, only to drop well below his best as the team finished 10th.
Yet the Belgian has already scored more goals in the 2016-17 campaign than he did in all of 2015-16. There were indications that he was finding his feet -- he had more successful dribbles at Euro 2016 than any other player -- but Antonio Conte's clever use of Hazard seems to have taken him up a level. He has actually been playing further forward than striker Diego Costa a lot of the time and looks to have taken a step in the right direction again.

Douglas Costa, Bayern Munich
The Brazilian can outfox an opponent with a moment of scarcely imaginable trickery and is one of the most distinctive attackers in the world, while also being one of the most entertaining.
Some of his skills have been breathtaking: his perfect delivery for Robert Lewandowski in the Champions League round of 16 comeback against Juventus was a classic example. The 26-year-old gave Bayern an extra dimension last season, and although he does punish teams in other ways, he needs to add more goals to his game, having not scored more than seven in a single season.

Sadio Mane, Liverpool
There are few qualities as blindingly devastating as raw pace, and Mane has it in abundance.
Liverpool's attack has become so exciting this season, and his signing from Southampton was clearly the missing ingredient. The Senegal star's speed allows his teammates to get in behind opposition defences and adds a proper cutting edge to Jurgen Klopp's pressing. The 24-year-old has also become more prolific, taking his strike rate from just over one in three to an even more impressive one in two.

Roberto Firmino, Liverpool
Firmino is considered to be one of Klopp's favourite players, and it is easy to understand why. The Brazilian has fully bought into his manager's high-pressing game and leads the line by closing down defenders. His aggression and stamina up front has also led to an end product.
With 10 strikes and seven assists, Firmino was involved in more goals last season than any other Liverpool player. He has upped his productivity this season, with almost a goal every two games, including many screamers. The 25-year-old has one of the fiercest and most aesthetically pleasing long-range shots in world football.
---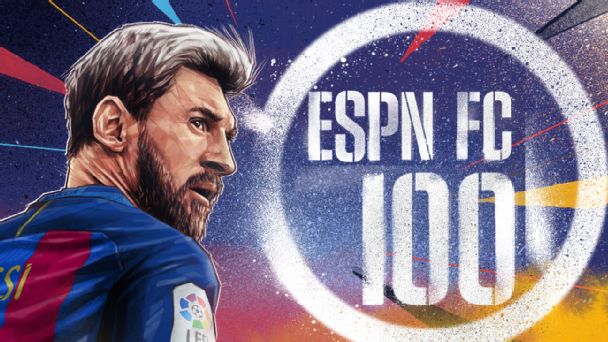 FC100: The full list
Goalkeepers
Right-Backs | Centre-Backs | Left-Backs
Central Midfielders | Attacking Midfielders | Wingers
Forwards | Strikers
Managers
---
Feature content
Gab Marcotti: Putting the fun back in football rankings
Miguel Delaney: Picking the future #FC100 No. 1s
Nick Miller: England's slipping stock behind low #FC100 representation
Mark Lovell: No surprise that Bayern dominated #FC100
John Brewin: Where were all the Premier League players?
---
FC 100 is the result of a comprehensive vote among ESPN FC writers, experts and regions to determine the top 100 in the men's game right now. Our ballot breaks things down by position to more accurately reflect the top performers all over the pitch, not just the ones who dominate the headlines.