Aside from the terrific artwork and well-crafted words, one thing you might have spotted in ESPN FC's recent list of the 100 best players and managers in the world is a relative lack of Englishmen present. Only five made the list, in fact: Nathaniel Clyne, Kyle Walker, Danny Rose, Dele Alli and Raheem Sterling.
Five might not actually seem like a bad number for a reasonably small country in a big, big world, but perhaps more striking is where the players were placed: only one is ranked higher than eighth in the broken down positional lists (Sterling was rated as the world's third-best winger), suggesting that English players -- or at least the perception of them -- rate somewhere in the "good, but not great" category.
So why is this? A simple explanation for a relative lack of English excellence is a reverse of the "golden generation" -- sometimes by a quirk of fate and biology, excellent groups of players emerge at the same time and sometimes they don't. It isn't necessarily something that anyone can fix; it's just an accident of history.
Another simple reason is the relative lack of English players in the Premier League, but that is flawed largely because managers and clubs are pragmatists: they aren't necessarily selecting players specifically because they're foreign, and if the English players are good enough they will be picked and bought. Pep Guardiola didn't buy John Stones and persist with Sterling because they were English, but because they fit with his plans at Manchester City.
Conversely, insularity might be a reason why English players don't reach the top. English players almost exclusively stay at home, perhaps for understandable financial reasons, but as a consequence they do not absorb the same range of influences that other elite players might. Of the other 85 players on our list, 68 ply their trade outside their native country, along with nine of the 10 managers. Would English players be better, and have a better reputation, if they spread their wings a little?
The national team is a factor, too. This is obviously is a little "chicken and egg" but if the England team was better, was managed more coherently and succeeded at major tournaments, then perhaps the players within it would improve too. An example of this would be Leonardo Bonucci: most people recognised the Juventus defender's quality but he only seemed to receive his due praise after a better than expected Euro 2016 for Italy, in which he played a key role.
Similarly, English clubs don't perform as well in the Champions League as they used to. When the likes of Frank Lampard, Steven Gerrard, John Terry, Ashley Cole and Wayne Rooney were regarded among the international elite, they played for clubs who regularly reached the latter stages of Europe's top competition. England hasn't had a finalist since Chelsea's surprise win in 2012, and since then only three teams have even made the quarterfinals. Take Atletico Madrid, finalists in two of the last three seasons, who have Jan Oblak, Antoine Griezmann, Koke and Diego Godin on the list. If Premier League clubs had the same success as years gone by, then the top English players who play for them would improve and receive more recognition.
Another factor to consider is that England's best players are currently either young or not quite established in the international consciousness. The likes of Sterling, Alli and Rose have made the list but in time, perhaps, we will also see men such as Adam Lallana, John Stones, Eric Dier and Harry Kane ranked among the world's best. They are not quite ready for the international elite, but in a couple of years, they might be.
Perhaps it isn't much of a problem. Perhaps five players out of the many countries in the world isn't such a bad total. But it's undoubtedly true that English players are not as well thought of as they once were, even a few years ago. If the standing and quality of England's national and club sides improves in the coming years, then perhaps the same will happen to their players.
---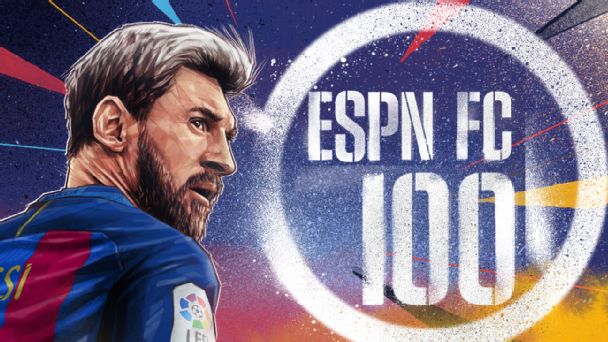 FC100: The full list
Goalkeepers
Right-Backs | Centre-Backs | Left-Backs
Central Midfielders | Attacking Midfielders | Wingers
Forwards | Strikers
Managers
---
Feature content
Gab Marcotti: Putting the fun back in football rankings
Miguel Delaney: Picking the future #FC100 No. 1s
Nick Miller: England's slipping stock behind low #FC100 representation
Mark Lovell: No surprise that Bayern dominated #FC100
John Brewin: Where were all the Premier League players?
---
FC 100 is the result of a comprehensive vote among ESPN FC writers, experts and regions to determine the top 100 in the men's game right now. Our ballot breaks things down by position to more accurately reflect the top performers all over the pitch, not just the ones who dominate the headlines.