A few months ago, the producers of my show "Always Late w/ Katie Nolan" surprised me on air with tickets to see Liverpool play at Anfield. It's a trip that has been on my bucket list for a while, although I certainly wasn't expecting to cross it off with a must-win, title-chase game vs. Spurs in March. I don't handle sports-related stress well enough for that.
We turned the whole experience into a special episode of our show, which you can watch on ESPN+, but there was a lot that happened on the trip that we couldn't show -- like, for example, the game -- so I jotted down a little diary of all the things I saw and learned. This is that.
WEDNESDAY, 7 p.m. ET
We just wrapped this week's episode of "Always Late" and now a bunch of us are heading straight to the airport for next week's. We're taking a red-eye to Heathrow, making this the fifth red-eye I've taken since swearing I'll never take another red-eye. I can't sleep on planes and I didn't sleep last night. This should be... interesting.
WEDNESDAY, 11:50 p.m. ET
They're playing music on the plane while people board, which I imagine would be very pleasant if the same song didn't keep starting over every 20 seconds. I've heard Mat Kearney say, "We were young, we were brave," 31 times now. 32. 33. No one else seems to notice, so it's possible this is all happening in my head.
THURSDAY, 11:00 a.m. GMT
Oh HELL YEAH. I slept.
THURSDAY, 12:00 p.m. GMT
Our trip to Liverpool consists of three legs: flight to Heathrow, cab to London, train to Liverpool. The ride from the airport to the train is about an hour long. We request an XL car so we can comfortably fit four people and a bunch of bags. What pulls up is inarguably a regular-sized car. I guess "XL" doesn't convert well to the metric system.
THURSDAY, 1:30 p.m. GMT
We stop at a restaurant to eat some lunch (breakfast?) before our two-hour train ride and Thierry Henry is sitting a couple feet (pardon, meters) away from us. And before you ask: yes, it's definitely Thierry Henry. I know an expensive skincare routine when I see one.
Everyone in London, by the way, is cool-looking. They have all put together an incredible outfit today. Meanwhile, I'm still wearing fake eyelashes from yesterday's show. I decide it best not to introduce myself to Thierry Henry.
-- David Beckham gets pranked by James Corden
-- Mexico's coach takes a soccer ball to the face
-- 10 signs that modern soccer is out of control
-- Zlatan picked a March Madness bracket
THURSDAY, 7:00 p.m. GMT
We arrive in Liverpool to find the accent here is completely different from the one we spent our day perfecting. It's almost like a brogue because of the city's proximity to Dublin. We find this out when chatting with our cab driver on the way to our hotel. I ask him if he's a Liverpool fan. He says no, but only because he's not really a football guy. He's more into stock car racing. Of course.
THURSDAY, ??? GMT
I have no idea what time it is, but I know that it's been bedtime for about three hours. Problem is I ordered some room service so I could eat quickly and sleep, and it came with a huge bowl full of sauces I've never heard of before. I can't sleep knowing I have 19 packets of something called "Salad Cream" in here. I've decided I'll taste them all and film the whole thing for Instagram: my coworkers are always telling me I should post more on social. This is what they mean, right?
I guess this is not what they mean.
THURSDAY, ??? + 2 hours GMT
So "Brown Sauce" is basically steak sauce. "BBQ Sauce Sachets" is just BBQ sauce. "Salad Cream" is... well, I'm not sure, actually, but it's tangy and I wish I didn't eat it straight out of the packet. Was it worth it? No. Is it bedtime? Yes.
FRIDAY, 9:00 a.m. GMT I arrive at Anfield for a private tour. It's my first time here and I'm feeling thrilled and somewhat spoiled. I know a ton of fans who have loved this team for much longer than the six or so years I have, and they've never stepped foot in this building. I tell myself to shut up and enjoy it, something I do a lot, actually.
Anfield kind of snuck up on me: one minute you're in a residential neighborhood, the next you're looking up at a world-famous stadium. There are homes literally across the street. It almost reminds me of Lambeau Field in Green Bay except when you look out the window at Lambeau, you don't see another giant stadium a mile away. That's another thing I didn't realize: Everton's Goodison Park is right there. My tour guide says the relationship between Liverpool fans and Everton fans is kind of like Yankees/Mets in the states, but it's a four-hour walk from Queens to the Bronx, give or take an hour.
The tour takes you up to the top of the stadium before walking you out to see the pitch for the first time. And when you see it ... I'd say it takes your breath away, but I know my actual reaction was caught on camera so, whatever, you cry.
It's massive. And full of history. And so clean. I had no idea you're not allowed to bring beer out to your seat and while that is directly opposed to my personal values, it does makes a world of difference when it comes to cleanliness. They painted the floors of that stadium light gray, and they're still light gray.
They take me down to the visitors' dressing room and I am pretty surprised by how simple it is. It's also rather warm in there, though I'm sure that isn't on purpose. Then I see the home dressing room, and OK ... it may have been on purpose. The two rooms are like night and day. I went in there planning to steal Mo Salah's jersey (he's my favorite) but then they let me try it on so I felt real guilty. Smart move, Liverpool.
Honestly, the coolest thing about being in the dressing room is looking around, seeing all the jerseys I see every week and knowing that when I'm dragging myself out of bed 3,000 miles away, they're all sitting right here, together. I'm gonna think of that next time Liverpool is playing the 7:30 a.m. ET game and I'm miserable. It won't help, but I'm gonna think of it.
I come out of the dressing room, take a right and then a left, touch the "THIS IS ANFIELD" sign and walk onto the pitch: the same route that Mo, Bobby and Virgil take each week. I don't think I cried this time, but you can check the tape on that. I took this blurry photo with definitely zero tears in my eyes.
Out on the pitch, the stadium is filled with a thick silence, which feels eerie in such a colossal space. I try to imagine what it will be like the next day when that silence is replaced by screaming fans. Then someone reminds me that it is, in fact, Friday, and the match is two days away. I cry again.
FRIDAY, 1:00 p.m. GMT
The team has been kind enough to arrange for me to ask Liverpool manager Jurgen Klopp a question at his press conference today. I am simultaneously thrilled by the opportunity and desperate to say, "No, thank you."
I've never asked a question at a press conference; it's not really my thing. When I ask an athlete or a coach a question, I usually get to ask a bunch of other questions right after. Now I get one. What do I ask?
I have a bunch of real questions I'd love the answers to: What's the timeline on Shaq (Xherdan Shaqiri) and Ox (Alex Oxlade-Chamberlain) returning from injury? Did the recent international break come at a great time or the worst time? How do you keep Salah out of his own head when he isn't scoring goals? But the answers to those don't make my TV show better, so do I make him laugh? Ask him what whitening strips he uses, or if he sees hugs as the most effective motivator? You can't do bits at a press conference.
I thought about this for WEEKS. I'm still thinking about it while I'm sitting in the lobby at Melwood, the training ground. Then I see a man in a suit walk out onto the balcony that leads down to the press room. I look up reflexively; I had no idea there was a balcony there. Suddenly, behind the man in the suit, there's a man in very-much-not-a-suit. Klopp looks down to where I'm looking up, smiles -- I'm blind now -- and says, "Hello, how are you?" I have no idea what I say back but I think it was, "Uhyup." Like the noise Goofy makes.
Katie Nolan grills Klopp at press conference
'Always Late' host Katie Nolan attends a Jurgen Klopp press conference on her trip to Liverpool. Catch the full version on ESPN+
"Uhyup."
I acted like a total fan because I am a total fan. That's why I'm here! Suddenly, the question didn't seem so daunting.
I hope every single person on earth gets to make someone they respect so much laugh like that. It's invigorating. I feel awake for the first time since I arrived six or seven days ago.
FRIDAY NIGHT
We go out in Liverpool for proper fish and chips. I talk to our waitress about a fascinating program on British telly called "Gogglebox", where you watch people watch TV. I know that doesn't sound like much, but when you're from out of town, it's incredible cultural voyeurism. Highly recommend not just the show but the fish and chips, and the very cool and patient waitress.
We wander out to some bars. Everyone, everywhere, is drinking beer. So, when in Rome. I don't hear a single song I recognize, except at the bar with the Beatles cover band, but it's OK because I have the sound of Klopp's laughter playing on a loop in my head.
SATURDAY
The middle day of a trip is always a blur. Saturday is the day between Day One and Match Day. We shoot a bunch of stuff for the show at the official team store next to the stadium, then watch the Everton match at a bar (more beer). We miss the Man City game but see that they won, so my heart takes up residence in my throat and remains there until Sunday night.
SUNDAY, PREGAME
It's really here. Match Day. The weather has been unseasonably lovely the past few days, but today it's supposed to be cold, so I spend way too much time trying to decide what combination of team apparel I should wear to the game. The decision is, of course, complicated by the fact that I spent 300 pounds on new stuff at the store yesterday. Relax; some of that was for gifts. (I bought two gifts.)
We head to a bar right outside of Anfield called the Sandon. It's less a bar and more a huge complex, and it's known as the birthplace of Liverpool Football Club. We get there early to beat the crowd but it's already pretty full around noon. Brandon, the manager of the Sandon (lol), lets me hop behind the bar and serve a couple of pints like I used to not too long ago. It's not the brightest idea given I haven't touched a single piece of British money since I've gotten here, but somehow everything works out all right. I even meet a group of guys from Massachusetts in town for the match.
After I clock out for the day, I walk around the outdoor seating area. Every fan I meet and chat with has a long history with this team; many of them are here with their families. I'm sure if I were at an American sporting event and paying this much attention to the anthropology of it all, I'd make a similar observation, but I don't know. This feels deep.
I'm having a great time, but in the back of my mind I know that I'm keeping a terrible secret from all these wonderful people. See, ever since I got these tickets... a Very Bad Thing has been happening.
I got the tickets on Jan. 23. I watched the next match against Leicester City; it ended in a 1-1 draw. Then West Ham. Another 1-1 draw. The next week I got really sick, slept in and missed the Bournemouth game. Liverpool won 3-0. No big deal, right?
I watched the Champions League quarterfinal, first leg, against Bayern Munich: draw. I watched the Man United game: draw. The Watford game fell on a Wednesday, which is when we tape our show, so I missed it. The Reds won 5-0. I watched the Merseyside Derby: draw.
By that point, I was sure of it: When I watch, they draw and when I don't, they win. I told my friends and they said I was being ridiculous. So I tested it. The next game was Burnley, with an 8 a.m. start time. If there's ever a game to skip, that's the one. I skipped it, Liverpool won 2-1.
The Champions League second leg in Bayern was at 4 p.m. on a Wednesday. I was taping my show, they were winning a game. I wanted to watch the Fulham match. I was not busy. I didn't watch it. They won 2-1.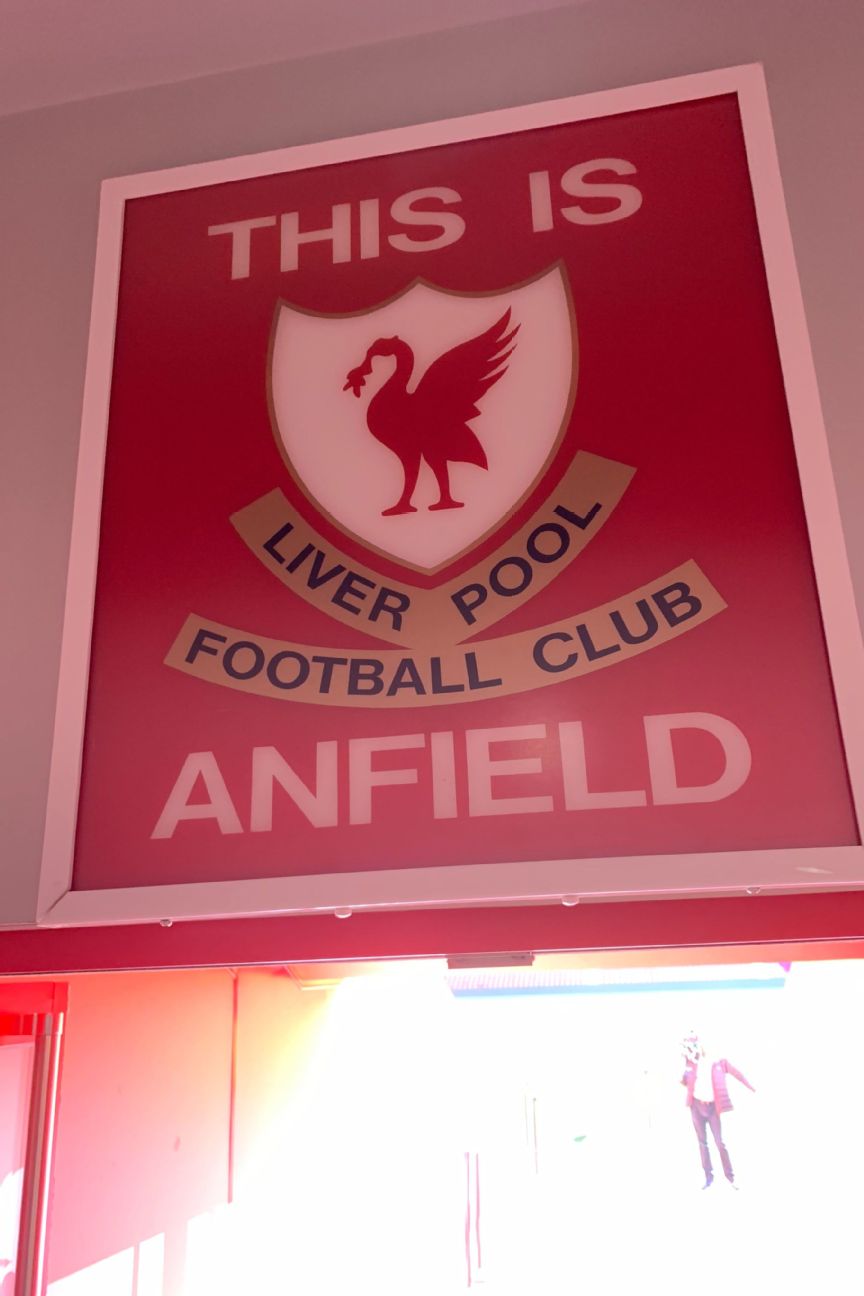 It turns out that this year, I am what my family refers to as "The Cooler," a person whose mere presence can end a hot streak. It's not usually me; it's usually my dad. He is such bad luck that he's a Boston Bruins season ticket holder and spends more time walking around the concourse than in his seat. He isn't allowed to watch and now, neither was I.
The problem is that by the time I realized what was happening, our flights were booked. We planned a whole show around this trip. I couldn't cancel it without making a huge mess. But now I'm face-to-face with these fans who have welcomed me with open arms -- people with tears in their eyes, telling me what it would mean to their family if Liverpool wins the league -- and I know that Tottenham is going to win today just because I wanted to cross something off my bucket list.
I can't explain what it's like to be a superstitious sports fan. You either completely understand what I'm saying right now, or you think this is the dumbest thing in the world; there's not really an in-between. Either way, the match is about to start.
SUNDAY, LIVERPOOL VS. TOTTENHAM AT ANFIELD
Our tickets come with access to the Carlsberg Lounge, which is an area of the concourse where there's beer and food for you to enjoy before you go to your seat. I'm equal parts excited and nervous. We go out to our seats before the game starts. They announce the starting lineup, one by one, and the fans cheer after each. One thing I notice is that American fans seem to "WOO!" a lot and here, it's more of an "AYE!"
As the team takes the field, "You'll Never Walk Alone" plays over the sound system. The crowd sings along, but I'm a little disappointed. Maybe it's because of where our seats are, but I can hear the speakers louder than the fans. Then the music drops out for what I guess you'd call the chorus -- "walk on, walk on, with hope in your heart..." -- and it's incredible. The whole stadium singing in unison. It really does make you feel like everything's going to be OK. And if it didn't, a goal from Bobby Firmino in the 16th minute does.
The stadium is loud through the first half and I enjoy seeing things on the field I never really noticed before. We're not particularly close, but our seats are great, and I can see just how impressive Virgil is as a defender. We end the first half with a 1-0 lead.
The second half is different. There are no replay boards in the stadium; if you miss something, you miss it. So when Tottenham's Harry Kane pulls his quick little move that eventually sets up Lucas Moura for the goal, it may not be complete and utter B.S., but I certainly yell that it was.
In about the 80th minute, I make a decision. I'm gonna take my brand new, YNWA scarf and put it over my eyes for the rest of the match. I listen to the crowd to try to figure out what's happening, which is as impossible and stressful as you'd expect, and every now and then I peek over to see what's happening.
In the 89th minute, Liverpool defender Trent Alexander-Arnold goes to the corner. I know that this is it. No more peeking. This has to be a goal, or it's over. The net is at our end of the stadium, so it's right below me. Salah, the Egyptian King, is on my side of the pitch and I'm covering my eyes with a scarf like a weirdo. It gets quiet: almost as quiet as it was that morning when I first saw Anfield. And then suddenly, the place erupts. I'm screaming and crying and scream-crying. I'm hugging strangers. I instinctively look for the replay, then remember there isn't one. The call in the stadium is a goal by Salah in the 90th minute.
Later, when I'm watching highlights back on the concourse, I'll see that it's been corrected to an own goal. But I'll also see my favorite player, and a coach who laughed at my joke, say that sometimes it all comes down to a little bit of luck.