LeBron on final game vs. Wade: 'This is the last dance'
LeBron James says "I'm gonna put my dancing shoes on" when asked about playing his final game vs. Dwyane Wade.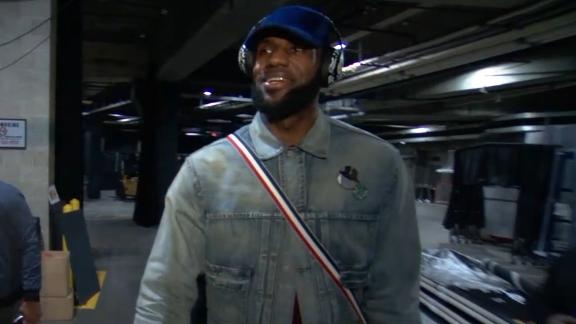 Wade calls last game vs. LeBron 'bittersweet'
Dwyane Wade says it's "bittersweet, but still sweet" to play against one of his "best friends" before facing LeBron James for the last time.
LeBron, Wade share hugs, swap jerseys as Lakers best Heat
LeBron James and Dwyane Wade express love for each other in their last meeting as the Lakers beat the Heat.
LeBron, Wade swap jerseys after final meeting
LeBron James and Dwyane Wade hug it out then swap jerseys after the Lakers beat the Heat in the friends' last matchup.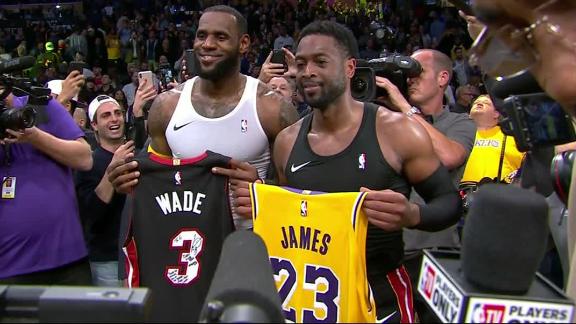 LeBron makes save off Olynyk's chest
LeBron James fires the ball off Kelly Olynyk's chest, sending him to the floor, to make a save.
LeBron swoops between defenders for slam
LeBron James drives the lane and slices between two Heat defenders for a fourth-quarter dunk.
Lonzo's slam makes Staples Center erupt
The Lakers run in transition and Kentavious Caldwell-Pope passes it off to Lonzo Ball for a powerful one-handed dunk.
LeBron strokes deep 3-pointer to break tie with Heat
LeBron James pulls up from way beyond the 3-point line and hits nothing but net to give the Lakers a lead in the third quarter.
LeBron tosses deep alley-oop to Lonzo
LeBron James steps over half court and lobs a perfect alley-oop to Lonzo Ball for a two-handed slam.
Top Sports Headlines
Seahawks defense leads the way in win vs. Vikings
The Seahawks defense bottle up Kirk Cousins and the Vikings offense as they roll past Minnesota 21-7.
Cousins' fumble returned for Seattle TD
Kirk Cousins fumbles looking to throw and Justin Coleman takes it 29 yards for a Seahawks touchdown.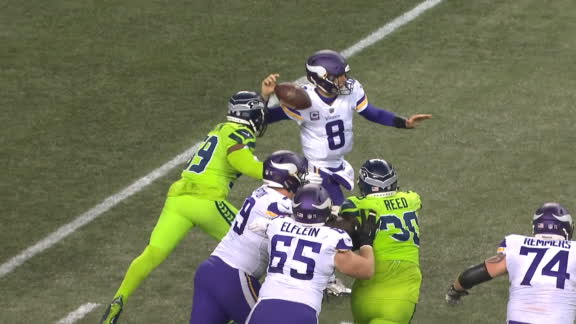 Wilson: Seahawks 'found a way' to win vs. Vikings
Russell Wilson recognizes that the offense wasn't great, but when they needed plays the Seahawks found a way to win.
Wagner calls win 'something to build on'
Seahawks linebacker Bobby Wagner calls the matchup vs. the Vikings a "defensive battle" and was disappointed that Minnesota scored late.
Cousins reacts to Seattle's shift in defensive schemes
Kirk Cousins says that at times it was impossible to reach either Adam Thielen or Stefon Diggs who were double teamed.
Carroll: Seahawks 'fortunate' for good defense in win
Pete Carroll credits Seattle's defense for lifting the Seahawks to a win against the Vikings.
Zimmer admits Wilson wasn't 'real successful tonight passing'
Mike Zimmer knows the Vikings have to improve in the red zone, noting Monday night's inability to score from the 2-yard line, and talks about Russell Wilson's lack of passing yards.
Carson dives for 2-yard Seahawks' TD
Chris Carson powers up the middle for a 2-yard touchdown.
Wilson breaks off 40-yard run
Russell Wilson scrambles out of the pocket and takes off for a 40-yard gain.
Extra Time: Kante's positioning; Ozil's future at Arsenal
The FC crew answer your tweets on N'Golo Kante's positioning under Maurizio Sarri, what Unai Emery will do with Mesut Ozil and much more.
Premier League Team of the Weekend: Week 16
Steve Nicol reveals his best XI from the 16th round of Premier League action as Gab Marcotti and Alejandro Moreno react to his selections.
ICYMI: Terrific Torreira, Messi magic & down goes Man City
Check out all the action from around Europe this weekend, from Lucas Torreira's overhead kick for Arsenal to Lionel Messi's heroics for Barcelona.
Prem in 90 seconds: The massage that beat Manchester City
The Exploding Heads wrap up the Premier League weekend in a tidy 90-second (plus stoppages) package.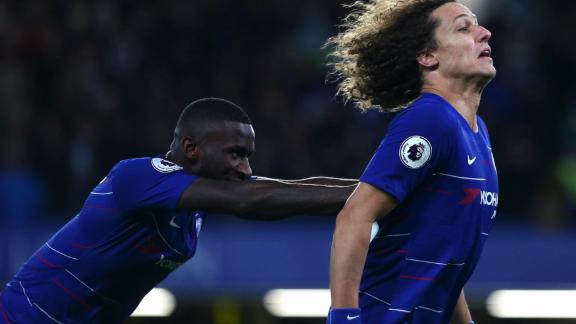 Inside Bayern Munich's Christmas party - via Bayern Munich
Take a sneak peek inside the swanky affair that was the Bayern Munich Christmas party.
Should Lionel Messi play against Tottenham?
With Barcelona already qualified for the UCL round of 16, the FC guys question if Ernesto Valverde will field his star forward at the Camp Nou.
Van Dijk: Anfield atmosphere will help us overcome Napoli
Liverpool's Virgil van Dijk believes Anfield's special atmosphere on Champions League nights is similar to Celtic Park and can help them progress into the Champions League knockout stages.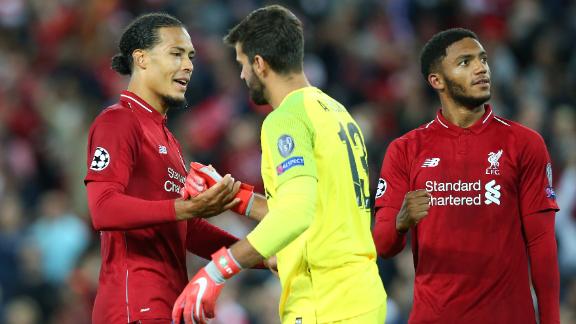 Pochettino: Focus now on Barcelona
Mauricio Pochettino has immediately switched his focus to Barcelona after Tottenham's 2-0 win in the Premier League over Leicester.
Argentina takes over Madrid: River-Boca magic in the Bernabeu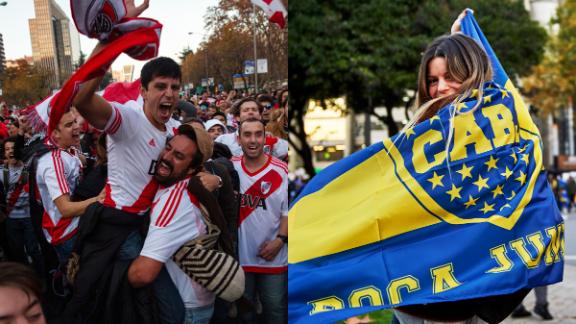 River Plate players revel in Copa Libertadores win
River Plate players expressed that it felt weird playing their home leg of the Copa Libertadores final in Real Madrid's Bernabeu after they beat Boca Juniors 5-3 on aggregate.
Fans clash with police in Buenos Aires after Libertadores final
Riot police clashed with fans throwing glass bottles and objects after River Plate won the Copa Libertadores final against rivals Boca Juniors in Buenos Aires.
Welcome To The ESPN FC 100
ESPN Illustration

Here are the top 100 players and managers in men's soccer, as rated by our experts,
Getty

Updated tables from the Premier League, Champions League, La Liga, English Football League and more.

Getty

Keep track of all the important upcoming fixtures in the Premier League, Champions League, La Liga, English Football League and more.

Getty

Results and scores from the Premier League, Champions League, La Liga, English Football League and more.
ESPN Fantasy Soccer promo

Manage your squad in the Premier League, Champions League, La Liga and Liga MX.
Dustin Evans

PSG star Neymar was the muse for the main character of a new comic book series, "Inked," in which tattoos come alive to help fight crime.
Customise ESPN