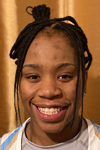 Khya Hough
Point Guard
CLASS: 2021
Jamaica Estates, NY

Hometown

Mary Louis Academy

High School
—

Overall Rank

38

Position Rank
Considering
No schools available.
ESPN Player Evaluations
NYG Hoops-January 2019: Athletic floor-leader handles, pushes tempo and distributes in transition game; splits traps and collapses the defense; rises on jumper in mid-range game; anticipates in passing lanes, disrupts the defense. (Olson)

USJN-April 2018: Athletic lead-guard attacks in transition game, dishes on the fast break; penetrates and attacks, brings emerging perimeter game to the arc; best in uptempo game. (Olson)
Notes
Notes are not available.