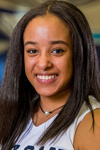 Alyssa Andrews
Wing
CLASS: 2021
Woodbridge, VA

Hometown

null

High School
65

Overall Rank

8

Position Rank
Considering
No schools available.
ESPN Player Evaluations
Boo Williams Invitational-July 2019: Athletic perimeter prospect attacks in transition, fills the lane and finishes plays in uptempo game; manufactures shots, rises on jumper to the arc; displays feathery touch in the key, scores in traffic; a stock-riser in the class of 2021. (Olson)

Boo Williams Invitational-April 2018: Agile perimeter performer knocks down jumpers to the arc; manufactures shots, executes in half-court game; active on the glass, scores in traffic; rebounds and draws contact, finishes plays at the stripe. (Olson)
Notes
Washington Post 1st-team All-Metro in 2020.