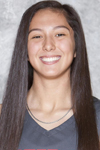 Alyssa Durazo-Frescas
Point Guard
CLASS: 2021
Costa Mesa, CA

Hometown

Mater Dei

High School
64

Overall Rank

16

Position Rank
Considering
No schools available.
ESPN Player Evaluations
Nike Nationals-July 2019: Confident lead-guard with offensive arsenal; reads the defense, spacing, penetrates and dishes; handles in uptempo, passes with purpose; brings catch and shoot game at the arc; game manager, facilitator. (Olson)

Boo Williams Invitational-April 2019: Agile floor-leader handles in transition game, distributes with court awareness; penetrates and attracts the defense, reads the defense, dishes in traffic; smooth off the bounce, finishes plays to the rim in traffic; knocks down shots at the arc; unselfish, crafty playmaker. (Olson)

Nike Tournament of Champions-December 2018: Game manager directs in half-court; savvy off the bounce, penetrates and dishes in traffic; reads pressure, breaks pressure, dishes; mid-range game offensive threat moves to the arc; a stock-riser in the class of 2021. (Olson)
Notes
All-CIF Open Division 1st-team in 2020.