Mischief, creativity, pace and confidence: these are the stock tools of the best attacking midfielders. Sometimes referred to as the No. 10, these guys are as comfortable scoring the goals as they are setting them up. With free rein to drift around the pitch and exploit the space, their abundant ability to conjure something from nothing makes them the most entertaining players around.

Kevin De Bruyne, Manchester City
Will selling Kevin De Bruyne so early go down as one of Jose Mourinho's great mistakes? His current manager certainly appreciates him, and one suspects that the prospect of working with players like the Belgian helped Pep Guardiola make the decision to move to Manchester City.
"How De Bruyne played over 18 months at Wolfsburg was madness," Guardiola said last year, before arriving in England.
At closer quarters, he was even more impressed, calling him "one of the best players I've managed" earlier this season, which is high praise given some of the Catalan's former charges. Under Guardiola's tutelage, De Bruyne could well become even better.

Andres Iniesta, Barcelona
Still going after all these years. There's an argument to be made that he has the most complete career of any player in the history of football: Iniesta was a central part of the greatest club and international sides of the current era, with whom he's won every honour there is to win, plus he scored the clinching goal in a World Cup final.
If Iniesta retired tomorrow, he would remain one of the best of all time. But he's keeping on keeping on, orchestrating a new Barcelona generation just like before, though an injury has cut into this season.
His is a refined style of football, but one endearing thing about Iniesta is the joy with which he plays, still, at 32. "What I do in the stadium, I did on the school playground," he said recently. "What I did at 12, I still do now."

Mesut Ozil, Arsenal
"The sale of Ozil is very bad news for me. He was the player who best knew my moves in front of goal ... I'm angry about Ozil leaving."
That was the reported reaction of Cristiano Ronaldo to Mesut Ozil's departure from Real Madrid in 2013, and when the player with the most unshakable self-belief in the world is annoyed about the departure of a colleague, you know that colleague is pretty good. To back that up, Xabi Alonso called Ozil "the kind of player you don't find these days," and you can see what he means.
Where most contemporaries sprint at a furious pace, Ozil seems to glide, a player who eschews bombast for subtlety. He's one of those players who, given the chance, you'd like to watch move around the pitch and ignore the rest of the game. And he's improving, too: he has three goals already this season, when his previous best tally for Arsenal was eight.
A divisive player in some quarters, he might convince some doubters with a more ruthless streak in front of goal.

David Silva, Manchester City
It's quite the surprise to learn that delicate and diminutive playmaker David Silva was actually a goalkeeper at school.
Quickly converted to the dainty midfielder we know now, he was rejected by Real Madrid after a trial aged 14, despite his touch and creativity being evident back then. Real tried to rectify their mistake a decade later, but he moved from Valencia to Manchester City instead and has been the orchestrator of two Premier League titles since.
Dubbed "Merlin" by teammates, Silva is easy to take for granted given the other expensive talent recruited, but he remains one of the modern greats.

Dimitri Payet, West Ham
Who knew that someone could establish himself as one of the best attacking midfielders in the world by playing for West Ham?
This season, Payet has created more chances for teammates than any other player in the Premier League, leading to the conclusion that the Hammers' tricky start to the season isn't really his fault. It also makes you wonder what a force he could be at a club with a more potent attack.
After a sometimes aimless time in France, Payet finally established himself as a true talent after moving to Marseille from Lille, where he credited Marcelo Bielsa with giving his game some "order."
The summer's European Championships finally convinced those few still unsure that Payet, a relatively late bloomer, is one of the world's best.

Riyad Mahrez, Leicester City
Some players on this list seem to have been predestined for the top from an early age, but for others the route is more circuitous.
The latter is true for Riyad Mahrez, who arrived at Leicester City via spells in the French second division, and even more curiously after a trial at St Mirren. Mahrez departed the Scottish side on a bike after deciding the weather was simply too cold, but even then his talent was evident.
"His skill was unbelievable," said former St Mirren defender Iain Gray earlier this year. "I thought I'd smash him in a tackle. He just did a wee feint and I went flying past him."
That talent helped propel Leicester to their incredible league title win, and earned high praise from colleagues.
"Mahrez is the toughest player I've ever defended," wrote teammate Christian Fuchs. "The reason is because he's so versatile with the ball at his feet. He can go on his left, he can go on his right. Left, right, left, right again."

Koke, Atletico Madrid
It's gratifying to see Koke receive some recognition, because Atletico Madrid's fierce group mentality and Diego Simeone don't often allow individual players to receive the credit they deserve. But Koke is absolutely exceptional, and if you don't believe us, allow someone with rather better credentials to explain.
"Koke is an extraordinary footballer," Xavi said in 2014. "He has everything: talent, physical ability, he is a footballer of the present and the future."
Koke was the product of the Atletico youth side and is capable of playing anywhere across the midfield. Indeed, former Spain coach Vicente del Bosque described him as "the complete midfielder." His versatility has perhaps delayed his rise to being a national team regular but at some point his talent will ensure this happens.

Philippe Coutinho, Liverpool
Inter Milan have conducted quite a bit of bad transfer business over the years, but letting Philippe Coutinho go for a paltry £8.5 million must be among the worst. Able to dictate games from the left wing, it's not a surprise that Mauricio Pochettino, who managed him at Espanyol, once said he had "magic in his feet."
Coutinho learned his skills on the futsal courts of Rio, growing up near the Maracana, but he nearly skipped a trial at Vasco de Gama as a young boy because he was too shy. Eventually, of course, he overcame that bashfulness, and while he can still be a little inconsistent, his excellence can win games.
"He changed us completely," Luis Suarez said about the Brazilian while still at Liverpool -- you can't get much higher praise than that.
Dele Alli, Tottenham
It's easy to forget that 18 months ago, Dele Alli was playing in the third tier of English football. Since then he's rapidly looked comfortable among football's elite, to the point where Sir Alex Ferguson declared him the best young midfielder he's seen since Paul Gascoigne and Harry Redknapp said he'd prefer Alli to the world's most expensive player, Paul Pogba.
When he was at MK Dons, few doubted that he was destined for the top, and he used to amuse his teammates and then-manager Karl Robinson by doing keepy-uppies with a piece of chewing gum before volleying it back into his mouth.
Alli has spoken about improving his goal-scoring record; if he does that, he'll be moving up this list in short order.

James Rodriguez, Real Madrid
It somehow doesn't sound plausible that former child prodigy James Rodriguez is still just 25. Only 15 when he made his debut for Envigado in Colombia, he was signed by Banfield aged 17 and became the youngest foreigner to ever score in Argentina.
As a youngster, most kids would dream of emulating the greats of Colombian football like Carlos Valderrama or Tino Asprilla, but Rodriguez instead idolised a character in the cartoon "Super Campeones," a Japanese Manga series.
After his brilliant performances at the 2014 World Cup, where he won the Golden Boot, Rodriguez earned his dream move to Real Madrid, and while he has occasionally struggled to establish himself in Spain, he's still among the world's most talented and potent playmakers.
---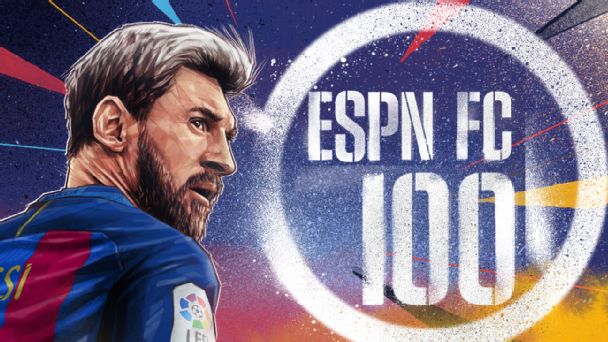 FC100: The full list
Goalkeepers
Right-Backs | Centre-Backs | Left-Backs
Central Midfielders | Attacking Midfielders | Wingers
Forwards | Strikers
Managers
---
Feature content
Gab Marcotti: Putting the fun back in football rankings
Miguel Delaney: Picking the future #FC100 No. 1s
Nick Miller: England's slipping stock behind low #FC100 representation
Mark Lovell: No surprise that Bayern dominated #FC100
John Brewin: Where were all the Premier League players?
---
FC 100 is the result of a comprehensive vote among ESPN FC writers, experts and regions to determine the top 100 in the men's game right now. Our ballot breaks things down by position to more accurately reflect the top performers all over the pitch, not just the ones who dominate the headlines.