Lloyd drills field goals at Eagles practice
Two-time World Cup winner and Eagles fan Carli Lloyd nailed field goal attempts from as far as 55 yards out at Philadelphia's practice with the Baltimore Ravens.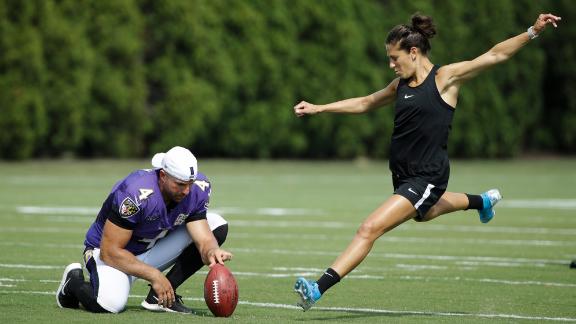 Chris Paul's 'unbelievable' moment meeting Barca players
Chris Paul explains how grateful he was to have his son meet Antoine Griezmann, Gerard Pique and other members of Barcelona.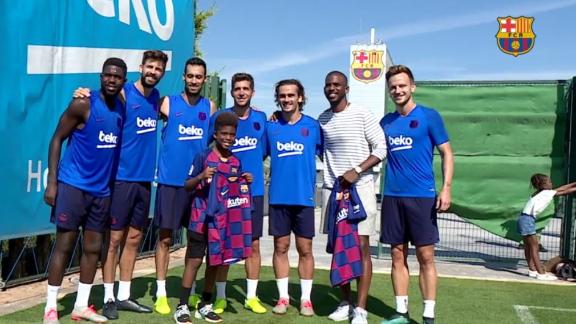 ESPN Fantasy Football promo

With the 2019-20 season just around the corner, it is time to pick your all-conquering line-up!

ESPN Illustration

Man City lucky? Man United worse than sixth? Aguero robbed? The second edition of the ESPN Luck Index reveals all.

Jasper Bastian for ESPN

Sam Borden: The 20-year-old is about to try what no American's done before and star for one of football's biggest clubs.

ESPN Illustration

Lionel Messi and Cristiano Ronaldo are the dominant forces in soccer, but who's next? Who will take on the challenge of being the best in soccer?

Melissa Lyttle for ESPN

Once a teen phenom, Freddy Adu was supposed to save U.S. soccer. His career appeared to fizzle out, but he is not done yet.

Photo by Stuart Franklin/Getty Images

Nick Hornby: The 2018-19 campaign showed that Arsenal will always flake out when it matters, no matter who's playing or coaching.

Jan Kruger - UEFA/UEFA via Getty Images

At 20, the Liverpool and England right-back has had a meteoric rise that includes back-to-back Champions League finals. But he is not satisfied.

Ryan Inzana

Here are the top 100 players and managers in men's soccer, as rated by our experts.

Artist: Carlos Villa; Colors: Carlos Lopez

To celebrate the release of "Captain Marvel," ESPN and Marvel teamed up to turn our favorite soccer captains into galaxy-dominating superheroes.

Getty

The world's best striker has his sights set on an NFL career. Why can't he make it happen?

Katie Nolan

The host of 'Always Late' on ESPN+ checked a big item on her bucket list when she visited Anfield.

EPA/Marcelo Sayao

On Feb. 8, a fire at an uninspected youth dormitory at one of Brazil's highest-earning teams caused 10 preventable deaths. How?

Julie Glassberg for ESPN

The tragic disappearance of Emiliano Sala, bound for new club Cardiff on a single-engine plane, raises the question: How did this happen?

ESPN Illustration

For most clubs, losing a star like Frenkie De Jong would be a killer. For Ajax, it's their business model.

Photography by Maria Amasanti

When Boca Juniors and River Plate were set to meet in Argentina's most important match ever, Buenos Aires lost its mind.

ESPN Illustration

Sergio Ramos is a master, Wilfried Zaha knows how to win a free kick and chicanery from corners can be crucial. Welcome to the dark arts.

Finbarr O'Reilly for ESPN

The Class of '92 made their names and won it all at Old Trafford. Now they're trying to take a tiny, working-class team to the Premier League.

Getty

Keep track of all the important upcoming fixtures in the Premier League, Champions League, La Liga, English Football League and more.

Getty

Results and scores from the Premier League, Champions League, La Liga, English Football League and more.

Getty

Updated tables from the Premier League, Champions League, La Liga, English Football League and more.
ESPN Fantasy Soccer promo

Manage your squad in the Premier League, Champions League, La Liga and Liga MX.
Customise ESPN