In an old series of Nike ads featuring LeBron James, the various aspects that make up everything James is as a player were split up into four identities: athlete, businessman, kid and wise LeBron. But as an actual NBA player, James has lived just three existences so far: young Cleveland, Miami and veteran Cleveland. While many of the skills that have made James who he is have been evident at every stop, a closer look at the numbers shows a decided evolution between the three LeBrons, leaving NBA opponents fearful that we might not have even seen his final form yet.
Carrying the load
Minutes and points per game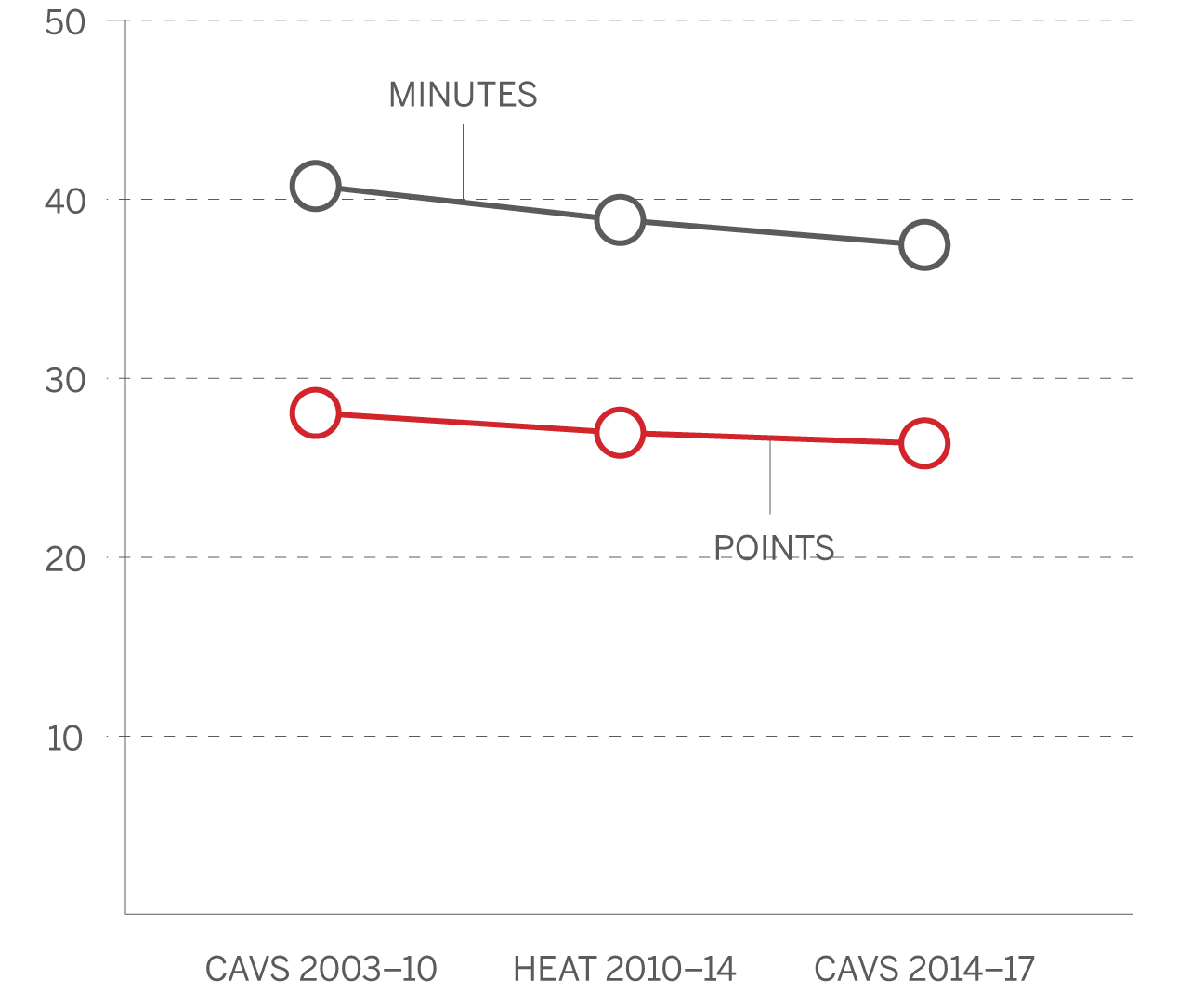 As a young, athletic marvel in his first stint in Cleveland, James was often forced to carry the scoring load for otherwise undermanned teams, and he played big minutes to do so. When he got to Miami and teamed with fellow All-Stars Dwyane Wade and Chris Bosh, his scoring took a dip and he was introduced to the concept of strategic rest, keeping his minutes slightly down as well. That trend continued after his return to Cleveland, where he was willing to share the scoring load with Kyrie Irving and Kevin Love while spending even more time off the court in the regular season to keep his legs fresh for the playoffs.
---
Sharing the load
Assists per game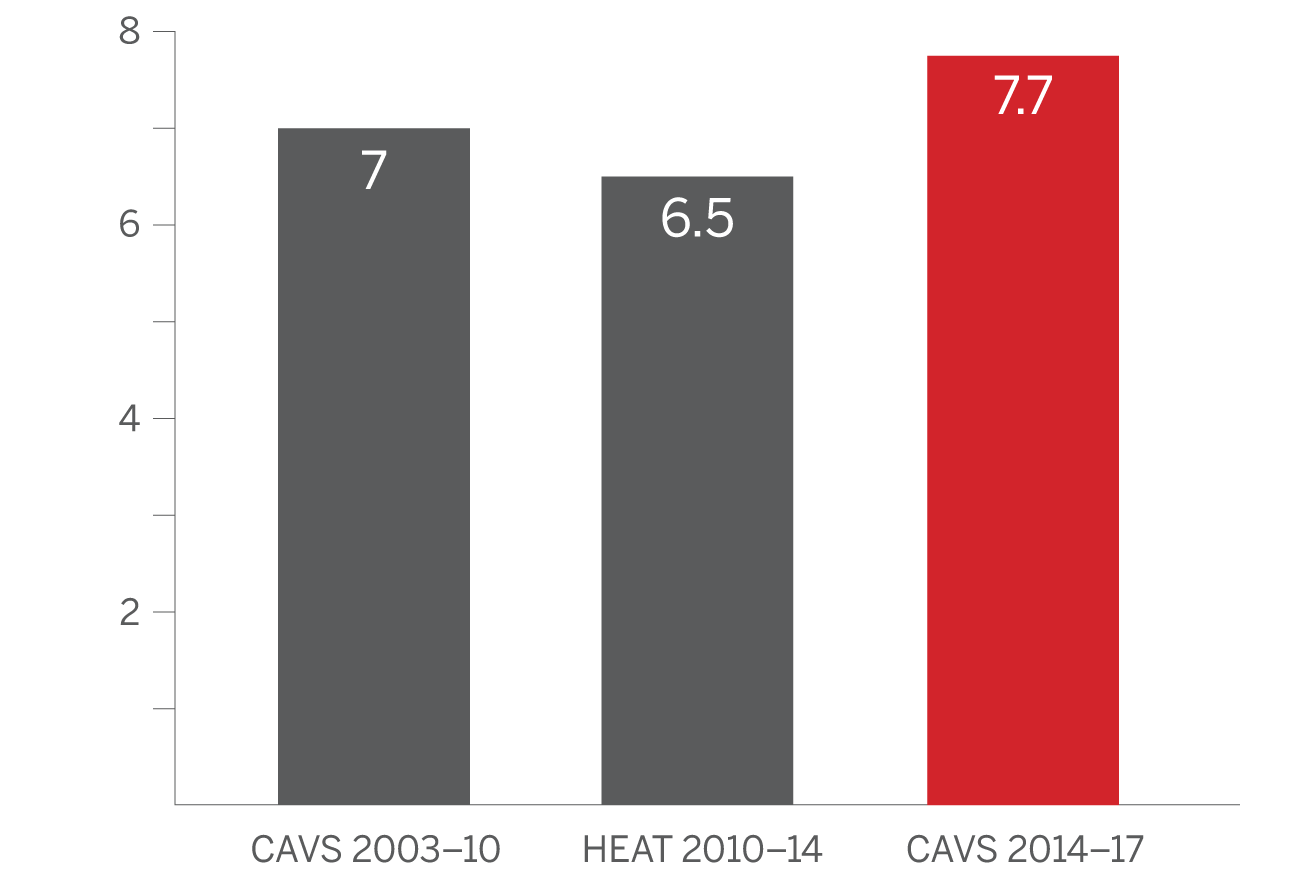 Despite the perceived lack of talent around him early in his career, James was still able to rack up seven assists per game. Only Steve Nash, Chris Paul, Jason Kidd, Deron Williams and Baron Davis averaged more in that span. In Miami, James' assist numbers dipped, perhaps a reflection of Wade's and Bosh's abilities to create shots for themselves. But it has been a different story in James' return to Cleveland. Most of the Cavs' supporting cast has been handpicked to best support James, and he has seen a significant increase in assists, including a career-high 8.7 per game this past season.
---
Moving in
Midrange shots and baskets per game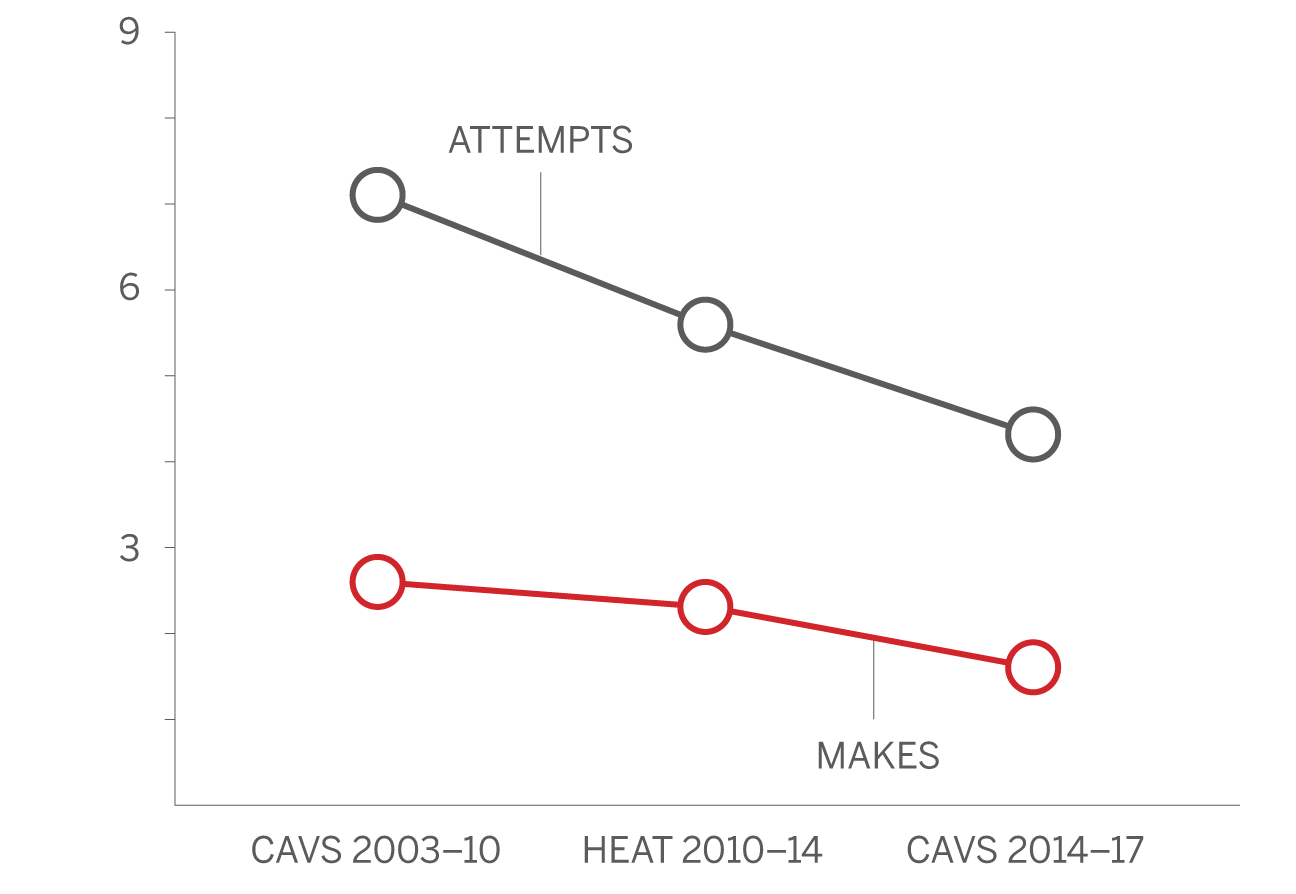 Restricted area shots and baskets per game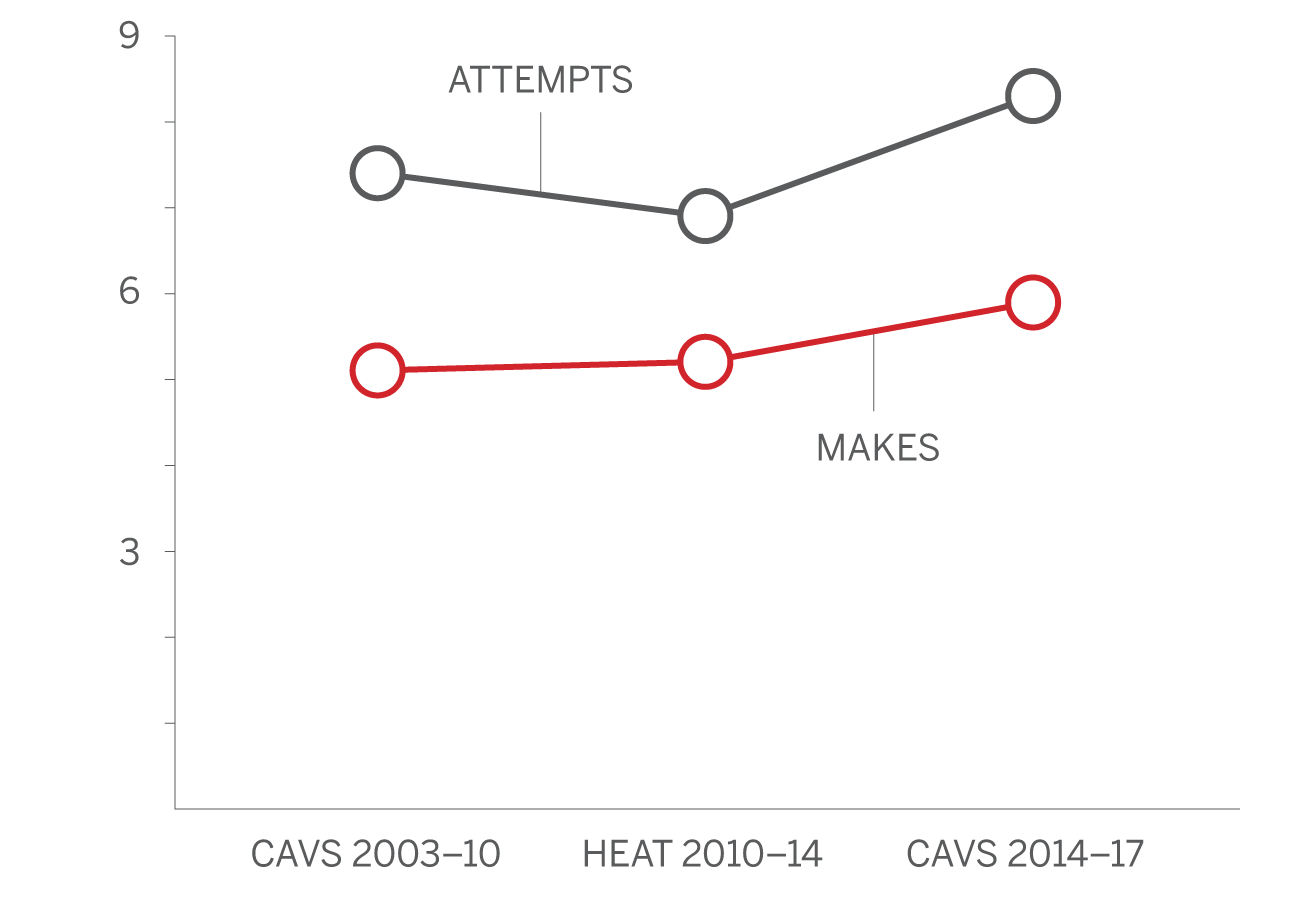 As a young player, James was just as likely to pull up for a midrange jumper as he was to power to the rim, despite a considerable lack of success from that area of the court. In Miami, James learned the lesson of efficiency, and he has taken it to another level upon his return to Cleveland. He now takes almost twice as many shots in the restricted area as he does from the midrange. He's as close to the Rockets' ideal as you'll see from a player outside of Houston.
---
Embracing the clutch
3-point FG pct. in clutch time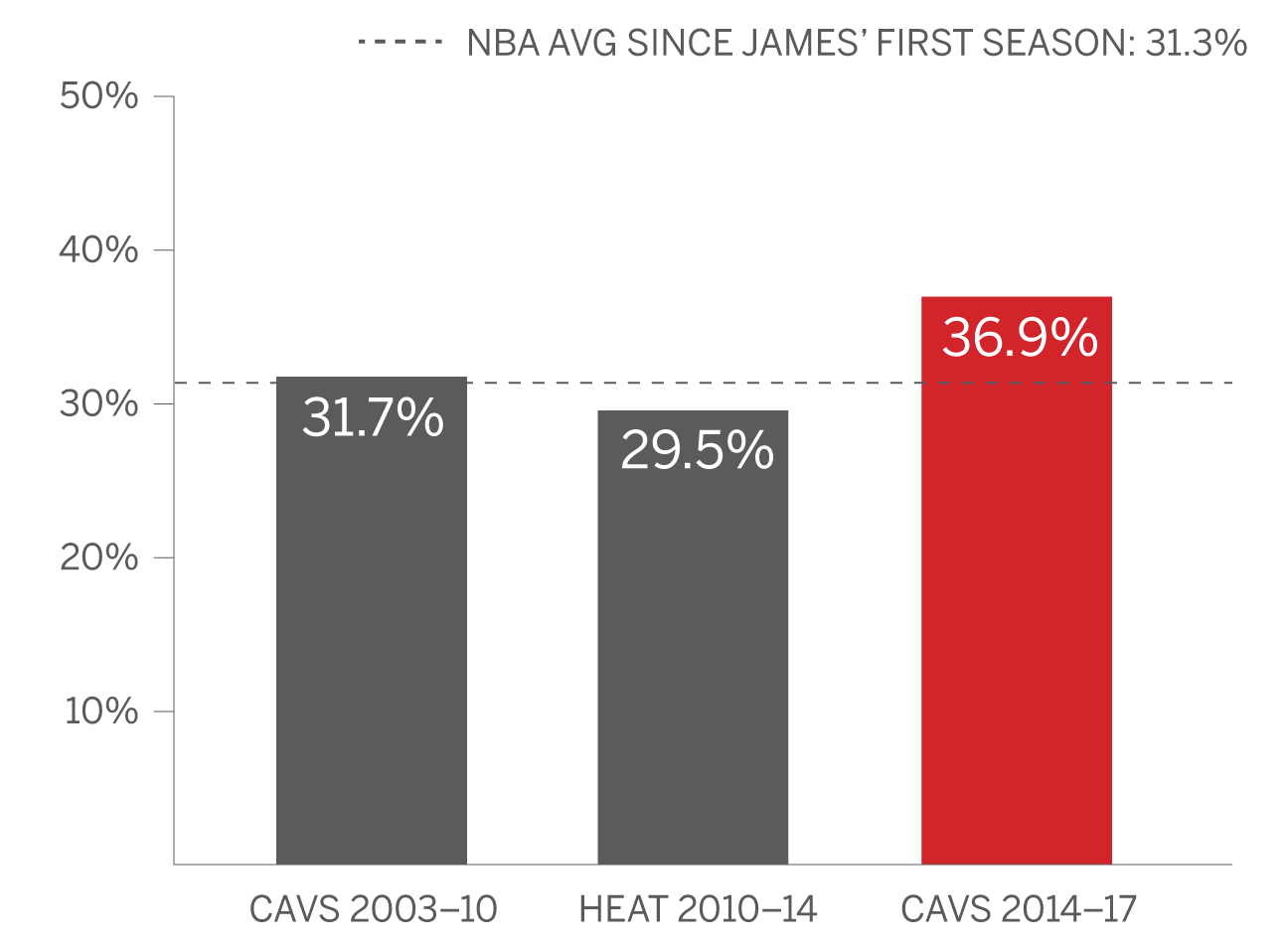 *Clutch time defined as games within five points in the final five minutes of fourth quarter or OT
James wasn't a good 3-point shooter during his first stint in Cleveland, and that was reflected in his crunch-time numbers, which were right around league average. What was surprising was how this particular skill dipped in Miami, even as his overall 3-point shooting improved. But when he got back to Cleveland, he found a way to put it all together; he's shooting 36.9 percent from 3 over his past three seasons in clutch situations, which is actually a higher percentage than Stephen Curry (34.8 percent), who won two MVPs in that span.
---
Nothing for free
Free throw percentage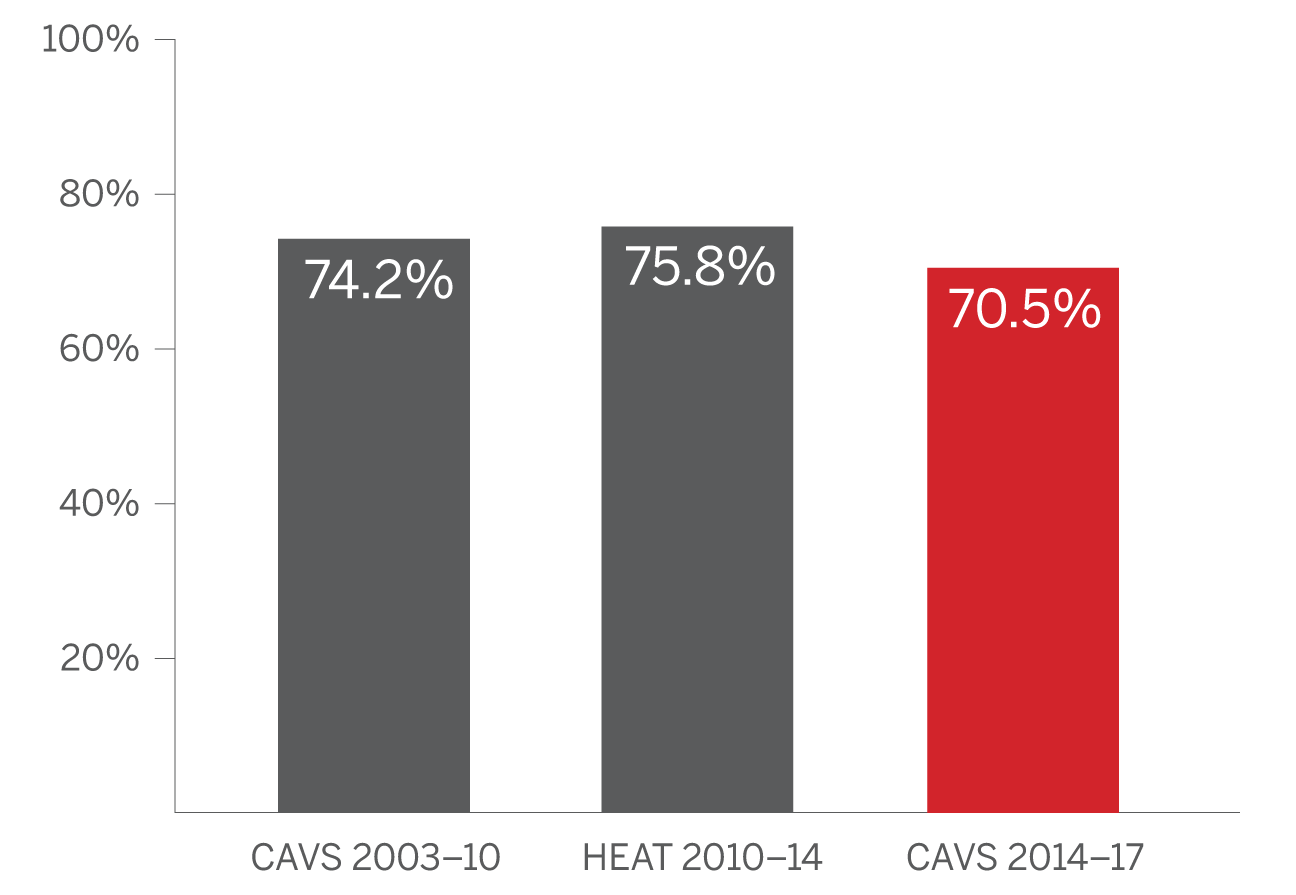 When a younger James, who relied more on pure athleticism, carried the load in his first stint in Cleveland, it showed in how frequently he got to the free throw line: 9.2 times per game, ranking among the most in the NBA in that span. When he got to Miami, his foul shots came less frequently but went in more often. However, that latter trend didn't continue upon his return to Cleveland. As Tom Haberstroh investigated in depth, James' struggles from the line might be a reason why he has been going there less often in recent years.