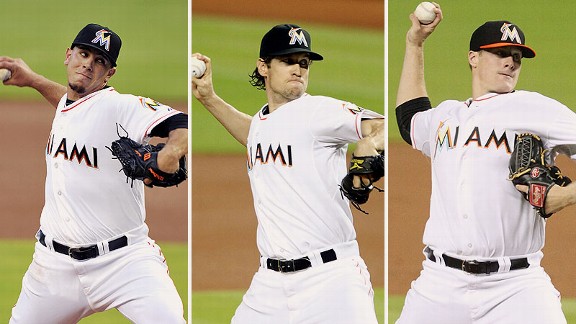 Getty Images
The Mets are due to face (l to r) Jose Fernandez, Kevin Slowey and Tom Koehler this weekend at Citi Field.METS (23-33, fourth place/NL East) vs. MIAMI MARLINS (16-44, fifth place/NL East)
Friday: RHP Matt Harvey (5-0, 2.17) vs. RHP Jose Fernandez (3-3, 3.34), 7:10 p.m. ET
Saturday: RHP Shaun Marcum (0-6, 5.71) vs. RHP Kevin Slowey (1-5, 4.16), 1:10 p.m. ET
Sunday: LHP Jonathon Niese (3-5, 4.40) vs. RHP Tom Koehler (0-4, 3.70), 1:10 p.m. ET
Marlins short hops
• Giancarlo Stanton, who has been out since straining his right hamstring against the Mets on April 29, began a rehab assignment Tuesday with Class A Jupiter. Also in the midst of rehab assignments: Donovan Solano (intercostal muscle), Joe Mahoney (hamstring) and Logan Morrison. Right-hander Nathan Eovaldi (shoulder) has one remaining rehab start before returning from the disabled list.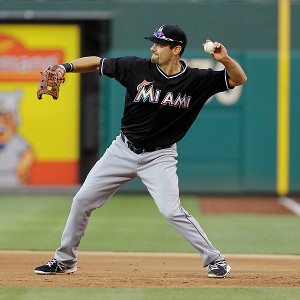 Laurence Kesterson/Associated Press
Casey Kotchman returned Monday, after a two-month absence.
Once Stanton returns, Chris Coghlan should get exposure at third base and rookie Marcell Ozuna in center field and left field. Coghlan hasn't been an everyday third baseman since 2009 in Triple-A, but he manned the hot corner during his college career at Ole Miss.
• Ozuna, who has been starting in right field in Stanton's absence, lost a 16-game hitting streak last Saturday against the Mets. It was the second-longest streak for a rookie in Marlins history, trailing only Edgar Renteria's 22-game streak in 1996.
• After last weekend's series against the Mets, the Marlins activated first baseman Casey Kotchman from the DL and promoted left-hander Edgar Olmos from Double-A. Left-hander Wade LeBlanc was designated for assignment and outfielder Jordan Brown was demoted to Triple-A.
• Highly regarded outfield prospect Christian Yelich, who excelled against the Mets during spring training, landed on the disabled list at Double-A Jacksonville with an abdominal strain. That will delay his promotion.
• Ed Lucas, whose first major league hit came last weekend in Miami against the Mets, is the oldest position player ever to make his major league debut with the Marlins. The oldest players ever to debut for the Marlins, regardless of position: Joe Strong (2000, 37 years 245 days), Lucas (2013, 31 years 9 days), Chuck Smith (2000, 30 years 326 days), Joe Dillon (2005, 29 years 289 days) and Tommy Phelps (2003, 29 years 27 days).
Lucas' four-hit game Sunday made him the fastest ever to accomplish that feat to begin his major league career with the Marlins -- his third game, and second start. Hanley Ramirez had a four-hit game in his fourth career game. Ozuna did it in his sixth career game, earlier this season.
• Tom Koehler is a Stony Brook University product.
• Closer Steve Cishek blew a save Tuesday, serving up an extra-innings homer to Philadelphia's John Mayberry Jr. He has converted five of seven chances.
• Former Marlins manager Jack McKeon, who remains a presence around the organization, underwent heart bypass surgery Monday. He is 82.
• Miami is 6-3 against the Mets this season.
• Juan Pierre has a .322 career average against the Mets. His 157 hits against the Mets are his most against any club. Only Jimmy Rollins (245) has more hits against the Mets among active players.
• Ricky Nolasco and reliever Ryan Webb are available via trade, but not Cishek or left-hander Mike Dunn, according to MLB.com's Joe Frisaro.