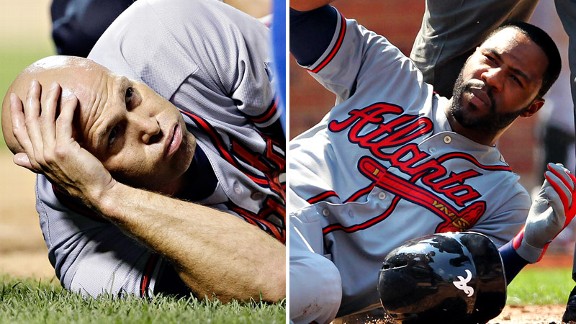 Associated Press, USA TODAY Sports
Tim Hudson (ankle) and Jason Heyward (jaw) have suffered serious bone fractures at Citi Field in the past month.NEW YORK
FIRST PITCH: Aces Matt Harvey and Max Scherzer will make history this weekend.
Their matchup Saturday at Citi Field will mark the first time the All-Star Game starters have faced off at any point during that same regular season, according to the Elias Sports Bureau.
Of course, the Mets made that possible by keeping Harvey on an extra day of rest.
Carlos Torres steps into the rotation spot vacated by Jenrry Mejia to face Detroit Tigers right-hander Doug Fister in Friday's 7:10 p.m. series opener.
After Harvey-Scherzer Saturday at 4:05 p.m., Dillon Gee opposes Seton Hall prep product Rick Porcello in Sunday's 1:10 p.m. finale.
First, the Mets enjoy their first off-day today since Aug. 5.
Scherzer, by the way, is only the fifth pitcher in major league history to win at least 18 of his first 19 decisions of a season -- as a starter or reliever. He joins Rube Marquard (1912 New York Giants, 19-0), Roger Clemens (2001 Yankees, 18-1), Roy Face (1959 Pittsburgh Pirates, 18-1) and Don Newcombe (1955 Brooklyn Dodgers, 18-1).
Thursday's news reports:
• Jason Heyward suffered two fractures to his jaw when he was struck by a 90 mph fastball from Jonathon Niese in the sixth inning Wednesday. Heyward is due to undergo surgery in Atlanta on Thursday. He is expected to miss four to six weeks.
It marked the second time this season the Mets had dealt a serious injury to a key member of the Braves at Citi Field. Tim Hudson fractured his right ankle covering first base when Eric Young Jr. stepped on him on July 24.
"He never lost consciousness," Braves manager Fredi Gonzalez told reporters afterward about Heyward. "Right before he went to the hospital he popped his head into the clubhouse to say goodbye to some of the guys.
"It's not the ballpark. It's just a matter of freak stuff happening. It can happen anywhere."
Read more in the Atlanta Journal-Constitution, Post and Newsday.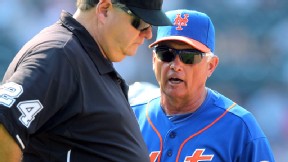 Brad Penner/USA TODAY Sports
First-base ump Jerry Layne gets an earful from Terry Collins after a blown 10th-inning call.
• On his first major league pitch since July 19, Greg Burke surrendered a three-run homer to Chris Johnson and the Mets lost to the Braves, 4-1, in 10 innings. The inning was prolonged for Johnson's blast when first-base umpire Jerry Layne incorrectly ruled Freddie Freeman safe on a close play, which placed runners at first and second base with two outs.
Daniel Murphy was ejected for barking at Layne about the Freeman call as Johnson rounded the bases. Terry Collins subsequently returned to the field to argue and was tossed, too. Major League Baseball intends to institute manager challenges next season that would have reversed such a call.
Niese had allowed one run in seven innings in a no-decision. Atlanta evened the score at 1 in the sixth when Niese briefly unraveled after drilling Heyward with two outs. The southpaw subsequently surrendered singles to Andrelton Simmons and Freeman.
The Mets have now played 52 extra innings this season, eight shy of matching the franchise record, set in 1979 and duplicated in 1985.
Juan Lagares recorded his 11th outfield assist, pulling even with Alfonso Soriano and Carlos Gonzalez for the major league lead. Lagares has the most outfield assists by a rookie since Rocco Baldelli had 15 with Tampa Bay in 2003.
Read game recaps in the Post, Daily News, Newsday, Times, Star-Ledger, Journal and MLB.com.
• Frank Francisco resurfaced in the Gulf Coast League on Wednesday. Francisco surrendered a solo homer to minor league veteran Ben Lasater. He otherwise struck out two in one inning against the GCL Marlins in Port St. Lucie, Fla. It marked Francisco's first official minor league game action since July 15.
Unless the Mets can get Francisco to the major league level in the next nine days and trade him while he would be eligible for another team's playoff roster, it clearly would be plausible for them to release the former closer soon. After all, why give him a September opportunity to set up a free-agent deal elsewhere this offeason?
Francisco, making $6.5 million as part of an expiring two-year, $12 million deal, has not appeared with the Mets this season. He seemingly underwent a benign surgery in December to remove a bone spur from his pitching elbow.
• Jeremy Hefner will seek a second opinion from Dr. James Andrews in Birmingham, Ala., on Monday, but believes he is headed for Tommy John surgery to address a partially torn medial collateral ligament. The surgery, which has a typical 12-month recovery time, would sideline Hefner for most if not all of the 2014 season. Hefner also needs bone spurs removed. Read more in the Times, Daily News, Post, Star-Ledger and Newsday.
• Brian Costa notes in the Journal that he willingly preferred to attend Citi Field rather than Yankee Stadium on Wednesday. Writes Costa:
But as the Mets slog through what's left of another forgettable season in relative obscurity, a window of opportunity is opening. The emergence of their best young players is coinciding with the devolution of the Yankees into an abject spectacle, like the Bronx Zoo Yankees of the 1970s minus the championship.
You'd be a fool to write the Yankees off entirely. Entering Thursday, they'd won eight of their last 10 games. But the odds are not in their favor. Based on the team's run differential and remaining schedule, the website coolstandings.com gave the Yankees a mere 11 percent chance of making the playoffs entering Thursday. And with no top young talent on the immediate horizon, 2014 looks as murky as ever.
For the first time in a long time, it looks entirely possible that the Mets will be a better team than the Yankees a year from today.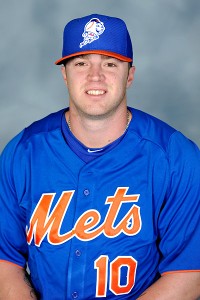 Courtesy of New York Mets
Dustin Lawley has been named Florida State League player of the year.
• Playoff-bound Binghamton (81-49) clinched outright its first Eastern League division title since 2000 with a 5-3 win against Bowie on Wednesday. Allan Dykstra slugged his 20th homer, while Travis Taijeron also went deep. Taijeron has 13 Double-A homers this season and 22 long balls overall. Jeff Walters notched his 36th save, which ties the all-time Binghamton saves record originally set by Tim Lavigne over five seasons.
"We mixed some older guys in, myself included, and we jelled well," Dykstra told the Binghamton Press & Sun-Bulletin. "It's just a good camaraderie in the clubhouse and that really reflects on the field."
Eric Campbell had a walk-off single in the 11th as Las Vegas rallied from a seven-run deficit to beat Fresno, 8-7, and improve to 72-57. Demoted Anthony Recker made his 51s debut with an eighth-inning groundout as a pinch hitter.
Domingo Tapia allowed six runs in 3 1/3 innings as St. Lucie lost to Palm Beach, 7-0. Kyle Johnson extended his hitting streak to 16 games. St. Lucie earlier had won the resumption of Tuesday's suspended game, 6-4. Robbie Shields had a tiebreaking two-run double in the seventh.
After St. Lucie's doubleheader, outfielder/third baseman Dustin Lawley (.259, 25 HR, 90 RBIs) was named Florida State League player of the year. Bronx-raised infielder T.J. Rivera and right-hander Matt Bowman also were named to the FSL postseason All-Star team.
Estarlin Morel threw a walk-off wild pitch as Savannah lost at Kannapolis, 4-3. 2011 first-round pick Brandon Nimmo went 2-for-3 with a walk and now has a .406 average (26-for-64) in August.
• From the bloggers: Faith and Fear in Flushing has seen enough of the Braves.
BIRTHDAYS: Outfielder Darrin Jackson is 50. … Ray Burris was born on this date in 1950.
TWEET OF THE DAY:
Damn J-hey. I'm super pissed. Next car I see with #mets tag on it I'm gonna take a big ol dump on their hood.

— Don Payne (@bringdapayne1) August 21, 2013
YOU'RE UP: Are you concerned for the Mets being the target for retribution when they play at Turner Field from Sept 2-4, given the injuries to Jason Heyward and Tim Hudson?