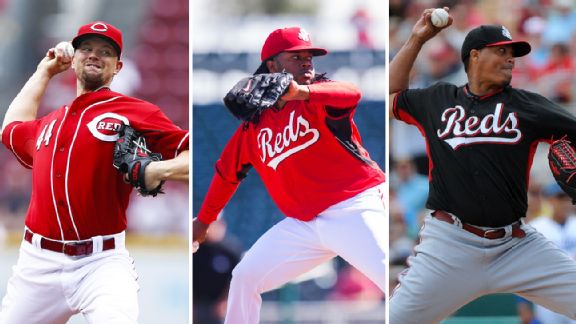 Getty Images
The Mets face Mike Leake, Johnny Cueto and Alfredo Simon this weekend at Citi Field.METS (0-3, fifth place/NL East) vs. CINCINNATI REDS (1-2, third place/NL Central)
Friday: RHP Jenrry Mejia (0-0, -.--) vs. RHP Mike Leake (0-0, -.--), 7:10 p.m. ET
Saturday: RHP Dillon Gee (0-0, 5.40) vs. RHP Johnny Cueto (0-1, 1.29), 1:10 p.m. ET
Sunday: LHP Jonathon Niese (0-0, -.--) vs. RHP Alfredo Simon (0-0, -.--), 1:10 p.m. ET
Reds short hops
• Cincinnati opened the season with an MLB-high eight players on the disabled list. The most gruesome injury occurred to flame-throwing closer Aroldis Chapman, who was struck by a line drive off the bat of Kansas City's Salvador Perez on March 19. Chapman suffered eye and nose fractures and also a mild concussion. He had a plate and screws inserted to stabilize the bones near his left eye.
Mark Sheldon/Associated Press
Aroldis Chapman is taken off the field after being struck by a March 19 line drive.
Also opening the season on the DL: right-handers Mat Latos (Oct. 11 elbow surgery and Feb. 14 knee surgery), Jonathan Broxton (Aug. 23 forearm surgery) and Brett Marshall (finger tendon), left-hander Sean Marshall (shoulder), catcher Devin Mesoraco (oblique), infielder Jack Hannahan (shoulder) and free-agent infielder/outfielder signee Skip Schumaker (shoulder).
• Alfredo Simon, who has 19 career saves, steps into the rotation as the fifth starter until Latos returns. Latos tossed four innings for Double-A Pensacola in a rehab start Thursday.
• Bryan Price, 51, is the first-year manager of the Reds. He served the previous four seasons as the team's pitching coach under Dusty Baker.
• J.J. Hoover may take the lead in a closer-by-committee scenario until Broxton and then Chapman returns. Broxton may be back within a week. Hoover's co-closers for now include Logan Ondrusek, Manny Parra and Sam LeCure. Hoover had 23 straight scoreless appearances last summer, a franchise record for a right-hander.
• Mike Leake, still 26 year old, already has made five Opening Day rosters with the Reds. His 57 hits are the most by any MLB pitcher since his 2010 debut.
• Cincinnati opened its season by failing to score in its first 17 innings, until Chris Heisey's walk-off single against St. Louis' Carlos Martinez won Game 2 of the season, 1-0. Heisey had six spring-training homers, tied for the MLB lead.
• Speedster Billy Hamilton is hitless in 12 at-bats with six strikeouts to open the season. Four of the Ks came on Opening Day. He has been caught stealing only once in his big-league career -- by the Mets' Juan Centeno last season. Hamilton is handling center field (and playing shallow to take advantage of his speed) with Shin-Soo Choo's defection to the Texas Rangers on a seven-year, $130 million deal.
• First baseman Joey Votto, the 2010 NL MVP, notched his 1,000th career hit Wednesday.
• Toms River/Rutgers product Todd Frazier had his fourth career multihomer game Thursday.
• Johnny Cueto, who made his third straight Opening Day start, was a tough-luck loser against St. Louis. He surrendered a solo homer to Yadier Molina while allowing only two other hits and a walk in seven innings in the Reds' 1-0 loss to Adam Wainwright. Cueto made only 11 starts last season because of three disabled-list trips.
• Cincinnati experienced a combined 6 hours, 22 minutes of rain delays on Wednesday and Thursday.
• Left fielder Ryan Ludwick had a better Opening Day this season than a year ago, even though he went 0-for-4. In the 2013 opener, Ludwick tore the labrum in his right shoulder on a headfirst slide into third base. He required surgery and did not return until Aug. 12.
• Catcher Brayan Pena, who played with the Detroit Tigers in 2013, signed a two-year, $2.275 million contract in November. Incumbent catcher Ryan Hanigan was traded to the Tampa Bay Rays in December.
• Right-hander Homer Bailey signed a six-year, $105 million extension with the Reds on Feb. 19. He went 11-12 with a 3.49 ERA in 32 starts last season and would have been eligible for free agency next winter.