Editor's note: This article was first published in November 2019 and has been edited.
With the coronavirus outbreak forcing people to stay at home, Football Manager saw record numbers as it was played online by almost 90,000 users around the world this weekend.
The Football/Championship Manager franchise has brought our attention to some of the best players over the years, but it's also responsible for some of the biggest flops (sorry Freddy Adu).
So we've assembled an all-conquering team of bona fide cult legends and gems who have graced the game over the years.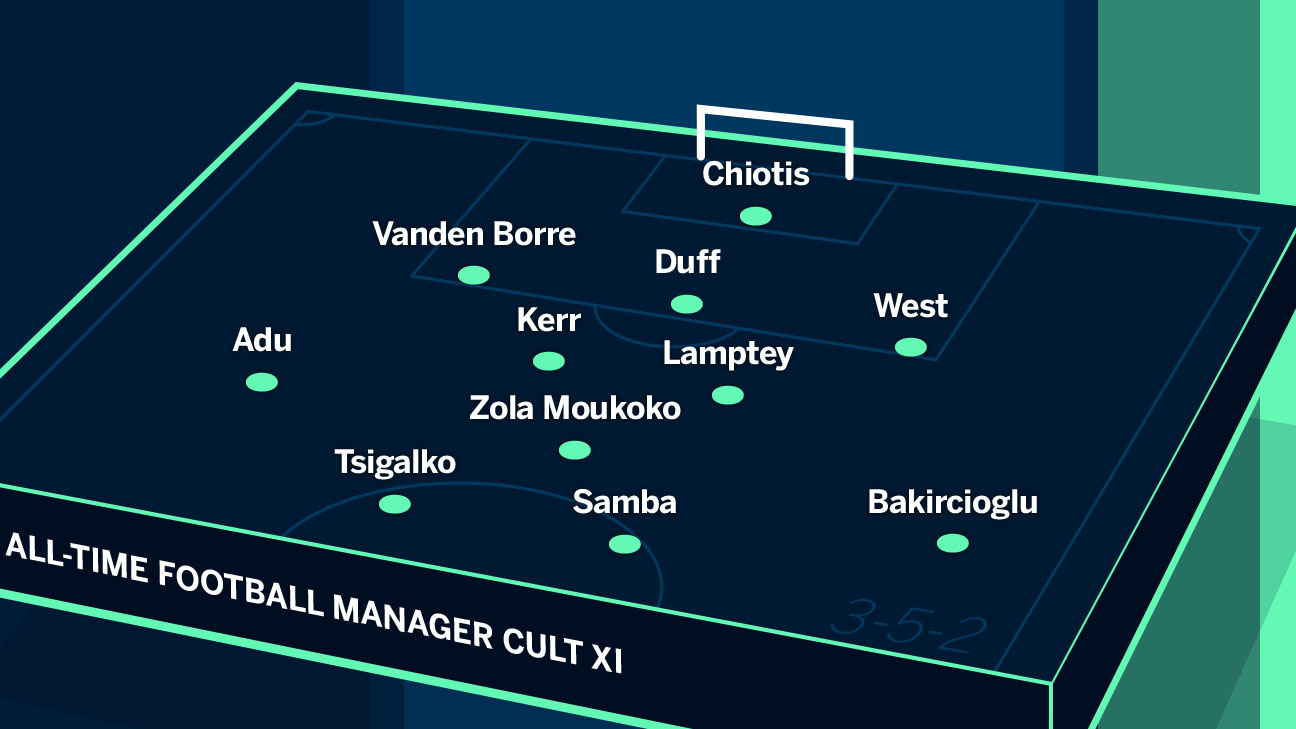 GK: Dionisis Chiotis
In reality, Chiotis enjoyed a decent career and even managed to win one cap for Greece. However, his FM alter ego quickly became an unbeatable giant betwixt the sticks in the 2001-02 game after he was plucked from AEK Athens.
RB: Anthony Vanden Borre
Available from Anderlecht for a minimal fee in the 2007-08 game, Vanden Borre proved more than strong and versatile enough to build a Champions League winning side around -- which is quite an accolade for a right-back.
CB: Michael Duff
The definition of rock solid. Teenager Duff was easily procured from Cheltenham Town in the earlier Championship Manager games and routinely became a staple of countless Football League back fours.
LB: Taribo West
Available on a bargain free transfer at the beginning of the 2001-02 edition, the Nigerian behemoth quickly became even more dominant and foreboding than his real-life counterpart who played for both Inter and AC Milan.
CM: Mark Kerr
Kerr was the stuff of legend in 2001-02. A hard-working Scottish central midfielder who was available for peanuts from Falkirk and could soon out-run, out-pass and out-play almost all of his contemporaries.
CM: Nii Lamptey
One of the original hidden gems in Championship Manager 1993-94, attacking midfielder Lamptey boasted a 20/20 pace rating with flair and creativity stats to match. It didn't require much cash to lure him to your club either, but the Ghanaian ended his real-life career in South Africa after disappointing spells at Villa and Coventry.
AM: Tonton Zola Moukoko
One of the most renowned and revered cult heroes in FM folklore, once recruited from Derby County, Moukoko could almost guarantee you at least 20 goals a season from his advanced midfield position. In real life, he never played for Derby once and he spent most of his career in Scandinavia.
FW: Kennedy Bakircioglu
It took less than a couple of million to sign Bakircioglu from Hammarby in the 2000-01 game and, deployed properly in his preferred position just behind the striker, he'd soon repay you with a consistent glut of goals. Arguably, he had the best real career of anyone on this list with success at Ajax and Hammarby IF on his CV.
FW: Freddy Adu
One of FM's most famed wonderkids, Adu was just 14 years old in the 2003-04 game, which made securing him a work permit a fruitless nightmare. However, patience and perseverance were eventually rewarded when he blossomed into THE GREATEST PLAYER IN THE WORLD BAR NONE just a few years later. Then everything went wrong.
ST: Maxim Tsigalko
Those 2001-02 managers who scoured Belarus for talent were able to unearth Tsigalko, who was capable of hitting triple figures for goals in the space of just one season. Well worth the £2m investment it took to pinch him from Dinamo Minsk, but the real-life striker ended his career at age 26 because of injuries.
ST: Cherno Samba
Also known as the first player you signed after loading up Championship Manager 2001-02 for the first time. The Millwall schoolboy soon developed into an insanely powerful target man, capable of ravishing even the strongest of opposition defences on his own. But he was nowhere near that in reality and retired in 2015 after a stint in the Norwegian Second Division.