Every team needs an adept mastermind on the touchline. Football's best managers are calculating with their tactics, charming enough with their man-management to handle the emotional rigours of a full club season and sufficiently self-aware to cope with the psychological stresses of a demanding media and the external pressures of the fans. Top managers will transform any squad from a group of individuals to a well-drilled, harmonious collective in which every player knows their role and their worth. And they'll look good doing it, too.

Pep Guardiola, Manchester City
"Stubborn" is probably not the first word that would spring to mind when describing Pep Guardiola, but that could be his most important characteristic, at least the one that has enabled him to continue with his methods and beliefs: such as bringing his ball-playing style to his Premier League defenders.
Leaving Sergio Aguero out of City's recent Champions League game at Barcelona is a perfect example: this is a player who will eventually present a good case to be City's greatest ever, but Guardiola sacrificed him in the name of the team and the system. In other words, he trusted his own ideas and instincts above individual talents. And with good reason too: the Spaniard's current major trophy tally is 12, including six league titles and two Champions Leagues.
Only someone very foolish, or perhaps as stubborn as he is, would bet against him adding plenty more at City.

Diego Simeone, Atletico Madrid
"[Simeone] has everything," Real Madrid boss Zinedine Zidane said about Diego Simeone before last season's Champions League final. "He has everything a coach has to have but above all he knows his team, his players, very well and that's the most important thing."
In some respects, Simeone is even more intense and terrifying as a manager than he was a player, stalking the touchline dressed completely in black like a frantic assassin. And that intensity is very much reflected in his team and, perhaps more than any other in the world, is one built in the manager's image.
That intensity has been with him for most of his life, too. It's tough to see the intensity fading anytime soon.

Jurgen Klopp, Liverpool
"His organisation sessions are different to anything else that I have ever experienced," James Milner said of the Liverpool manager earlier this year.
"His passion can only be a good thing. Sometimes, when he is bouncing on the touchline with enthusiasm, the only thing you could say is that he is maybe too emotional."
In some respects, the persona Jurgen Klopp presents to the world is misleading because that passion and emotion, combined with the jokes in interviews and a grin as wide as the River Mersey, might give the impression of a man who doesn't think about the game. But watch his Liverpool team or his great Borussia Dortmund sides and that notion is quickly dismissed. His high-intensity gegenpressing is a feature of all his sides.

Carlo Ancelotti, Bayern Munich
There does seem to be some vague snobbery about Carlo Ancelotti's career, despite the Italian having three league titles in three countries and three Champions Leagues with two different clubs in his trophy cabinet.
Perhaps it's because he is not viewed as an innovator, more as a man who adapts his own principles to suit his environment, but that is surely just pragmatism by any other name. And that's probably why he gets so many big jobs; he's viewed as a safe pair of hands at high levels, able to negotiate the politics and complications of the modern superclub.
"He is an unparalleled comedian," Paolo Maldini said of his former manager once. Perhaps that's how he gets on with everyone.

Luis Enrique, Barcelona
Based on the bare facts of his previous career, Luis Enrique was quite lucky to get the Barcelona job after two so-so coaching spells with Roma and Celta Vigo.
But since arriving in the summer of 2014, he has won five of the six major trophies available to him -- only last season's Champions League escaped him so far -- with two Liga titles, two Copa del Reys and, of course, the Treble in 2015.
Obviously having a front three of Neymar, Lionel Messi and Luis Suarez does help, but as former Barca coach Gerardo Martino showed, managing Barcelona is about more than just a selection of brilliant players. Having been ingrained in the club's style as a player, he knows how to do it.

Mauricio Pochettino, Tottenham
Marcelo Bielsa signed Mauricio Pochettino as a 13-year-old for Newell's Old Boys and also went on to coach him with Espanyol and with the Argentina national team. You could say Pochettino is the more pragmatic version of his mentor, a man with the footballing principles of Bielsa but without the rough edges.
There are plenty of Bielsa's hallmarks in Pochettino's high-intensity play and even hints of the older man's stubbornness -- such as his insistence that young players in whom he sees great promise don't go out on loan, preferring to coach them himself -- but he is a more refined, filtered manager.
Perhaps this will make Pochettino more successful and claim the trophies that are missing from his guru's resume.

Jose Mourinho, Manchester United
What might modern football have looked like if Jose Mourinho hadn't quit the business school course in which his mother had enrolled him?
The young Mourinho preferred to focus on football, and since taking over at Porto in 2002, he has won the league at every club he has managed (bar Manchester United, of course). As much as anything, Mourinho has been defined by his rivalries with other managers, from the friendly, almost reverential sparring with Sir Alex Ferguson to the more heated ones with Guardiola and Arsene Wenger.
More than that, though, few can deny his brilliance, whether you like the way he has gone about it or not.

Claudio Ranieri, Leicester City
True success has come late to Claudio Ranieri. Aged 65 and in his 16th managerial job, the remarkable league title last season with Leicester was his first, his previous career high being cup wins with Valencia and Fiorentina.
In truth, it's tricky to work out exactly what Ranieri did with Leicester rather just accept it as one of those extraordinary cosmic moments in football that will occasionally happen.
But what was particularly great about the season was the obvious joy Ranieri was taking from it, simply working with these players and coaxing the best from them.
"I don't remember how much I earn every year," he told The Times recently. "I don't go every day to train my players because I earn money. I go on the pitch because I am a lucky man ... and I am doing what I always wanted to do."

Antonio Conte, Chelsea
You get exhausted just watching him on the sidelines. Some managers, you suspect, are glad to be done with their playing days, while some didn't really have many real playing days to miss.
But with Conte, you suspect he desperately wants to be out there again, chasing every ball like an enthusiastic dog. And his methods work, having taken Juventus to three league titles, wrung every last drop from a limited Italy side at Euro 2016 and now getting to work bringing his impressive 3-5-2 to Chelsea.
"When he talks, his words assault you," Andrea Pirlo wrote in his autobiography about his former manager. "They crash through your mind, often quite violently, and settle deep within."
It's a poetic way of describing the hairdryer treatment, but it also sums up Conte perfectly.

Arsene Wenger, Arsenal
You sometimes wonder why Arsene Wenger is still going. After all, he has achieved plenty at Arsenal, bringing a possession-based beautiful style to England, and if he retired now, he would do so with the goodwill of most in football and with the adoration of everyone at the club he has built.
But then you remember this is a man for whom football, and by extension, Arsenal, is part of his being -- a man from a religious family who as a boy would have to ask permission to miss church to play.
"He has been fantastic," former foe Ferguson said earlier this year. "Now he gets a lot of criticism, but I admire that you're not going to bend to the will of the critics."
When a rival as fierce as that is able to say that about someone, you know you're doing something right.
---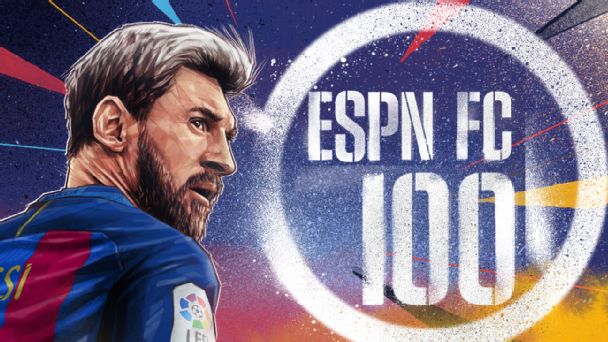 FC100: The full list
Goalkeepers
Right-Backs | Centre-Backs | Left-Backs
Central Midfielders | Attacking Midfielders | Wingers
Forwards | Strikers
Managers
---
Feature content
Gab Marcotti: Putting the fun back in football rankings
Miguel Delaney: Picking the future #FC100 No. 1s
Nick Miller: England's slipping stock behind low #FC100 representation
Mark Lovell: No surprise that Bayern dominated #FC100
John Brewin: Where were all the Premier League players?
---
FC 100 is the result of a comprehensive vote among ESPN FC writers, experts and regions to determine the top 100 in the men's game right now. Our ballot breaks things down by position to more accurately reflect the top performers all over the pitch, not just the ones who dominate the headlines.