With almost all football postponed indefinitely because of the coronavirus pandemic, star players have found themselves at a loose end.
With many training grounds off-limits, clubs have sent footballers home, where they're adhering to an isolation period for the next few weeks. How are they passing the time?
ESPN will be keeping a daily eye on what the world's best are up to, as well as how clubs are keeping busy by battling in online competitions against each other.
- Stream ESPN FC, 30 for 30 Soccer Stories and much more on ESPN+
- A letter from the great quarantine: Missing football, pasta and friendship
🗣 @esmuellert_: "My number one priority was extending my contract at #FCBayern, and the club felt the same." #MiaSanMia

🎥 https://t.co/rYoVDgJz47#Müllered2023 ✍

— FC Bayern English (@FCBayernEN) April 7, 2020
Muller has committed the next three years of his career to Bayern Munich after signing a new contract with the German giants.
After joining the academy as a sprightly 10-year-old back in 2000, Muller has been faithful to Bayern ever since. Now aged 30, he has no designs on ending the relationship anytime soon.
The forward broke his good news with what must surely be soccer's first social distancing-compliant contract announcement.
Indeed, Muller maintained appropriate intervals between himself and Bayern executives Hasan Salihamidzic and Oliver Kahn as he held his "2023" shirt aloft and posed for the cameras.
The social distancing was perhaps all the more apt given Muller is known as a ramdeuter in German football parlance -- which translates roughly as "space interpreter" -- due to his knack of always being in the right place at the right time.
- ESPN+ gets rights to Bundesliga (U.S.)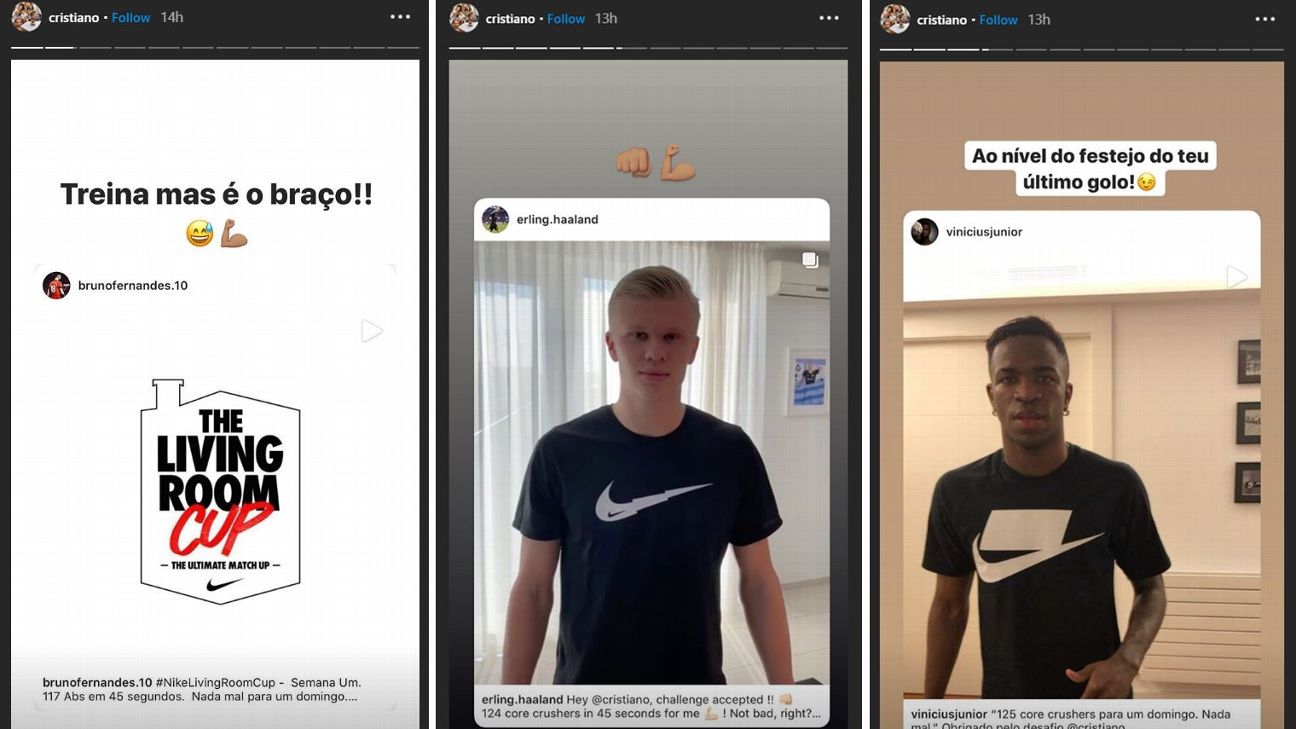 As you may be aware, Cristiano Ronaldo recently launched the "Living Room Cup" on social media designed to challenge people at home to stay active through the lockdown.
A host of fellow professionals took on Ronaldo's ab crunch challenge. Some even beat the Juventus star's total, though one who fell just short of the mark was Bruno Fernandes.
The Manchester United midfielder failed to top Ronaldo's tally of 142 crunches in 45 seconds, managing only 117 in the allotted time.
This led to much mirth from Ronaldo himself, who instructed his fellow Portugal international to "train his arms instead."
He was a little more complimentary to Vinicius Jr. (125 crunches) and Erling Haaland (also 125), who both received positive feedback from the Living Room Cup king.
Ryan Giggs
Giggs has weighed in on the home fitness front by releasing a mini-workout video of his own.
The Manchester United legend went live on Instagram earlier this week to present an "active body-weight home workout" suitable for the whole family.
Of course, Giggs is no stranger to the fitness DVD world, having already released one of his own -- "Giggs Fitness: Strength and Conditioning, Inspired by Yoga" -- in 2011
The good news is that it's still available to buy on Amazon should you wish to take the plunge.
As a dedicated fashionista, Bellerin has been forced to model his fashionable looks from his own back garden during quarantine.
The Arsenal full-back shared some images from a private photo session he conducted himself.
Bellerin appeared to be wearing a grunge-inspired look, with baggy plaid and corduroy matched with his freshly shaven head.
If he was trying to look like an extra from the "Smells Like Teen Spirit" video, then he definitely succeeded.
Duncan Ferguson
Me grandand house got robbed last week,who's been a STH since he was a kid.Been stuck in the house with no TV. Everton got in contact with him, he received a call off Duncan Ferguson to cheer him up. Ferguson has ordered him a new tv, out of his own money Never change @Everton 💙

— George (@georgecarbery) April 6, 2020
He may have a well-earned reputation as an unflinching hardman, but Ferguson has certainly proved that when it matters, his heart in the right place.
After hearing that an elderly Everton fan had been burgled at home recently, Ferguson stepped in to replace the season-ticket holder's stolen television.
Ferguson contacted the supporter personally and then went a step further, ordering a new TV out of his own pocket.
Fantastic stuff, and yet more proof that Big Dunc is an Everton great even beyond his contribution on the pitch.