It's unsurprising that 13 Bayern Munich players grace ESPN FC's #FC100 list, the most from any club in world football. Ultimately, it's further evidence of the Bavarians' star-studded squad and testimony to the luxury of riches now at Carlo Ancelotti's disposal.
On closer inspection, #FC100 includes basically Bayern's first-choice team plus Brazilian winger Douglas Costa to cover an inevitable injury to either Franck Ribery or Arjen Robben, with Spaniards Thiago and Xabi Alonso battling over a midfield vacancy. Of course, Ancelotti, the proverbial safe pair of hands, also comfortably made the manager's list alongside his predecessor, Pep Guardiola.
Mats Hummels, signed as a nice little welcome present in the summer from Borussia Dortmund, is the only Bayern player not to have played his football under Guardiola, who is the No. 1-ranked coach in the game. Hummels has settled in nicely back at Bayern where he played his youth football. Conveniently, the ex-BVB skipper has his World Cup-winning central defensive partner, none other than Germany's Footballer of the year, Jerome Boateng, for company at the back.
If I was being critical, the ageing midfield veteran Alonso can probably consider himself lucky to have made the list on current form. Rest assured, the Basque bruiser will be replaced by rising star Joshua Kimmich in the next ballot.
Naturally, Philipp Lahm is rightly awarded top billing as the best right-back in the game. Germany's World Cup-winning captain has quietly enjoyed this status for over a decade. Lahm is going to leave a massive hole when he retires, possibly as early as the end of this season to reportedly take over as the club's sporting director.
There has to be a serious dearth of left-back contenders as David Alaba is somewhat fortuitously ranked top of the tree despite a far from stellar season for his club and a poor Euro 2016 campaign with Austria. Admittedly, he did play a large chunk of last season under Guardiola at centre-back, paying the price for his versatility in covering the club's injury crisis. Alaba would love to play more in midfield, but he would have to leave the club to achieve that as Bayern are spoiled for choice in that position.
Of course, Manuel Neuer deserves the plaudits too as the safest pair of hands in the game today. Germany's new skipper really has redefined the art of goalkeeping as sweeper-keeper, setting a new Bundesliga clean sheets record (21) last season. Like David de Gea, the man he beat into second place, his side would be a minimum of 10 points off every season without his commanding aura and all-round brilliance.
Neuer is one man Bayern cannot afford to do without, closely followed by their lethal striker Robert Lewandowski. The red-hot Poland striker's blistering, record-breaking spell of five goals in just under nine minutes (as a substitute) against Wolfsburg captured the headlines and the Guinness Book of Record entries last September.
Lewandowski continues to score almost at will for club and country and hardly ever misses a game because of injury. The same cannot be said about veteran wide men Robben and Ribery: absolutely brilliant players when fit, but the wingmen known as "Robbery" have unfortunately both spent too long on the sidelines. Bayern will need the ailing pair available for the long haul, as they did in 2013, if they're to mount another serious Champions League challenge.
Thomas Muller is worthy of a spot on this list, having enjoyed a record season in front of goal last term, hitting 20 Bundesliga goals and easily surpassing his previous high of 13. He's also Bayern's record Champions League scorer (38 goals) too and good things must be lurking around the corner for the "Raumdeuter," who amazingly hasn't scored in the league all season. In other words, the Ballon D'Or candidate hasn't "Mullered" for over 11 hours.
Notable mentions in this lengthy list of 13 Bayern stars go to South Americans Costa and Arturo Vidal. Costa had a superb first six months in Bavaria after signing from Shakhtar Donetsk, and "the Warrior" Vidal was "revidalized" after the winter break.
Bayern's baker's dozen could get even bigger next year if bolstered by a trio of young talents. Kimmich has already caught the eye, and Golden Boy winner Renato Sanches and third-placed Kingsley Coman will surely come under strong consideration too.
---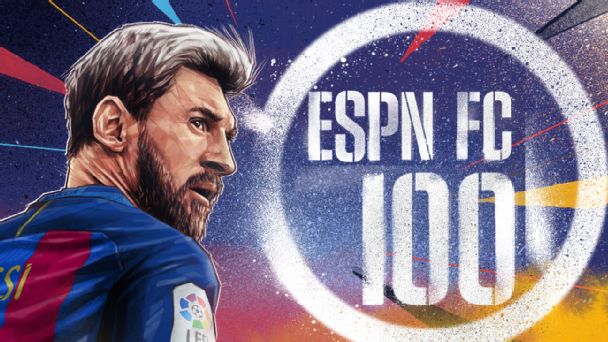 FC100: The full list
Goalkeepers
Right-Backs | Centre-Backs | Left-Backs
Central Midfielders | Attacking Midfielders | Wingers
Forwards | Strikers
Managers
---
Feature content
Gab Marcotti: Putting the fun back in football rankings
Miguel Delaney: Picking the future #FC100 No. 1s
Nick Miller: England's slipping stock behind low #FC100 representation
Mark Lovell: No surprise that Bayern dominated #FC100
John Brewin: Where were all the Premier League players?
---
FC 100 is the result of a comprehensive vote among ESPN FC writers, experts and regions to determine the top 100 in the men's game right now. Our ballot breaks things down by position to more accurately reflect the top performers all over the pitch, not just the ones who dominate the headlines.