On paper, NXT TakeOver: Phoenix is shaping up to be another opportunity for NXT to try to outshine the Raw and SmackDown rosters before a major WWE show. The four title matches feature a mixture of familiar matchups and fresh blood, as Aleister Black gets his long-awaited rematch against Tommaso Ciampa for the NXT championship, Johnny Gargano sets out for singles gold against Ricochet, War Raiders get another shot at Undisputed Era, and Bianca Belair gets her first chance at the NXT women's championship against Shayna Baszler.
In a grudge match to round out the card, Kassius Ohno and Matt Riddle go one-on-one for the third time. Their first TakeOver meeting in Los Angeles lasted less than 10 seconds.
Tim Fiorvanti is live at Talking Stick Resort Arena in Phoenix to cover the action, and Matt Willis rounds out the coverage with insights from the broadcast on the WWE Network.
This story was updated in real time.
---
NXT championship: Tommaso Ciampa (c) def. Aleister Black
On a night that felt like a major transition point for NXT, with two title changes altering the trajectory of at least a dozen superstars, Tommaso Ciampa kept the status quo atop the NXT mountain.
In what might have been the final chapter of Aleister Black's NXT journey, Black fell victim to every underhanded, deplorable tactic in the bad guy's handbook from Ciampa. Black ultimately fell after a staggering four Fairytale Endings from Ciampa, and a second NXT championship reign was not to be on this night.
The parallels between Ciampa and Gargano on this night were staggering. There were moments when both champions sat and stared up at their opponents. Most obviously, both men peeled back the foam mats in an effort to secure their title victories -- another sign that Gargano has adopted the most evil tactics of Ciampa to taste success, sacrificing his morals in the meantime.
To hammer home that point, as NXT TakeOver: Phoenix went off the air, Gargano walked out to the top of the ramp to join his former #DIY compatriot. As Gargano hoisted his newly-won North American championship, Ciampa responded in kind, and the broadcast faded to black with the pair as conquering villains.
Under the spotlight of an NXT TakeOver main event that followed four stellar matches, Ciampa and Black once again stepped up to the challenge. With the champion's advantage, Ciampa stretched the rules to see what he could get away with, including standing on Black's ponytail during submission attempts.
The story of the match was all about Ciampa taking out one of Black's legs to prevent the Black Mass kick. Ciampa first targeted the left knee by driving it into the steel steps by a few means, including a suplex into said stairs. He later used the ring post, a table, the ring ropes, submissions and anything else within his power.
Black was able to hit enough of his devastating offense to stay in the match, but Ciampa's persistence kept Black from a chance at victory for most of the contest. In one final push, Black managed to hit the Black Mass spinning heel kick, only for Ciampa to turn onto his stomach while Black crawled after him.
It took four successful finishers for Ciampa, with a draping DDT akin to Randy Orton's, to finish off Black, but the message and the result could not be much clearer. Black would have to climb a tall ladder to return to the NXT championship picture, and while that's possible, it feels as though he has done everything he can as part of the brand.
For Ciampa, it was as decisive a victory as he has enjoyed as NXT champion. The list of challengers is long and includes Velveteen Dream, Ricochet and Adam Cole, but with Gargano potentially by his side heading into WrestleMania season, the possibilities for creative paths forward are vast.
NXT women's championship: Shayna Baszler (c) def. Bianca Belair
Perhaps no wrestler on the NXT roster has had a faster rise over the past few months than Bianca Belair. At the same time, no performer has looked more dominant than Shayna Baszler.
The early part of the match was dominated by the two battling for a mental edge. Belair told Baszler she was "un-de-fea-ted," and Baszler responded with "overrated." Belair's early match burst showed off her strength with a couple shoulder blocks and agility with some flips to escape Baszler, but Baszler took the advantage by using Belair's braid to pull her into the ring post, injuring her arm.
Belair's injury became the story of the early part of the match, as Baszler stomped her elbow, a staple of her brutally technical style. She then began verbally berating Belair, but Belair made her comeback, first burying her injured shoulder into Baszler's midsection and then hitting a spear. That was cut down, however, when Baszler got her knees up on a splash attempt and then hit a running knee.
Belair, in a desperate effort, reached into her bag of tricks by bringing back the hair whip, with the crack echoing through the arena and leaving a gash across Baszler's abdomen. Baszler shoved Belair into the referee, knocking her out of commission, and ultimately saved Baszler after Belair hit her finisher without a referee to count.
Marina Shafir and Jessamyn Duke ran down to assist Baszler but were quickly dispatched. The distraction was enough for Baszler to lock in her finishing submission, the Kirifuda Clutch. What looked to be the end of the match was just the start of the finishing sequence, as Belair powered out and stood up, turning the submission into a snap suplex. Belair then went for a 450 splash, the move she hit at WrestleMania 34 during the battle royal, but Baszler just moved and locked the Kirifuda back in.
Belair got back to her feet but collapsed. However, she attempted to escape and power out once more, rising to her feet as the crowd chanted "E-S-T," but the submission proved too much, as the referee called for the bell.
It was a valiant effort in Belair's TakeOver debut, but Baszler remained in her spot atop the division, the first champion to successfully defend a title at TakeOver: Phoenix.
NXT North American championship: Johnny Gargano def. Ricochet (c)
One year ago at NXT TakeOver: Philadelphia, Johnny Gargano started a run of matches in 2018 on par with any year that has ever been had in NXT -- and perhaps the WWE as a whole.
If Saturday's match at NXT TakeOver: Phoenix is any indication, he might be poised to top that effort in 2019. Gargano's turn to the dark side was crystallized by his brainbuster on Ricochet on exposed concrete outside -- a move that earned him the NXT North American championship -- and opened a world of possibilities over the next 12 months.
On paper, the expectation for a match between Ricochet and Johnny Gargano would be high-flying action from the get-go, but Gargano imposed his will early with physicality, countering every bit of flash Ricochet had to offer.
Ricochet attempted to throw everything he had at Gargano, from a springboard moonsaults to a dive directly over the turnbuckle to a front flip to a Phoenix splash, but for each and every one of those moves, Gargano had a response.
Gargano showed his unequaled ability to tell a story over multiple matches as well. Even as Ricochet threw everything but the kitchen sink at him, Gargano kept rushing forward like a bull with little care for his own well-being -- and even less care for Ricochet's. He hit a poisoned hurricanrana on the outside in one of a half-dozen spellbinding sequences with multiple reversals, but the culmination of the match came when the temptation of darkness was too much to overcome.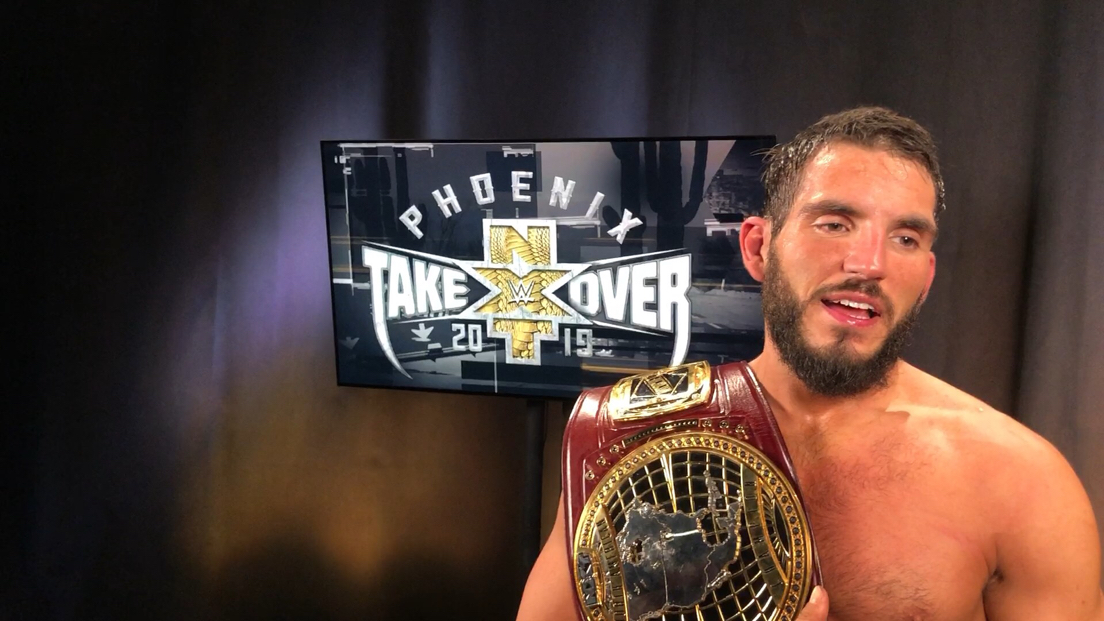 New NXT North American champion Johnny Gargano on continuing his run of incredible TakeOver matches, and his long, winding relationship with Ricochet that dates back well before they ever met in NXT.
Out of ideas for how to finish off his opponent, Gargano peeled up the ringside mats to expose the concrete floor -- evoking memories of his series of matches against Tommaso Ciampa. He had Ricochet draped from the ring and suspended over the concrete, but the last bit of light in Gargano's heart kept him from hitting the move. The battle spilled back into the ring, but the temptation of a victory, no matter the cost, was too much to turn down a second time.
As both men stood on the apron, Gargano dragged Ricochet down, lifted him up and hit a brainbuster on the ground that made a sickening thudding sound. Gargano hit a springboard DDT, rolled Ricochet up and earned the 1-2-3. It was Gargano's second title in NXT, his first singles gold and a key moment in his long, winding narrative. Whether it's later in the night or in the weeks to come, we certainly have a lot to sort out between friends-turned-foes-turned-allies Gargano and Ciampa in NXT -- not by a long shot.
Matt Riddle def. Kassius Ohno
The first match between Riddle and Ohno was an impromptu opener at NXT: War Games, a match that ended in a flash with a knee strike knocking Ohno out just six seconds into the match.
Their second match, on NXT TV, was another Riddle victory, but it signaled a new era for Ohno. Riddle attempted to give him a sportsman-like fist bump, but Ohno attacked Riddle, cementing his heel turn.
Their latest installment was the hard-hitting affair we'd hope to get out of a matchup between these two. Riddle started with a flurry of offense, but Ohno took the advantage with a creative spot, as he pulled the ring skirt over Riddle's head as he attempted a sunset flip powerbomb onto the floor.
Ohno took control with his array of elbows and kicks, a physical, dominant side of Ohno we had seen only glimpses of since his return to NXT two years ago. But Riddle was fired up and unphased by an Ohno kick, staring the Knockout Artist down with a trickle of blood coming from his mouth.
Ohno fought back and regained control by first stomping on the bare foot of Riddle and then biting on his big toe in a move virtually unseen in WWE. An Ohno moonsault barely connected, but Riddle caught a senton attempt and turned it into the Bromission.
Ohno escaped to the ropes and then again looked for a fist bump, a callback to their second contest, but instead Riddle caught him with a knee and a sleeper suplex.
The finish came when Riddle unleashed a fury of strikes to the back of Ohno's head, forcing him to tap out in a finish more familiar in an MMA fight than a pro wrestling contest.
Riddle continues his upward climb through NXT. It was his most complete match since he joined the roster and showcased both his offense and selling ability. Ohno, on the other hand, drops to 0-5 in his TakeOver career, but he has a more interesting character than in any time during this NXT tenure. It'll be interesting to see where he goes from here.
NXT tag team championships: War Raiders (Rowe & Hansen) def. Undisputed Era (Kyle O'Reilly & Roderick Strong) (c)
The NXT tag team championship match that opened TakeOver: Phoenix was unlike anything we've seen at TakeOver, in terms of pace and presentation. But just like all of the best TakeOver tag team matches we remember from the past few years, it showcased the best of what both teams were capable of and the type of innovations and risk-taking that keep the crowd glued to the action throughout.
War Raiders defeated The Undisputed Era in an instant classic and immediately put themselves on the map. It was notable that Kyle O'Reilly and Roderick Strong came to the ring without Adam Cole (and sent Bobby Fish to the back before the match) and still garnered a similarly positive reaction. That they didn't utilize either of their teammates to hold onto gold, given their goals for 2019, could be a major source of friction moving forward.
The pace of the match was frenetic from the beginning, as Undisputed Era charged forward from the opening bell, but War Raiders quickly responded. Rowe and Hansen set the tone for the match as the former bodyslammed the latter from the apron onto O'Reilly and Strong on the floor, followed by Rowe press slamming Strong back into the ring. We'd see War Raiders use one member of the Undisputed Era as a weapon to bludgeon the other, while Strong and O'Reilly used the momentum of War Raiders to send them into one another.
The momentum shifted back and forth throughout the match, as Strong and O'Reilly alternated between flashing their pace and technical prowess, with Strong almost effortlessly hitting backbreakers on Rowe on multiple occasions. Hansen showed strength throughout, but more significantly, from multiple suicide dive attempts to cartwheels and back handsprings to absorbing a superplex, Hansen helped prove that War Raiders have a lot more depth than a standard big-guy tag team.
In the match's closing moments, even a double-team finisher couldn't put Hansen away. Rowe was devastated and prone on the outside, with no sign of life, but as Undisputed Era seemed to narrowly miss putting Hansen away time and again, Hansen caused a near-meltdown with that cartwheel and a back handspring combo to reverse War Raiders' fortunes.
Rowe powerbombed and World's Strongest slammed Strong and O'Reilly simultaneously, and with an assisted flying leg drop, War Raiders made a dramatic announcement that they are for real.
"People thought we were content filler," Rowe said to ESPN. "We started turning heads and never looked back."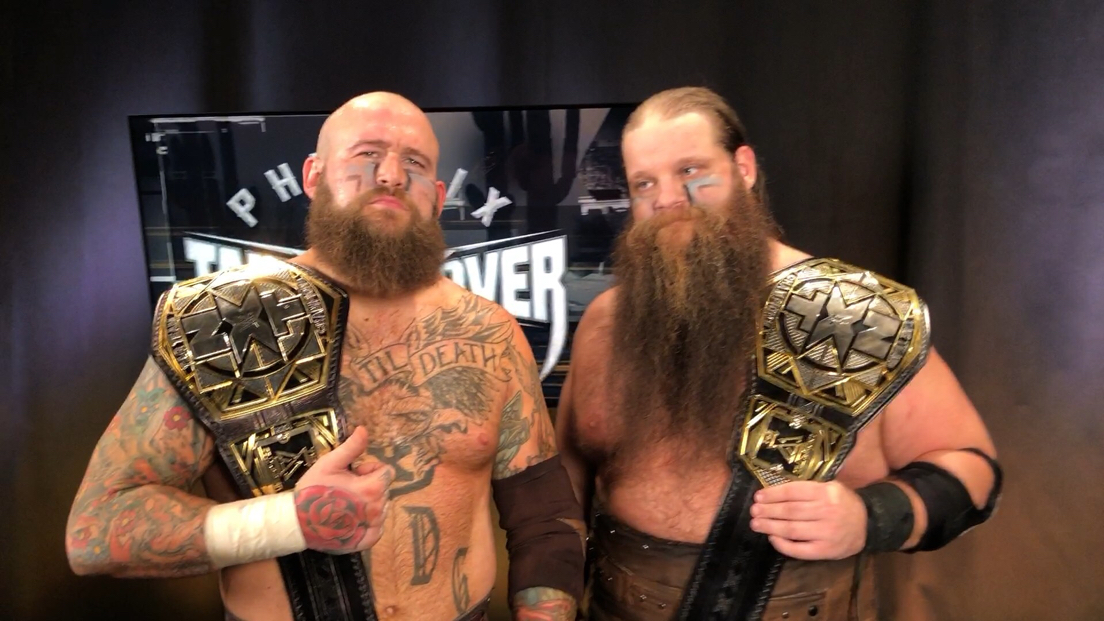 War Raiders reflect on their five-year journey as a tag team, a special anniversary and defying expectations at NXT TakeOver: Phoenix.