Looking at data alone, it might appear as though Auburn athletes are among the most well-disciplined and law-abiding of all schools studied in an Outside the Lines investigation about interactions between police and athletes. But circumstances at Auburn show how public records laws and government transparency can make it difficult to assess how athletes are treated in the criminal justice system.
As part of its investigation, Outside the Lines requested police reports involving all football and men's basketball players on rosters from 2009 to 2014 from campus and city police departments covering 10 major programs: Auburn, Florida, Florida State, Michigan State, Missouri, Notre Dame, Oklahoma State, Oregon State, Texas A&M and Wisconsin.
---
Auburn University
To determine how often crimes involving college athletes are prosecuted and what factors influence them, Outside the Lines requested police reports involving all football and men's basketball players on rosters at 10 schools from 2009 to 2014. The Auburn results: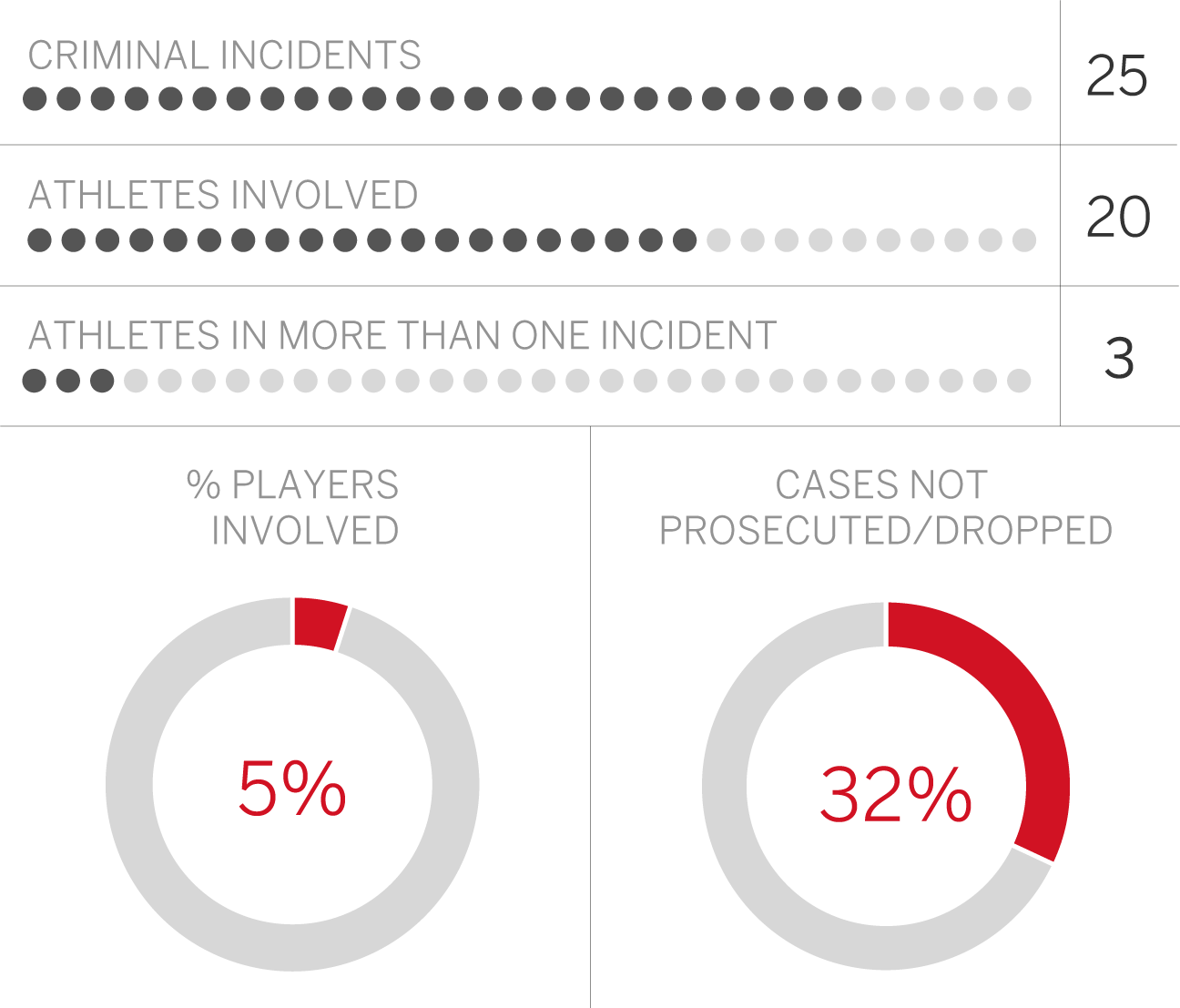 Note: Auburn police released only records in which an arrest was made. Also, state law grants "youthful offender" status to people ages 18 to 20, which essentially seals such records for a first offense; therefore, it's not possible to accurately determine repeat-offender status.
---
Overall, the Outside the Lines investigation found that what occurs between high-profile college athletes and law enforcement is not as simple as the commonly held perception that police and prosecutors simply show preferential treatment, though that does occur. Rather, the examination of more than 2,000 documents shows that athletes from the 10 schools mainly benefited from the confluence of factors that can be reality at major sports programs: the near-immediate access to high-profile attorneys, the intimidation that is felt by witnesses who accuse athletes, and the higher bar some criminal justice officials feel needs to be met in high-profile cases.
Auburn is unique in two aspects: City police, which provide law enforcement on and off campus, release police reports with named suspects only when an arrest is made. And state laws make it easy for "youthful offenders" -- those ages 18 to 21 -- to have their records sealed, even in cases that ended in a conviction. Felony cases are referred to the district attorney's office, which did not provide records to Outside the Lines.
As a result, when Outside the Lines requested police reports involving Auburn athletes, a total of 25 cases involving 20 athletes -- about 5 percent of the rosters -- were found. Other schools ranged between 10 to 25 percent -- with the exception of Notre Dame, where campus police released no records. However, it's likely more crimes were either committed or alleged at Auburn. The city of Auburn provided 32 additional reports of crimes, but those documents did not include suspects' names -- most likely because no one was arrested. But the city attorney's office indicated that the suspects' names matched information on roster lists submitted as part of Outside the Lines' records request. The additional reports included three strong-arm rape allegations in which no arrests were made.
An examination of Auburn's available cases, though, finds that athletes can feel they can be targeted by police unfairly while victims can feel like they can be ignored due to athletes' high profiles.
An Auburn engineering student and his attorney were so disappointed by how local courts and the university handled an August 2009 case involving an Auburn football player that they filed a federal lawsuit. In court documents, Decari Jenkins said that running back Eric Smith and other football players attacked him and his friends at an Auburn hotel and left Jenkins "unconscious in a pool of blood." Part of the attack happened right in front of Auburn police officers, who arrested Smith for misdemeanor assault.
Wendy Brooks Crew, who was Jenkins' attorney, said they were satisfied with how police handled the case. But she said they were suspicious of prosecutors and the municipal court, especially after they decided not to charge the case as a felony even though Jenkins' injuries were severe. Brooks Crew said the court also issued an arrest warrant for Jenkins for "unlawful touching" for his behavior during the incident, although that charge was quickly dropped, Crew said.
"The system of protection for these football players was unbelievable, and the system of, 'What are you going to do to me, I play Auburn football?' was rampant," she said.
Neither Smith nor his attorney returned messages from Outside the Lines to comment for this story. Smith claimed, in a countersuit against Jenkins, that Jenkins initiated the altercation and threw the first punch. Jenkins' federal lawsuit was settled out of court in June 2011, and details of the agreement were not disclosed.
Some former Auburn athletes interviewed by Outside the Lines said they didn't have a sense of invincibility; rather, they said they felt they were targeted by police and arrested more often than regular students.
Former tight end Ricky Parks was arrested in July 2013 for stealing a trash can, a candle and a mattress cover from Wal-Mart, but Parks said he just forgot the items at the bottom of a shopping cart when he checked out. The charge would ultimately be dismissed.
"At Auburn, they used to target the football players. If I'm even doing anything, a cop is going to say something to arrest you," Parks said.