Manchester United have signed Atalanta forward Rasmus Højlund for an initial fee of €75 million ($82m), with another €10m in add-ons.
The 20-year-old has been likened in style to Manchester City goal-machine Erling Haaland, but is the Denmark international anything like his new club rival? And how has he risen to attention so quickly?
- Stream on ESPN+: LaLiga, Bundesliga, more (U.S.)
Where has he come from?
Having come through the FC Copenhagen academy, Højlund made his first-team debut at the age of 17 in October 2020. Despite building a reputation as a high-scoring forward for the U19s and impressing with the Denmark youth sides, the teenager struggled to make an instant impression at first-team level.
Across two seasons, Højlund started just two league games for Copenhagen and from a total of 19 appearances he netted no goals -- though he did find the net five times in the Europa Conference League.
He moved to Austrian side Sturm Graz for a modest fee of €1.95m in January 2022, but they wasted no time in introducing him into the first team. Indeed, Højlund needed just 38 minutes to get on the scoresheet for his new club and then added a second in his Austrian Bundesliga debut, a 2-2 draw at WSG Tirol.
Flourishing as one of two strikers in front of a midfield diamond, the Dane followed up with goals in his next two matches and ended up with six from 13 games in his first half season. A mere five months into his Sturm Graz career an array of bigger clubs from Europe were alerted to his rapid rise and, after an equally impressive start to the new campaign where he scored three goals in five games, Atalanta moved swiftly to bring him to Bergamo for €17.2m -- contextually a pretty large windfall for the Austrians given Kelvin Yeboah's €6.5m move to Genoa six months beforehand was the previous departure record.
While Højlund took some time to adjust to the more competitive Serie A environment, he announced himself properly at the turn of the year. He scored in four consecutive games in January and received rave reviews after a hat trick for Denmark -- in only his third senior cap -- against Finland in March.
Given his skyrocketing progress, his physical dominance, and the spectacular nature of some his goals, it became evident that Atalanta would struggle to keep him beyond the summer as the likes of Real Madrid, Bayern Munich, Paris Saint-Germain and Manchester United showed interest. And United eventually won the race.
Position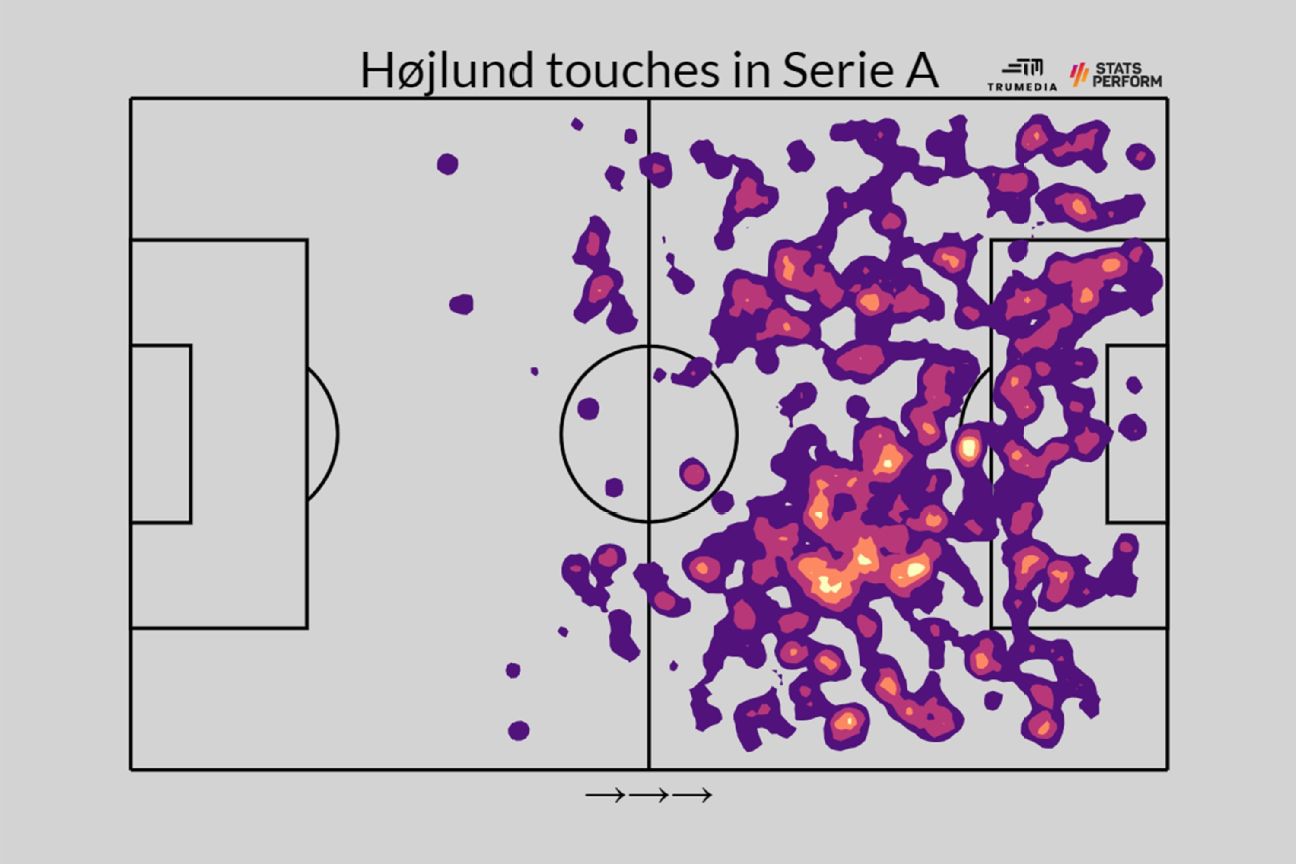 Centre-forward. Predominantly lined up as one of two central attackers at Atalanta (he established a good understanding with former Everton star Ademola Lookman) or as a lone centre-forward in a 3-4-3 formation, Højlund has also successfully spearheaded Denmark's 4-3-3 system. He operates well with a supporting striker, just as he links in well in front of a No. 10 and with the attack-minded full-backs.
Despite his age, he's not restricted to any particular tactical model, but as much as he's good at timing his runs centrally without the ball, he tends to look to take on defenders in the space between the left-back and the centre-back, with the aim of setting himself up to hit a left-footed shot.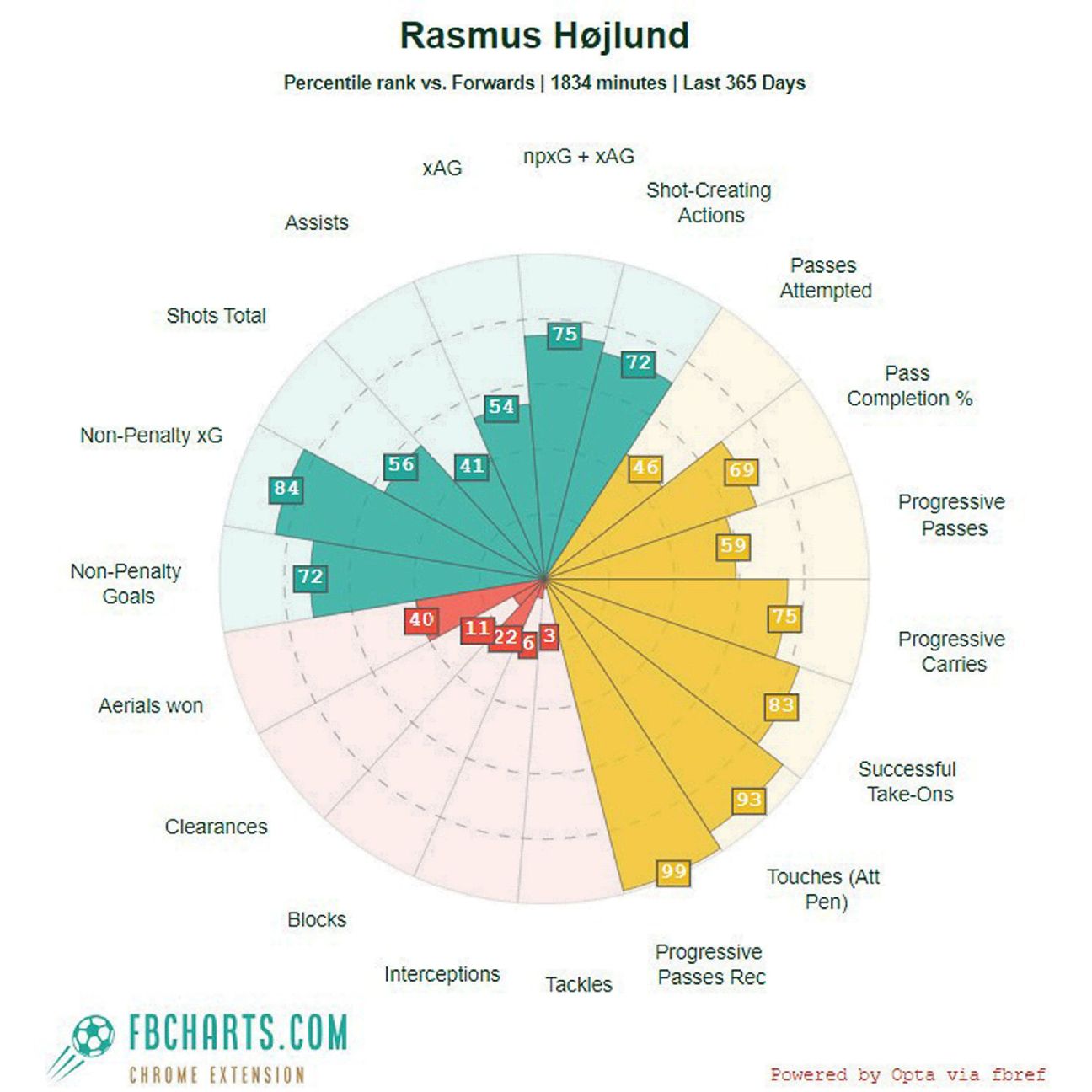 Strengths
The persistent comparisons to Haaland do reveal a pretty similar skillset, physical and tactical profile. Though lacking an inch on Haaland's 6-foot-4 frame, Højlund shares the Norwegian's imposing physique, tremendous acceleration and long-distance pace. In fact, Atalanta coach, Gian Piero Gasperini famously claimed Højlund can run the 100-meter sprint in less than 11 seconds.
Also left-footed, he carries the ball well at speed and, much in the same vein as the Manchester City star, he particularly thrives in the transitional phase of the game. Catching the opposing side off balance -- with the defenders backing-off -- the new Manchester United man is able to speed past defenders with the ball at his feet, occasionally creating added confusion by choosing the lane between the centre-backs and reducing the risk of being forced into wide areas. Along with the sprinter-like pace, he also brings a lot of energy and enthusiasm to the pitch, often animated and responsive to a fired-up crowd.
Comparing Højlund's goal-scoring numbers (10 in 34 for Atalanta) to those of Haaland -- who is frankly an abnormality with 52 goals in 53 games during his first season for City -- makes no sense, yet the Dane is a finisher in development. He reads the flow of the attack well, pulls or spins away from his markers intelligently to find space and angles for cut-backs or tap-ins, and is happy to take adjustive touches whenever required instead of going for a first-time finish.
It's also worth mentioning that his year in Italy served him well. Under the guidance of Gasperini his tactical discipline sharpened, he became more confident in using his weaker right foot and his pressing game improved too.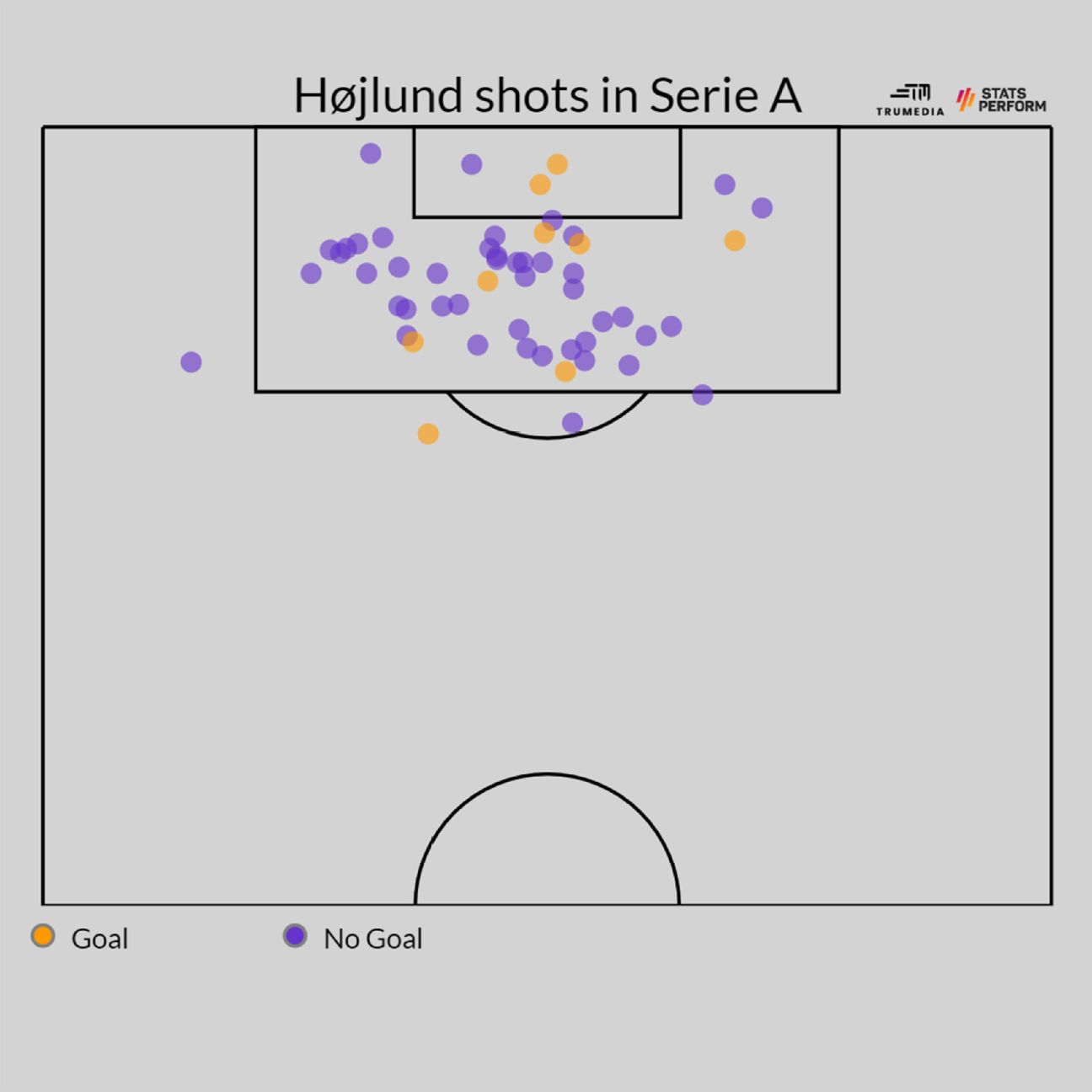 Weaknesses
At 20, there are inevitably sides of his game that are due some refinement. In his link-up play he takes full advantage of his strength and balance to hold off defenders, but it can still be on the sloppy side, though that and his aerial game have seen improvement over the past year.
As backed up by his numbers, Højlund is also a goal scorer on the ascent. His finishing, however, can be somewhat inconsistent. At times he can fail to pick the right spots and is caught in two minds with the ball ending up straight at the goalkeeper, although he tends to do a lot right in his positioning.
Tactically, it'll be interesting to discover whether Man United boss Erik ten Hag will look to mould Højlund more into an all-round centre-forward or finetune the poacher aspect of his game, hence restricting his participation in the build-up phase and not allowing him to drop deep.
Where he fits in
Regardless of his substantial transfer fee it should be emphasised that United have signed Højlund for his undisputed potential and the promise of things to come rather than the finished article.
While there are similarities to Haaland both stylistically and physically, it'd be naïve to expect Højlund to copy the Manchester City No. 9's freakish immediate impact (the latter's mental strength and unwavering self-confidence are rarely talked about and hard to quantify, but go some way towards explaining his success.)
Not only was the Norwegian a year-and-a-half older when he signed for the City, but he'd also broken out and sharped his game at a younger age at clubs like FC Salzburg and Borussia Dortmund. Yet, there's no doubt that Højlund's technical profile and continuous progress over the past year make for an intriguing prospect.
Manchester United's lack of centre-forward options -- with Marcus Rashford most likely to feature on the left of attack -- might well see Højlund being thrown in at the deep end, it will not faze him. Giving him time is key and there are few coaches more willing and competent at guiding talents from the status of a "project" to a fully fledged first-team regular than Ten Hag.