There's plenty to admire about Liverpool's rise and run toward their first Premier League title -- and perhaps the best-ever Premier League points total. Hell, we've touched on most of it already. They've mastered the transfer market, revolutionized set pieces, changed the conversation around fullbacks, built the best front three in the world, identified the perfect goalkeeper and broken the concept of "conversion rates." Not to mention: they haven't lost a Premier League game since January ... of last year.
And yet, they've done all that despite letting one of the best attackers in the world go play somewhere else.
Amid the club's glittering success over the past two seasons, there's a former Liverpool prospect who's lighting it up for one of the best teams in one of the best leagues in the world, week in and week out. In his club's trademark sky-blue jerseys, he's breaking down opposing defenses in Lionel Messi-esque fashion, slipping past hapless opponents into the attacking third, sliding passes into space for his teammates, or putting the ball into the back of the net all by himself. Over the past three seasons, he's blossomed into a true foundational star, showing that if you build your team around him, you can challenge for a title.
We're, of course, talking about Lazio's Luis Alberto.
The conversation around the "most underrated player in the world" begins and ends with Luis Alberto. It's him, and I won't be hearing any dissent on the matter. Just take a look at the company he's keeping, and think about how often you've heard his name mentioned in the same breath as some of these dudes. My guess: probably never.
Since the beginning of the 2017-18 season, per TruMedia, only six players in Europe's Big Five leagues have at least 30 assists: Lionel Messi, Thomas Muller, Kevin De Bruyne, Alejandro Gomez, Jadon Sancho and Alberto. Yes, you only get assists if your teammates convert the passes for you, but the quality of Alberto's chance creation is right up there, too. He's got 26.25 expected assists since 17-18, only behind Messi, De Bruyne, Muller, Gomez, Dimitri Payet and Angel Di Maria.
When it comes to passes into the penalty area -- the most valuable kind of pass -- only Messi, Gomez, De Bruyne and fellow Liverpool cast-off Suso have completed more. And it's not just the final-ball, either. Only Messi, David Silva, Jorginho, Eden Hazard and De Bruyne have played more passes into the final-third. A quick note about the GOAT: Messi leads all of the categories we've mentioned so far. He's all right.
Although he's predominantly right-footed, Alberto tends to play his passes into the penalty area from the left edge of the penalty area and beyond. This is a heat map of the starting position for all of his passes into the box since 2017-18: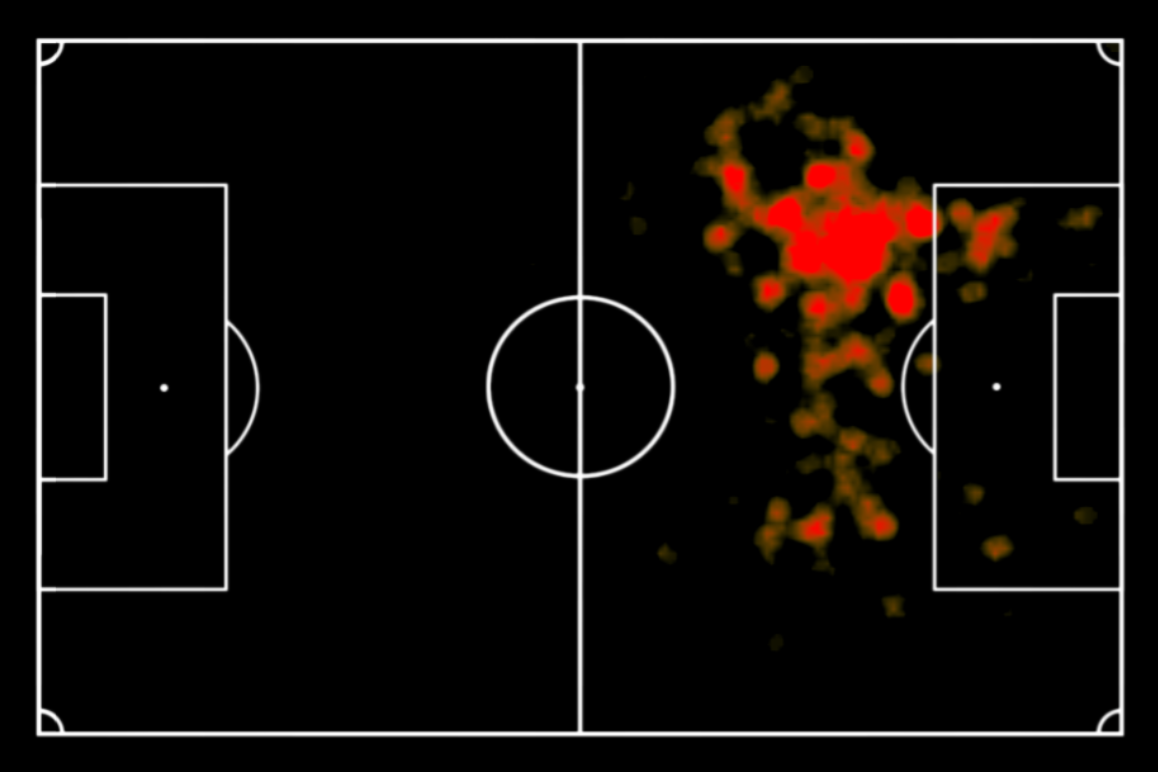 The locations for his 30 assists are a bit more scattered, if still tending toward that left channel. All the pass-spots are indicated below: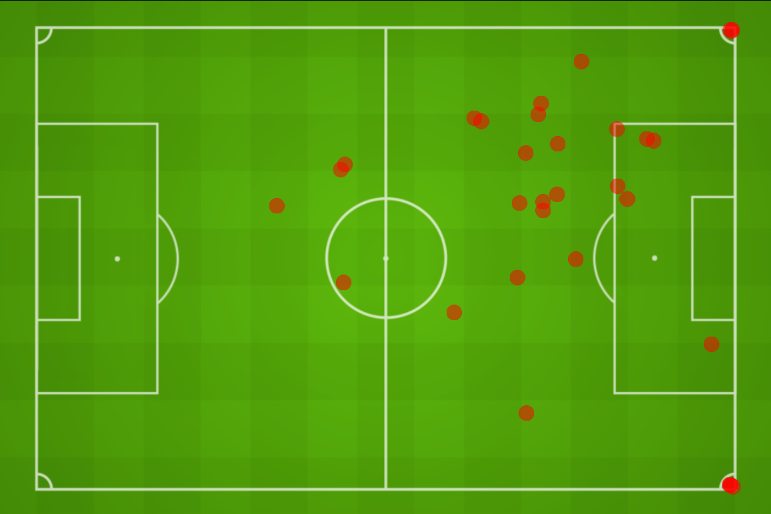 Take all of that together and you've got a devastating passer who's involved in all phases and facets of possession play. Since 2017-18, among players who have played at least 900 minutes, there are four players who have averaged at least 0.4 assists, 4.5 passes into the penalty area, and 20 passes into the final-third per 90 minutes: Messi, Neymar, De Bruyne and Luis Alberto. There simply aren't many players who can make the pass that establishes possession, make the pass that breaks the defense apart and make the pass that creates the goal. Lazio's got one of 'em.
- Stream LIVE: Genoa vs. Lazio, Serie A, 2/23, 6:30 a.m. ET, ESPN+
- Marcotti: Lazio might be Scudetto front-runners
- Horncastle: Juve are regressing under Sarri
Despite all of that, Alberto's market value on the site Transfermarkt is just $44 million, while all of the other players are somewhere north on $150 million. On top of that, he's got a whopping one cap for Spain. That appearance came back in November 2017, and it's not like La Roja have desperately needed an incisive passer to break down a packed-in defense in any high-profile matches since then ...
Even with that surprisingly low (and not necessarily scientifically accurate) valuation, Lazio's acquisition of Alberto has to be one of the best deals of the past decade.
Liverpool bought him from Sevilla for $8.8m back in 2013. In his debut age-20 season at Anfield, he featured for 135 minutes in the Premier League, 51 minutes in the FA Cup and 72 minutes in the league cup. The highlight of his first year -- an assist to Luis Suarez in a 5-0 win over Tottenham -- ended up being the only highlight of his Liverpool career, as he never appeared in another competitive game for the club after their second-place finish in 2013-14. The next year, he went on loan to Malaga. Then, in 2015-16, it was another loan to Deportivo La Coruna.
Despite an impressive stint in Galicia -- at age 22, he was 18th in La Liga with 0.56 non-penalty goals+assists per 90 minutes -- Liverpool, ahead of Jurgen Klopp's first full season with the club, cut bait and sent Alberto to Lazio for $4.4 million, which was a 50% markdown on what they paid to acquire him.
Alberto didn't feature much in his first season in Rome, but he exploded as soon as he became a full-time starter. In 2017-18, he led Serie A in assists, and was third behind his teammate Ciro Immobile and Juventus' Paulo Dybala in npG+A per 90. No one completed more passes into the penalty area, and only Maurizio Sarri's Napoli trio of Lorenzo Insigne, Jorginho and Marek Hamsik completed more passes into the final third. Last season, Alberto missed 10 games due to injury, but when he played, he was just as dangerous: per 90 minutes, he was seventh in expected assists, second in passes into the box and third in passes into the final-third.
Without the consistent presence of Alberto, Lazio slumped down to eighth place last season after a fifth-place finish (well, tied for fourth on points) the year before. Well this year, Alberto's only missed one match and Lazio are only one point behind Juventus in first place. They have the best goal differential in Italy, and per the site FBRef, only Atalanta have a better expected-goal differential. Alberto, meanwhile, might be better than ever before: He's leading Serie A in assists, passes into the penalty area and passes into the final-third.
Per FiveThirtyEight, Lazio have a 22% chance of winning Serie A, and the betting markets are roughly in line with that, too. They're undefeated in their last 19 matches, a 15-win-and-four-draw stretch that includes an emphatic 3-1 win over Juventus back in early December. Their last loss came on Sept. 25, away to Inter, who they played (and beat) last weekend. With Alberto pulling the strings up down and across the field, Lazio are absolutely playing well enough to win the title; the only question is whether or not they can keep it up.
Alberto's former team is going to win a league title this season, and after Lazio took three points from Inter last weekend, Alberto might win one as well.