Last week, I put together progress reports for two of the three starting quarterbacks from the Class of 2014, Jacksonville's Blake Bortles and Minnesota's Teddy Bridgewater. The third quarterback in that group might be the source of the most debate. Like Bortles and Bridgewater, Oakland's Derek Carr is working his way through the franchise quarterback churn. Carr is a quarterback of extremes at this point in his career -- he can look like a superstar and pass-rush fodder. As the Raiders continue to show signs of coming out of their decade-long shell, it remains to be seen whether Carr will be leading them or struggling to keep up.
You can't compare Carr to Bortles and Bridgewater without looking first at the men blocking for them. Bortles' and Bridgewater's offensive lines have been messes. Carr's line was one of the better units in football last year, and it's only going to get better after GM Reggie McKenzie signed star Ravens guard Kelechi Osemele in free agency. Osemele is going to start at left guard and replace the line's weakest player, departed lineman J'Marcus Webb, with Gabe Jackson moving to the right side. That's an enormous upgrade.
Carr's offensive line allowed him to do things that were relative luxuries for Bortles and Bridgewater, like breathe in the pocket without fearing for his life. Carr was pressured on only 21.6 percent of his dropbacks, the fifth-lowest rate among starting quarterbacks. A quarterback who gets the ball out quickly can distort that number (see: Tom Brady), but other metrics suggest that wasn't the case with Carr. He took 2.44 seconds before his typical pass, 15th in the league. Carr's average throw traveled 7.67 yards in the air, which was slightly below league average and one full yard deeper than the typical Bridgewater pass (6.66).
The former Fresno State star helped his own cause too: When Carr recognized that a blitz was coming, he often checked to a fade route to receivers Amari Cooper, Michael Crabtree and Andre Holmes, knowing that he was going to have a one-on-one matchup with a big wideout against an often undersized cornerback. Those passes worked well and were often delivered in stride: Carr's QBR on non-screens against the blitz was 72.2, eighth best in the league.
You can see his prowess on a 5-yard touchdown pass to Andre Holmes against the Jets in Week 8. The Jets attempt to bring pressure with two linebackers, and while they do a great job of disguising their blitz until just before the snap, Carr can see it coming. He lobs up a fade to Holmes in a perfect spot and gets it up so quickly that corner Buster Skrine never even turns around to find the ball. It's pitch-and-catch.
Carr's effort against the Jets shows why it's so difficult to evaluate him. This was his finest performance of the year according to QBR. Carr's 93.6 figure dwarfed the competition. No other passer posted a single-game QBR against the Jets in the 80s, let alone the 90s. (QBR, remember, isn't adjusted for the strength of opposition.) Carr finished the day with 333 passing yards and four touchdowns against the league's ninth-best pass defense.
And yet, as I noted in watching the game back in November, the Raiders' offensive line dominated the Jets up front. It was one of the single-best performances I saw from an offensive line all year. The Jets pressured Carr on 13.9 percent of his dropbacks when New York's yearly average was 29 percent. That's how Carr ended up with enough time and space to make a perfect throw in stride to Holmes for a 45-yard touchdown. It helped when the Jets didn't get home and didn't bother to tackle Crabtree on the end of a 36-yard touchdown, and pulled a Keystone Cops routine in letting Taiwan Jones turn a swing pass into a 59-yard touchdown.
Carr picked on Antonio Cromartie in that game, and at his best, he was exploiting the other's team weakest links in lieu of forcing the ball to Cooper. In his second-best game of the year, against the Chargers the previous week, he abused Chargers safety Jimmy Wilson, who was filling in for Eric Weddle and was one of the worst regulars in the league before being cut in December. He lobbed a beautiful wheel route to Clive Walford over Wilson for one score and deliberately threw a bomb into double coverage, trusting that Cooper would outjump Wilson, which he did. As with the Jets, the Chargers helped, whiffing on tackles on a tunnel screen to Cooper for a 49-yard score, with Cooper breaking Wilson's ankles. In the second half, the Raiders ran a tunnel screen to Crabtree for another score, with Jahleel Addae missing the tackle this time.
This feels like an offense that plays to Carr's strengths. With Carr spending his time at Fresno State as a spread quarterback, offensive coordinator Bill Musgrave put his QB in the shotgun on 68.1 percent of Oakland's offensive snaps, the ninth-highest rate in the league. Carr's QBR in the shotgun was 23rd in the league and 30th when he was under center. The Raiders throw early and often to try to stay out of negative situations. On first-and-10 in 14-point games, the Raiders threw 62.5 percent of the time, which was the highest pass percentage in the NFL. Carr doesn't throw deep all that often -- he was 23rd in the percentage of throws traveling 20 or more yards in the air -- but it's where he was at his best: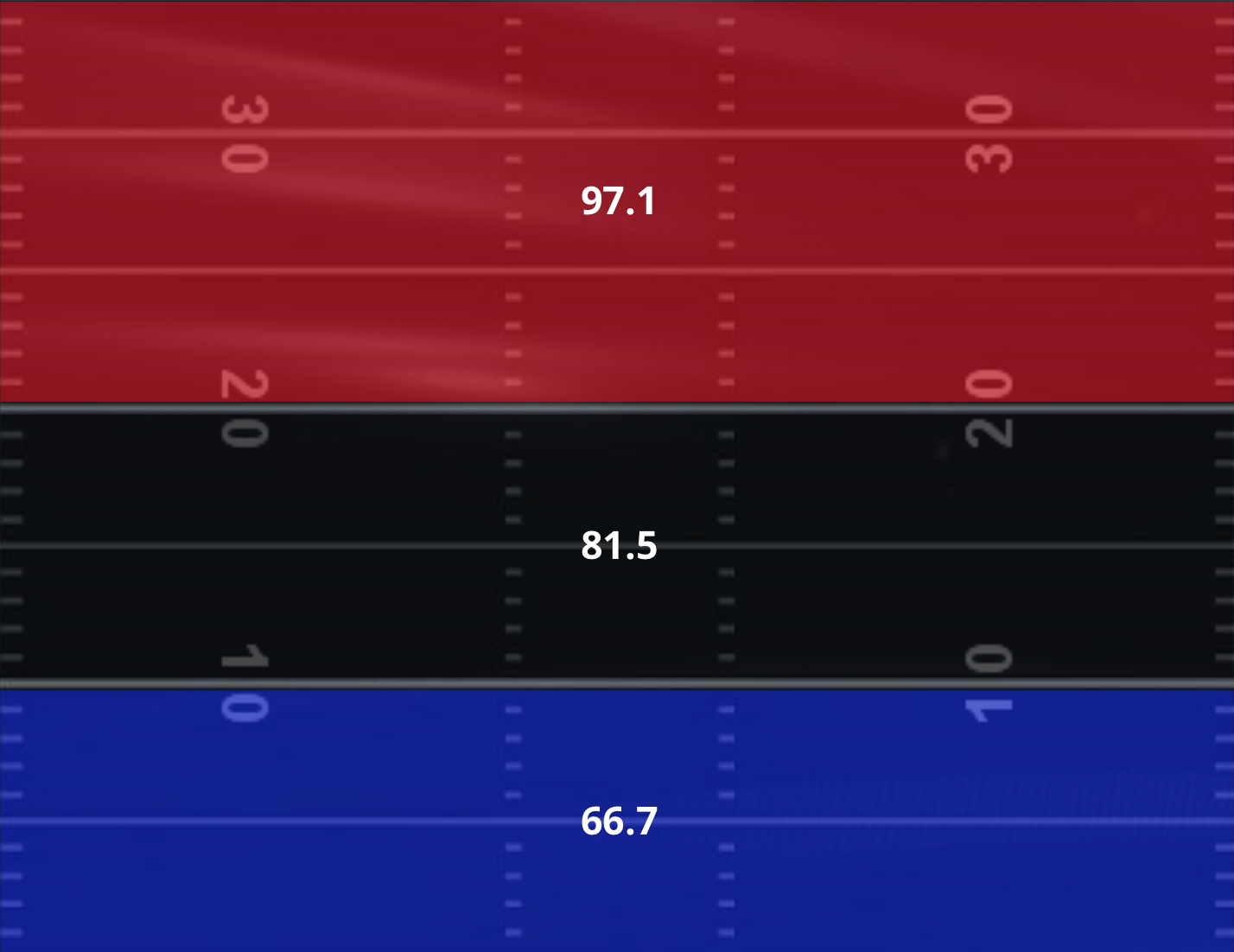 Carr looked like the best deep passer of the three based on 2015 alone. Bortles threw deep more frequently, but as I mentioned in my piece on the Jacksonville starter, many of his deeper throws were jump balls for Allen Robinson, who did most of the work in turning them into receptions. While Carr did have throws like that -- the lob over Wilson to Cooper I mentioned above is an obvious example -- there were many more times I noted touch and deftness on Carr's passes downfield.
It's another Oakland credo to go after enormous receivers. Carr's average pass went to a receiver who was 74.3 inches tall (a little over 6-foot-2), giving him the fourth-largest receiving corps in football. (Jacksonville's grouping was third.) Sadly, they weren't always his friends. Oakland's pass-catchers, which will return virtually unchanged in 2016, dropped 5.1 percent of Carr's throws last year. That was the fifth-worst rate in the league. It's hard to see these receivers combining to drop as many passes in 2016, particularly Cooper, who should be healthier after struggling through plantar fasciitis a year ago. While analyses suggesting Cooper dropped 18 passes seem off the mark, ESPN Stats & Information has Cooper down for 10 drops on 126 targets, the second-highest total in the league behind Tampa's Mike Evans.
The one perhaps concerning quirk surrounding Carr's 2015 season is what happened as it went along: Namely, Carr got worse. A lot worse. His QBR during Weeks 1-9, covering Oakland's first eight games, was 11th in the league at 66.6. During Oakland's final eight games, Carr's QBR dropped to just 35.1, leaving him 28th out of 29 passers. Only Bortles, coincidentally, was worse. Carr's decline came under duress. He had the league's lowest pressure rate during the first half of the year, at 17.6 percent. Over the final eight weeks, that pressure rate leaped up to 25.0 percent. That was only eighth in the league, but it was enough to help throw Carr off track.
Carr's worst performances, ironically, came in two of the three games the Raiders won in the second half of the season. He was dismal against the Broncos in a 15-12 victory driven by Khalil Mack's five sacks, although Carr did throw a perfect touchdown pass on what is admittedly my favorite play, the fake screen and go. (Musgrave set up the touchdown by calling the same screen twice earlier in the game.) The Broncos got enough pressure on Carr to hold the second-year passer to an 11.4 QBR.
Two weeks later, against the Chargers, Carr could muster only a 22.2 QBR in a game that included the Raiders trying to lateral their way into a touchdown at the end of the first half before Chargers wideout Dontrelle Inman was forced by injuries into duty as a safety in overtime. His day against San Diego started with an example of how the Raiders trust Carr to do a lot and how he's still a player learning on the fly. Carr made the wrong read on a run-pass option (RPO), declining to hand the ball to his running back on a power play and instead trying to force a stick route up the seam, which was tipped at the line and intercepted. Musgrave entrusted Carr with the keys to the car on RPOs in 2016, and this was a case where it felt like it was too much, too soon. That will happen with young quarterbacks.
As Chase Stuart notes to me often, splits happen, and there might not be a rhyme or reason to why Carr declined in the second half. As a good example, consider what Carr did in the red zone as a rookie in 2014. During a relatively unimpressive season, Carr posted the league's best QBR (94.0) in the red zone, throwing 18 touchdowns against one pick as the Raiders averaged a league-best 5.69 points per red zone trip. In 2015, with the Raiders improving on offense, they fell back to 10th in points per red zone trip and Carr's QBR inside the opposing 20 was 19th in the league at 68.3. I wrote last month that red zone performance tends to be random from year to year, and Carr's two seasons embody that finding.
At the same time, though, it seems logical that you would want your second-year passer to improve -- not decline -- as the year progresses. A passer getting better as the year continues is a passer figuring things out for good, eliminating mistakes and replacing them with the knowledge gained from NFL experience. Anecdotally, that makes all kinds of sense. We can see if it checks out in reality, though.
To test that idea out, I took every second-year passer since 1990 who threw 150 passes in each of the two halves of their season and compared how they performed in each half. Since we don't have QBR going back that far, I used adjusted yards per attempt (AY/A), which is a better all-in-one metric than passer rating. By AY/A, the difference between Carr's first half (8.40 AY/A) and second half (5.83 AY/A) was 2.57 adjusted yards per attempt. Of 56 quarterbacks, that 2.57-yard per attempt decline places Carr ... 56th in terms of half-to-half decline. Bortles, notably, is 12th among AY/A improvers despite finishing last in second-half QBR; in other words, while his numbers improved during the second half of the season, QBR suggests he was actually playing worse during the final eight games.
The group of 10 quarterbacks who improved the most from half to half during their second season include a Hall of Famer in Troy Aikman and an MVP in Cam Newton, alongside Jake Plummer, Vince Young, Timm Rosenbach, Josh Freeman, JaMarcus Russell, Tony Banks, Tyler Thigpen and Joey Harrington. During their second year, their combined AY/A mark in the first half was 5.11, improving all the way to 6.75 AY/A in the second half. Then, in their third season, those 10 passers combined to throw more interceptions (116) than touchdowns (91) and posted a AY/A figure of 5.28. They gave away basically all of their collective gains.
Meanwhile, the group of 10 passers (leaving out Carr because he hasn't played his third season) who declined the most during the second half of their second season includes Derek Anderson, Marc Bulger, Brian Griese, Eli Manning, Trent Edwards, Browning Nagle, Trent Dilfer, Shaun King, Andrew Luck and Musgrave's former charge in Minnesota, Christian Ponder. They were great in the first half of their second season (6.86 AY/A) and dismal in the second half (5.10 AY/A). You can probably see where this is going. In their collective third year, these 10 passers averaged 6.48 adjusted yards per attempt, far closer to what the first halves of their second seasons said.
This is too small of a sample to really say anything definitive about how quarterbacks develop, but at the very least, there's not any evidence saying that it's important for a passer to get better as their second year goes along, or that a decline portends ominous things about his future. Carr might succeed, or he might fail, but we don't know any more about whether that will happen based on the timing of when he played well in 2015.
There is something that will have to improve, though, fluke or otherwise: Late in games, for whatever reason, Carr was a mess. He posted a 19.9 QBR in the fourth quarter and overtime, which was the second-worst mark in the league ahead of Nick Foles. Bortles, one spot ahead of Carr, finished at 31.2. Seven of Carr's 13 picks came in the fourth quarter and OT, despite the fact that he threw only 31 percent of his passes during that time frame. Only Matthew Stafford had a higher interception rate in the fourth quarter/OT (6.8 percent) than Carr (5.3 percent).
Some will say that Carr and the Raiders need to learn how to win, as if that's a lesson you unlock once and never need to understand again. It always has been a silly, meaningless concept. Chances are that Carr's late-game struggles are a fluke, especially given that his fourth-quarter/OT QBR as a rookie was 17th in the league, roughly NFL average. With only two years of information to lean on for Carr -- or any of these passers -- we're often overreacting to small splits both good and bad for analysis.
In 2016, it's less important that Carr get better in the fourth quarter/OT or during the second half of the season, if only because that will happen by sheer chance. It's more important that he gets better on the whole. After adding an incredible run-blocker in Osemele, the Raiders probably will try to run the ball more on first down, taking some of the workload off of Carr. In return, he'll need to be more effective on the short-to-intermediate throws that make up the bulk of Musgrave's playbook, which will require help from Cooper, who will require help from the injury gods.
As you think about Carr and Bortles and Bridgewater and try to analyze them, the reality repeatedly sets in that so much depends upon the players and coaches around them. Even with Adrian Peterson in Minnesota and Allen Robinson in Jacksonville, most people would choose Carr's supporting cast before Bortles' or Bridgewater's. And that alone might be the best case for thinking he'll be the best quarterback of the three in 2016.