NASHVILLE, Tenn. -- Tennessee Titans tight end Jonnu Smith is emerging at a critical time with veteran Delanie Walker nursing an ankle injury. Smith was quarterback Ryan Tannehill's favorite target this week, leading the team in receptions (6) and targets (7) and catching a touchdown pass. But the third-year tight end hasn't ascended just because Walker is out.
"Even with Delanie [Walker] out there, I think Jonnu [Smith] was starting to get a little bit more comfortable," coach Mike Vrabel said. "I think he was starting to feel good about returning from the injury, what he had done in the offseason, and how hard he had worked. The thing that I appreciate is him attacking the football. He's got a unique skill set -- he's a very fast and powerful player with the ball in his hands."
Smith is less than a year removed from a season-ending MCL injury last December. He toughed out the recovery process and started training camp on the physically unable to perform list before returning to practice in mid-August. Smith had six receptions on eight targets for 92 yards over the first six weeks of the season. In two games with Tannehill under center, Smith has nine receptions on 10 targets for 142 yards and a touchdown.
#Titans QB Ryan Tannehill and Jonnu Smith have connected on TDs in consecutive games. Tannehill shares why he's going to Jonnu so much over the last two weeks. pic.twitter.com/DxCpEDQuV1

— TURRON DAVENPORT (@TDavenport_NFL) October 27, 2019
Tannehill credited Smith for coming on strong in the last couple of weeks, pointing to his 35-yard catch-and-run on third-and-long against the Chargers as an example. Has anything changed for Smith to become a key player in the passing game over the last two weeks? Not according to Smith.
"I am not doing anything different, just going out there with confidence every play," Smith said after Sunday's game against Tampa Bay. "I'm going out there and trying to capitalize on every opportunity I get. I come to work every day and try to prepare so I can be the best player that I can be. I stay faithful.
"I'll build chemistry with whatever QB is back there. Those guys know what I can do with the ball. I am just thankful to be around two great QBs in Ryan and Marcus [Mariota]. Whoever is back there, I know they trust me to catch the ball and make plays."
Smith's 5-yard touchdown against Tampa came on a well-designed playcall by offensive coordinator Arthur Smith. A.J. Brown lined up in the slot and legally set a pick that freed Smith as he was running a slant from just over top of the numbers.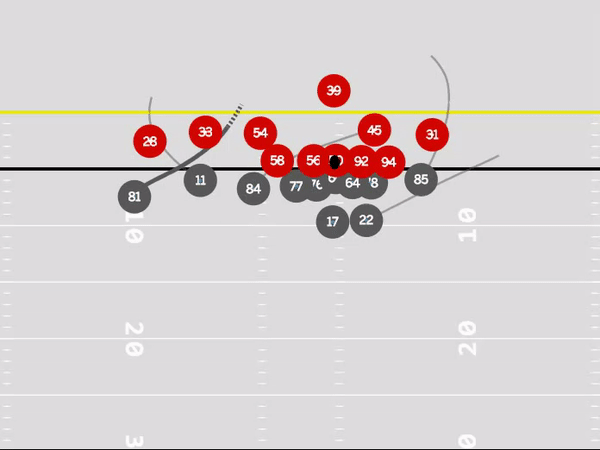 As the former TE coach and now offensive coordinator, Arthur Smith has gotten to work with Jonnu Smith since the team selected him in the third round of the 2017 NFL draft. He's watched as Jonnu Smith has put in the necessary work to grow from a raw prospect.
Walker blasted draft analysts back in April for projecting a tight end to the Titans in mock drafts. He said it was disrespectful to both himself and to Jonnu Smith.
"Most of them dudes never played football or know what they're talking about. People tend to forget about Jonnu Smith. He was just drafted. It's not even me, it's him. He's going to replace me when I leave. It makes me upset when people forget that we just drafted a tight end," Walker said before center Ben Jones' celebrity clay-shooting event in May.
The way that Walker has taken Smith under his wing hasn't gone unnoticed by left tackle Taylor Lewan, who said he sees Walker talking to Smith all the time. Walker complimented Smith's work ethic and feels the young tight end is taking advantage of opportunities to show that he's a playmaker.
Delanie Walker likes how Jonnu Smith has stepped up while he's dealing with the ankle injury. Feels Jonnu has shown steady improvement. #Titans pic.twitter.com/CKIAErAIRV

— TURRON DAVENPORT (@TDavenport_NFL) October 25, 2019
Smith said he's watched Walker since day one and called him "one of the greatest tight ends in football." With Smith proving himself to be a playmaker, the two could help form a dangerous 12 personnel package when Walker is healthy again.